REVIEW: Star Wars: Choices of One by Timothy Zahn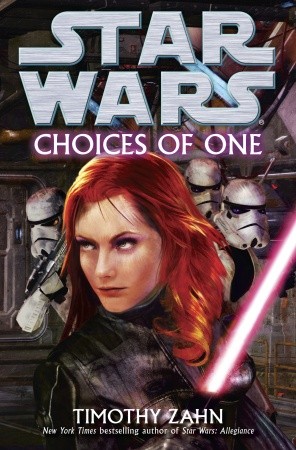 Once again, Tim Zahn delivers a fun Star Wars adventure in the best tradition of the Original Trilogy films and the Expanded Universe stories featuring those characters and EU favorites from the same era. If you're looking for something dark and gritty, or heavy on the Force philosophy, or with deranged Sith, then this isn't the book for you. If you're looking for a novel that puts the space opera back in Star Wars, then Choices of One should be right up your alley.
Without getting into the plot, what can you expect from Choices of One? The flow of the book is classic Zahn: introduce a bunch of elements separately and spend the first half of the book drawing them all together to the same place, followed by a second half of the book that's nonstop mayhem. As with his prior entries – such as Survivor's Quest, which has a similar overall structure – this story design is executed flawlessly. There's a reason, after all, that Zahn has been able to sustain his place as one of the fan favorite EU authors for so long. He knows how to design a really great Star Wars yarn, and he always carries it off well.
I say a lot more in my full review, but here's the bottom line: Choices of One has Luke, Han, and Leia with the Rebel Alliance, Mara Jade, Thrawn, Pellaeon Vader, and the Emperor with the Empire, plus a dangerous warlord, mysterious aliens, and a plot that keeps you guessing until the end. How can you argue with that?
9 / 10

Tricia Barr took her understanding of brand management and marketing, mixed it with a love of genre storytelling, and added a dash of social media flare to create FANgirl Blog, where she discusses Star Wars, fandom, and the intersection of women within Star Wars fandom. She is co-author of Ultimate Star Wars and Star Wars Visual Encyclopedia from DK Publishing, a featured writer for Star Wars Insider magazine with numerous articles on the Hero's Journey. Her FANgirl opinions can be heard on the podcasts Hyperspace Theories and Fangirls Going Rogue.

Tricia Barr's novel, Wynde, won the 2014 Independent Publisher Book Award Gold Medal for Best Science Fiction/Fantasy/Horror Ebook. She was also part of Silence in the Library's successful all-female creator science fiction and fantasy anthology Athena's Daughters, which is available now. For excerpts and tales of her adventures in creating a fictional universe, hop over to TriciaBarr.com.