Happy Day for FatherGeeks Everywhere!
This FANgirl wishes her dad a big huge virtual hug on Father's Day. For letting his little girl be a geek and encouraging me to be whatever I wanted to be, back in the day when girls were told they couldn't be Top Gun pilots or astronauts or just plain old engineers, for that matter. Sure, some of the best scifi and fantasy stories are about heroes and anti-heroes having Daddy issues, but there is something to be said for the great dads who seem to get a little less face time in our favorite myths – like Bail Organa, who raised a kick-ass daughter.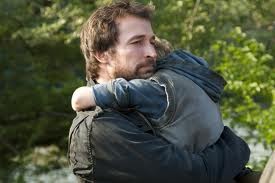 So it's nice to see a father headlining TNT's new scifi offering Falling Skies, which premieres at 9:00 p.m. tonight. After this week it airs at 10:00 p.m. on Sundays, not necessarily the spot where shows flourish in the ratings. Considering V and The Event both failed this year, there are a lot of people questioning the wisdom of bringing this show to TV. But this one might be different. For one, it's being done by a cable network, and produced by Stephen Spielberg. Based on the success of shows such as Battlestar Galactica, The Clone Wars, Smallville, and Supernatural, time slots don't seem to deter scifi and fantasy fans, especially if the story is good. And the initial buzz sounds good, such as the review from the San Francisco Chronicle and The Hollywood Reporter.
---
Keeping with the theme of scifi and fantasy on the small screen, here are a few other things I caught on the web that might interest you:
The extended Clone Wars Season 4 Trailer that was shown at Disney's Star Wars Weekends is now up on the official Star Wars site. If you haven't seen The Clone Wars, which has been laying out more of George Lucas' vision for the Galaxy Far, Far Away and giving fans a better understanding of the Force, this is a must-see show.
On CNN's Connect the World, George Lucas let the name of another television show slip.
"Now, I'm working on television shows, "Clone Wars" and another show called "Star Wars Detours."
But he also said this –
Well, I'm working on a — producing a film right now called "Red Tails," which is about African-American fighter pilots during World War II.

And when I'm finished that, I will probably move away from the Star Wars world and everything and do my own personal kinds of movies, which I have been trying to get to for 30 years, now.
SyFy Channel is starting to pump it new series Alphas, scheduled to premiere in October. Written by Zak Penn (The Avengers, X-Men: The Last Stand) and Michael Karnow, the series follows five ordinary people with one extraordinary power each. Yes, it sounds a bit like X-Men, but it's not. This is what I prefer to reboots – take an idea, shake it up, and make it unique and your own.
TVLine had an interesting report looking ahead to next fall's new seasons of some of my favorite shows. In particular, it's intriguing to get the first glimpses into the new reality we'll witness on Fringe and a first taste of the darker, uninhibited version of the erstwhile good-boy vampire Stefan on The Vampire Diaries.