Star Wars Celebration Europe 2023: The Women of Ahsoka
The kickoff panel on Saturday morning at Star Wars Celebration Europe 2023 highlighted Ahsoka, Dave Filoni's upcoming Disney+ series scheduled to premiere in August. Shortly after the panel ended, Tricia Barr tweeted:

That significance did not go unnoticed in the broader coverage. In its panel writeup, for example, The Wrap noted that "When Rosario Dawson, Natasha Liu Bordizzo and Mary Elizabeth Winstead took the stage for the 'Ahsoka' panel, it marked the first time in the event's 23-year history that three female leads were showcased."
It would be difficult to overstate the importance of women to Ahsoka and the story it will tell. Rosario Dawson, who first appeared as Ahsoka's titular character in one episode each of The Mandalorian (Chapter 13) and The Book of Boba Fett (Chapter 6), credited Ashley Eckstein with building the character so well over the span of seven seasons of The Clone Wars and an important recurring role in Star Wars Rebels. Dawson explained that the animated series feel like visual memories she can draw upon when performing Ahsoka in live action. Similarly, Natasha Liu Bordizzo and Mary Elizabeth Winstead both also recognized Star Wars Rebels as indispensable research on their characters Sabine Wren and Hera Syndulla, respectively. Winstead remarked that Hera is basically everyone's mom, which is a perfect description both of the character in Rebels and of fan-favorite Vanessa Marshall, who voiced Hera in the series.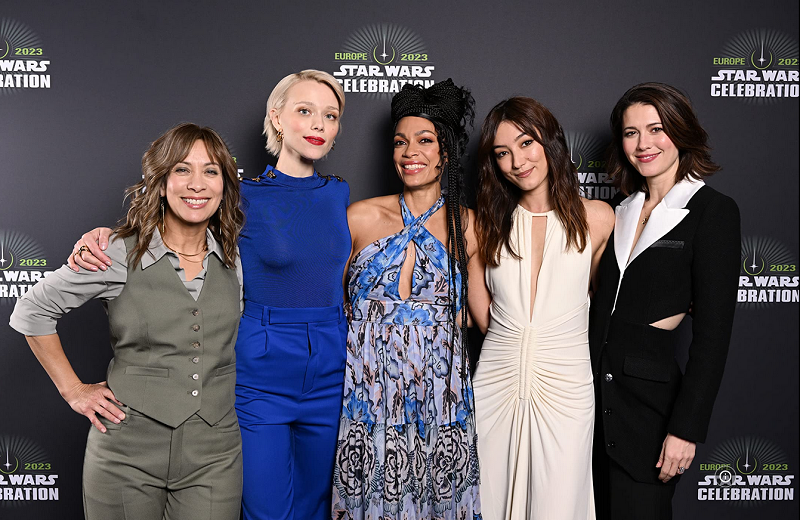 Beyond these principal heroines, women are prominent throughout the production. Diana Lee Inosanto, who dueled Dawson in the role of Morgan Elsbeth in The Mandalorian (Chapter 13), has been a fan since seeing Star Wars at age 11 and is thrilled to return for a major role in Ahsoka. Newcomer Ivanna Sakhno plays Shin Hati, one of two new lightsaber-wielding antagonists. All five actresses – as well as Ray Stevenson, playing Baylan Skoll and seen dueling Ahsoka in the trailer – expressed uniformly high praise for Ming Qui, Ahsoka's stunt and fight coordinator. Her high expectations led everyone to work harder and deliver their best in every scene. The Ahsoka trailer also confirmed an appearance by Genevieve O'Reilly, reprising her role as Mon Mothma.
Finally, although Filoni wrote all eight episodes himself, Ahsoka's slate of episodic directors is half women: Filoni (The Mandalorian Chapters 1, 5, 13 and The Book of Boba Fett Chapter 6), Rick Famuyiwa (The Mandalorian Chapters 2, 6, 15, 17, 23, 24), and Peter Ramsey (The Mandalorian Chapter 21) are joined by Steph Green (The Book of Boba Fett Chapter 2, Watchmen), Jennifer Getzinger (Mad Men, Agent Carter, How to Get Away with Murder), and Geeta Patel (Sense8, Superstore, House of the Dragon).
The franchise has taken us on quite a journey since the early days of FANgirl Blog's commentary and criticism of the treatment of female characters and female fans in Star Wars. At times it felt as though a day like this might never come. To see it realized around a now-beloved character like Ahsoka Tano, shepherded by Dave Filoni, marked a day long remembered. Perhaps the only thing that could improve upon it would be the reintroduction to Star Wars of another fan-favorite female character who, like Grand Admiral Thrawn, also first appeared in Heir to the Empire.
Watch the Official Teaser Trailer for Ahsoka: