FIRST Robotics and Lucasfilm Partner For STEM Inclusion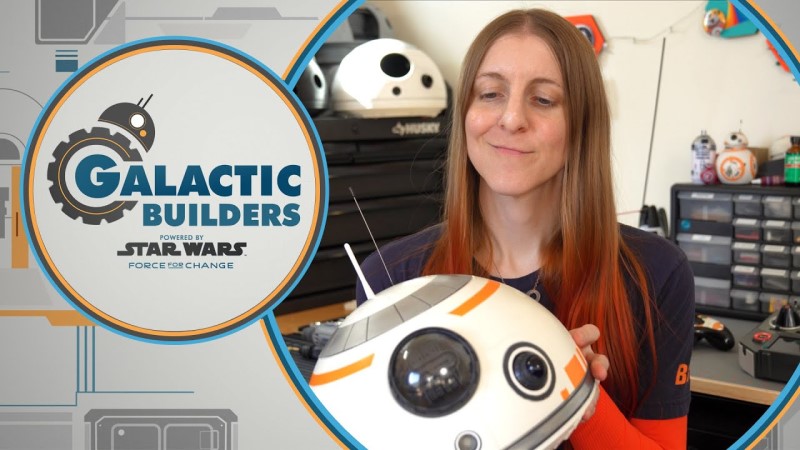 In its second season on Star Wars Kids YouTube channel, Galactic Builders seeks to be a Force for change in kids' lives in partnership with FIRST Robotics Competition. FANGirl Blog spoke to FIRST Senior Manager for Brand Markering Kevin Walther about their ongoing partnership with Lucasfilm.
FANgirl Blog: For those who aren't familiar with FIRST, can you tell us about your mission?

Kevin Walther: FIRST has been around for more than 30 years inspiring students to pursue science, technology, engineering and math (STEM). We are a global nonprofit and facilitate robotics programs for students Pre-K through 12 in 110 countries. The organization was founded by inventor Dean Kamen to inspire young people to become interested in STEM fields and help build a better world. Over the years, millions of students, mentors and volunteers have become involved in our robotics community worldwide.

Students can join FIRST teams in-school or as an extracurricular activity in their community. Participants in our programs learn not only how to build a technically complex robot, but also how to collaborate and work together on a team, communicate with others and creatively problem-solve – all essential life skills that help students no matter what career journey they take.

The best part about FIRST is that there's a place for everyone. From coding and welding to marketing and design, teams need all skill areas, diverse thinkers, creators, and leaders from all backgrounds, just like a typical business – so truly anyone can get involved.

FGB: FIRST has partnered with numerous Fortune 500 companies. While names like Boeing and Rockwell Automation are intuitively a fit for your goals, how does Lucasfilm help bring awareness to STEM opportunities for school-age children?

KW: It very much takes a village to prepare students for any career, particularly in STEM. Our supporters provide a multitude of assistance, including funding and mentorship to our students. The Walt Disney Company has been a strong supporter of FIRST for more than 25 years, beginning with Walt Disney Imagineering and expanding over time through other brands. A few years ago, we began working with Lucasfilm and the Star Wars: Force for Change philanthropic initiative. The intersection of our collaboration is authentic: both of our communities care deeply about science and technology (and robots!), and Lucasfilm has a long history of using the Force to give back. Our joint goal was to tap into the company's unmatched storytelling abilities to raise awareness of STEM and empower the next generation of innovators. We believe everyone has a place in STEM, and Disney and Lucasfilm desired to help raise visibility of FIRST and STEM careers through their powerful marketing channels.
Together, we set on a path to highlight the unique intersections of robotics and the entertainment industry, and inspire students and adults alike to become interested in the wonder that exist within the STEM field.

FGB: When partnering with Lucasfilm, how does the collaboration process work? How did you land on the Galactic Builders series on the Star Wars Kids YouTube channel?

KW: When most people think of STEM, their mind often goes immediately to structural engineering (planes, trains) or scientists in labs. The reality is that there's so much more to explore within the science and technology field. For one, Star Wars reimagined the future of technology more than 40 years ago with the arrival of A New Hope and ignited future technologists. We have the goal of demonstrating how STEM shows up in non-traditional ways as a way to bring more students into our community – and that's something Disney and Lucasfilm believe in as well. That's where our collaboration started: How do we make visible and celebrate the amazing things individuals can do with a background in STEM?

Leveraging Lucasfilm's expert storytelling abilities, we knew at the onset we wanted to create content that brought to life how science and technology is used in Star Wars, and the people behind it. We also wanted to juxtapose the skills applied at Lucasfilm to the experience FIRST teams have. Born was Galactic Builders and the perfect, unique opportunity to showcase STEM behind the scenes while demonstrating to viewers that STEM principles learned in school – and through extracurricular activities like FIRST – are used in real careers. In season one, FIRST teams across our programs hosted the episodes and compared/contrasted the work they do, which was really cool to see – and who doesn't like a trip to Star Wars: Galaxy's Edge!

FGB: Do you have any specific examples to share where the partnership with Lucasfilm has been impactful?

KW: Lucasfilm and FIRST share an authentic connection around the love for robots, science and technology. Over the last few years, we've been able to inspire many youth and those in the Star Wars fandom to join our community. A few of our initiatives to introduce FIRST to the Star Wars community have included: the Star Wars: Force for Change Build My Droid Contest, the LEGO Star Wars Holiday Contest and the United States Post Office Star Wars droid stamps campaign, to name a few. We've even had a few special Star Wars friends recognize the efforts of our robotics teams. Lucasfilm has helped us show our community that STEM can be found anywhere – even in the entertainment industry – which ultimately helps us expand reach to more youth.
FGB: So far on Season 2 of Galactic Builders, the episodes spotlight an adult in a STEM career and then show how those skills are being built by FIRST teams. This structure is a little more focused than the first season, which featured visits to Lucasfilm and Hasbro. Is the change a reaction to COVID-19 or refining how to best reach kids? Or maybe a little of both?

KW: The pandemic presented more logistical challenges when it came to filming for Season 2, though we also took this as an opportunity to add aspects of STEM that we weren't able to capture in Season 1. One large barrier to getting students engaged in STEM learning is diversity and representation. There are not enough diverse role models within the field – especially women, people of color or neurodiverse individuals. This is something we want to change. When you see people who look like you on screen, it helps shift perception. The 'I see it, I can be it' mentality is powerful and we wanted to show viewers watching that everyone has a place within science and technology. We are happy with how the season has turned out and have received positive feedback on the perception shift we are hoping to make within STEM.

FGB: How can kids get involved with FIRST?

KW: There are many ways to get involved in FIRST! The best way is to head to our recruitment page and sign-up to learn more. You can also contact your school or local community center and find teams in your area. FIRST is always recruiting more volunteers and mentors for adults looking to give back.

FGB: Anything else you'd like to share?
KW: Thank you for spreading the word about our global robotics community. STEM and robotics is for everyone. If you're on the fence about joining, we encourage you to try it out – there truly is a role for everyone on the team, including non-technical roles. In addition to building STEM skills, FIRST participants develop critical life skills that they can take with them on any career path. It's more important than ever for young people to have access to hands-on, engaging learning. And through collaborations like Disney and Lucasfilm, we are able to expand access to more youth and inspire a new generation to explore STEM fields.
Be sure to check out Fangirls Going Rogue's interview with Lucasfilm's Julie Kogura , who is featured in the first episode of Galactic Builders.
For more on FIRST Robotics Competition, check out their website.
The second episode of Galactic Builders takes a look at droid-building. Check it out below!