Review: The Lady from the Black Lagoon by Mallory O'Meara
The Lady from the Black Lagoon: Hollywood Monsters and the Lost Legacy of Milicent Patrick is the type of book that makes you wonder how many stories like this one haven't been told.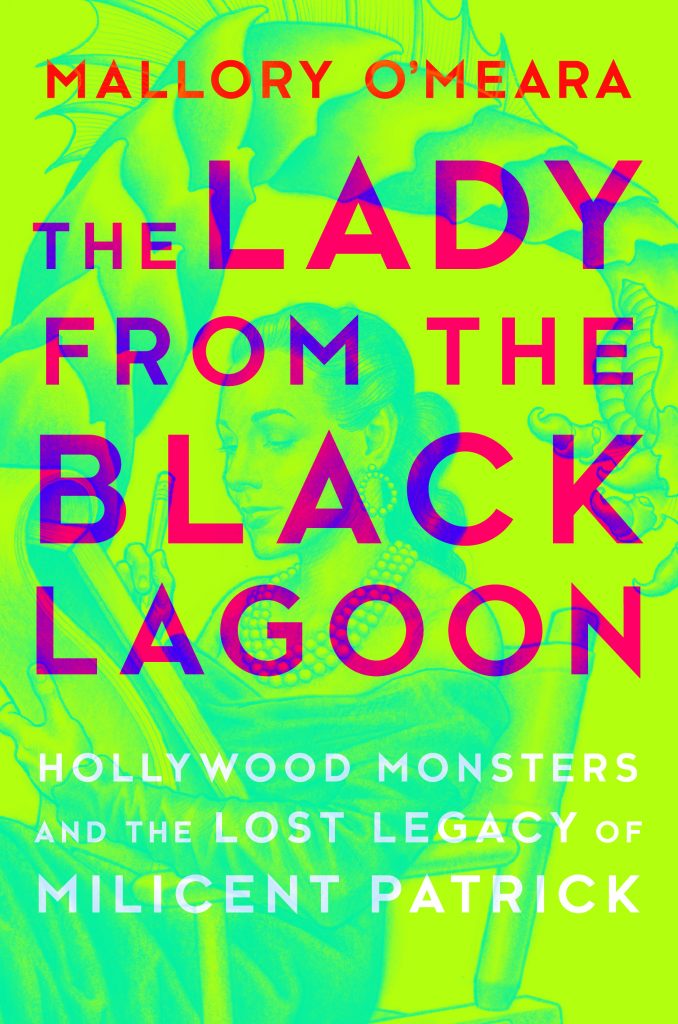 Milicent Patrick went by many names over the course of her life. She was also known as an actress, a makeup artist, an animator, an illustrator, and a special effects designer. Mallory O'Meara is an indie horror filmmaker and literary podcaster who fell in love with the 1954 movie Creature From the Black Lagoon as a teenager. When she discovered that Patrick was the person who designed the titular Creature, she was thrilled. O'Meara found in her not only an inspirational, but also eventually a fellow, woman working behind the scenes in the horror movie industry. Patrick was the first and so far only woman to have designed a movie monster. But O'Meara found it troublesome that that didn't seem to be a commonly known or even celebrated thing.
If you've watched movies from the 30s, 40s, or 50s you've probably noticed that the credits are very short compared to what you see at the end of most movies today. That's because the heads of departments were the names that appeared on screen. Credits weren't really representative of all the people it took to make the movie. And so Patrick's lack of on-screen credit is not uncommon. The fact that she was publicly allowed some credit for her work but then pretty much wiped from the movie history books is the strange story.
And so O'Meara dove into around three years of research to find out what happened to the woman she admired. It's more than admiration though. While O'Meara touches on some darker areas of this artist's life, she also continually and unapologetically fawns over her. There's a lot of passion in O'Meara's writing and often times more than a bit of anger too. This is not a detached or impartial biography and at times that's refreshing. At others it muddies up things a bit.
The Lady from the Black Lagoon is part Milicent Patrick's story and part Mallory O'Meara's own – although what each of those means changes throughout. The result is a book that's like a river with tributaries that feed into a whole bunch of tide pools of side stories. Some the author gets wrapped up in much longer than the others. It's not that they don't have a place or provide context – it's just that their depth often very much slows down what the book's stellar opening promises to give.
Additionally the author's own Hollywood story starts as a parallel of trials and tribulations of sexism in the industry before sliding into a sometimes amusing running commentary and self-insertion within Patrick's story. Meanwhile a larger personal story of O'Meara's journey to find all the info takes the Hollywood story's original place in the structure.
It's an interesting concept and sometimes as difficult to keep track of as it sounds. It felt like the organization of the book could have been better overall. Sometimes the incongruent timeline of the Patrick story and the research story step on each other and depower discoveries. There's more than a fair amount of repetition. It drags at enough points to call the whole book's pacing too slow. But from Patrick's time in the Disney Ink and Paint department through her involvement in things she loved later in life there are some cool findings and it's no doubt Milicent Patrick lead an interesting life.
What happened to this woman's career is as infuriating as ever if not more so and O'Meara has some great insights along the way too. There's something to be said of the inspiration in Patrick. She was unapologetically feminine in a male-dominated space. She did not try to become like everyone else. And when things got crappy she went with the flow and found her next thing. It wasn't always a happy path but, at least how O'Meara presents it, it was always hers.
The Lady from the Black Lagoon may be a little murky overall as a book but living in it is a story that's definitely got something going for it.
The Lady from the Black Lagoon: Hollywood Monsters and the Lost Legacy of Milicent Patrick by Mallory O'Meara is out now from Hanover Square Press in hardcover, ebook, and audiobook.
The publisher sent an advanced reader's copy for review but as always these opinions are my own.
Find this review helpful? Say thanks and encourage more books reviews by leaving a tip of a coffee on Ko-Fi.