A Review of The Girl in the Tower by Katherine Arden
Sometimes walking away from a story turns out for the best.
I first read Katherine Arden's The Bear and the Nightingale in early 2017. It took a while longer to get through than it might have otherwise because it kept creeping me out. Arden had presented a world of dark fairytales that were coming true. The pages held a place where home and nature spirits lurked in the corner of your vision without certainty of whether they were there to help or hurt. The characters were constantly besieged by weather, conflict between belief systems, and for Vasilisa in particular, the constraints of what a girl is and isn't allowed to do and be in her time.
All and all it was an interesting read but I have to admit I didn't truly enjoy the experience of reading it. I spent too much of it stressed out by or afraid for its characters. So when the next book, The Girl in the Tower, came out at the end of 2017, I realized I wasn't in the mood for weighty prose, a life piled full of conflict, and creepy demons so I took a pass.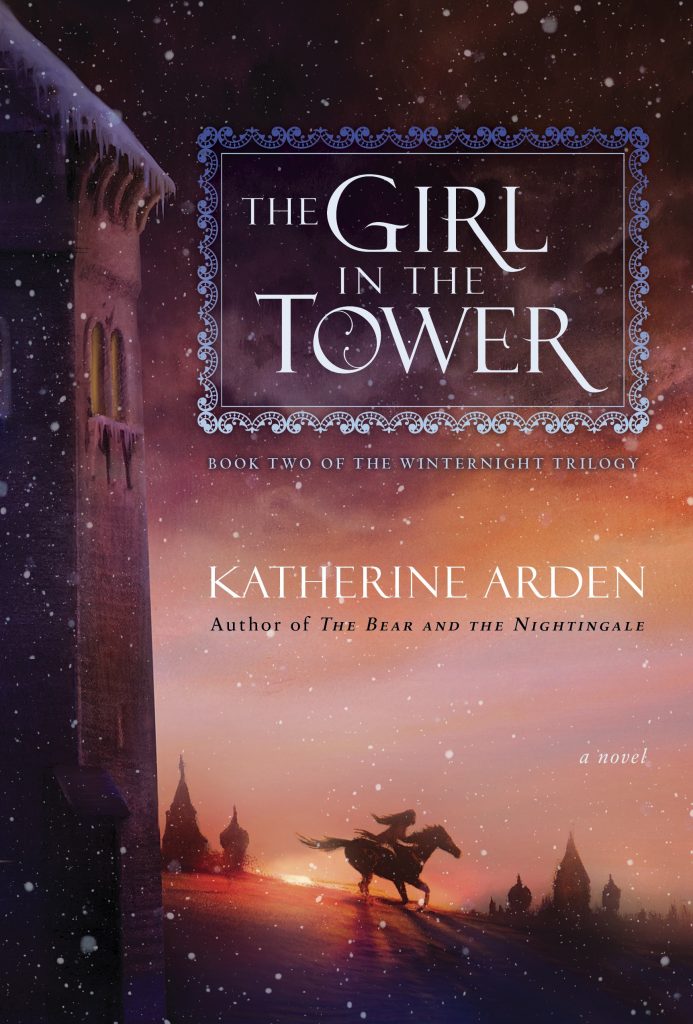 Fast forward to the recent promotion of the Winternight Trilogy's conclusion – The Winter of the Witch – and I found myself wondering whatever happened to Vasilisa Petrovna after she left her village. Soon after the opportunity arose to read the second book and I couldn't resist the good timing.
I am so glad I gave this series another chance. Katherine Arden's The Girl in the Tower completely captivated me, brewing with a level of tension that made me look forward to each turn of the page while still being able to enjoy the one I was on. There seems to be an underlying current of confidence from the author that probably comes with having your first book already under your belt. At times too I wondered if I was more used to the world she created but in this one the humans have enough of their own kind of creeps.
Although the book doesn't starts elsewhere, immediately after The Bear and the Nightingale Vasilisa (Vasya) is pushing forward with her best-of-not-so-great-options, intent on making her way as a traveler in the guise of a young man. Of course the path isn't easy and Vasya is not so great at blending in or remaining uninvolved. Her actions lead to reunion with two of her siblings but with a greater need than ever to hide her real identity.
There's more of a balance between action and dialogue in this book with thrilling and overall better pacing too than its predecessor. The fairytale world is still there but the story leans into historical fiction as well. 14th century political intrigue is present and influential but Arden never gets bogged down in it – instead using it as a support to the story she wants to tell.
Vasya is a well-developed character facing down the conflict of going with her gut even when she knows its not what's expected of her. What I really appreciate is that she firmly knows her truth and is willing to accept the difficulties that come with it. She understands the disapproval and continues to learn about the world that has opened up to her. Vasya is not a standard plucky heroine and she doesn't push buttons just because she can.
The characters around her are complex too in their webs of loyalties, motivations, and hopes. From a midnight demon, the Frost-King, communicative horses, and ghosts to a Grand Prince, a sister princess, monks, and bandit leaders – they clearly have lives of their own. It's more like Vasya is stepping across their paths than them simply appearing as a function on hers.
In The Girl in the Tower Katherine Arden has constructed a story about stories – the ones we tell and the parts we choose to share. It's a book that could be read all on its own if you wanted. There's enough mentioned from the past and it's not overly concerned with what will come after it. And while the tale is full of elements that could easily get tangled up, Arden, like her protagonist is sure there must be a way through. And so they both make their way forward.
The Girl in the Tower (Book 2 of the Winternight Trilogy) is out now in paperback, hardcover, ebook, and audiobook from Del Rey.
The publisher sent a copy of the book for review, but as always these opinions are my own.
Find this review helpful? Say thanks and encourage more like it by leaving a tip of a coffee on Ko-Fi.