The Bear and The Nightingale Reviewed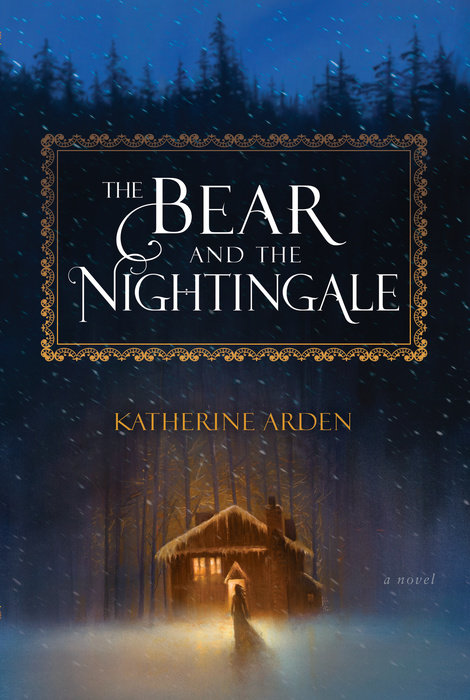 It can be simultaneously exciting, refreshing, and ever-so-slightly unnerving to start reading a book when the only thing you know about it is that it's been recommended to you. When it came to Naomi Novik's Uprooted, that kind of introduction lead to an enchanting reading experience.
More recently Katherine Arden's The Bear and The Nightingale was recommended to me multiple times because of that reaction to Uprooted. There's definitely a fairy tale/folklore spirit to both books. Both feature a female protagonist growing up while dealing with something that makes her different from those around her. Beyond that though, The Bear and The Nightingale is very much its own animal.
First-time author Arden pulled together various Russian folk tales inspired by her time studying Russian literature and living in the country. One of the biggest strengths of the book is her worldbuilding. Set in medieval Rus' countryside, The Bear and The Nightingale's environment is nearly as much of a player as any individual character. The seasons, the forest, the farm life, and the homes feel real and integral.
There's also a meta quality in The Bear's fairy tale aspect. Not only are fairy tales playing roles on multiple levels in the lives of the characters, but the whole book itself is presented like a fairy tale too. There's magic and mysteries and several moments of creepiness – the kind that as a kid would keep you on your best behavior so the monsters under your bed wouldn't get you. While Uprooted's journey featured congruent discovery, The Bear requires the reader to keep and catch up.
All of the characters start out strong and complex save for the protagonist Vasilisa. She isn't fully realized in the story until she's a bit older and we start getting a chance to visit her perspective. Vasilisa displays a fair amount of agency for a character whose gender and time period defines a large amount of her options. What's really beautiful though are the relationships between Vasya and her siblings. It's a layered but ultimately sweet portrayal of the children of a large family, which makes it all the more unfortunate that some of the family become more plot-functional as the story goes on while others drift off into the ether.
Arden's prose is weighty and poetic. The abruptness of the ultimate conflict and ending left me feeling abandoned though, as if the author was already out the door and halfway to her next stop. I later learned The Bear is the first of a trilogy, which explains why it feels more like a set-up for another book than a conclusion for this particular story. The book's title is in a similar boat – it sounds great for a fantastical book yet doesn't carry the full weight of its potential significance.
The Bear and The Nightingale moves at a slow burn and would best be read with a blanket and a warm drink. While not as uplifting as Uprooted, Katherine Arden's story is an intriguing read on conflicting beliefs peppered with archetypes that find a bit of transcendence.
Note: The Bear and The Nightingale contains moderate gore and mostly indirect reference to some adult issues that could still be disturbing to the young and modern reader.
The publisher provided FANgirl with a copy of the book for review.

She grew up wanting to be an astronaut. After seeing Star Wars, she wanted to be Princess Leia, Han Solo, and an astronaut. Life's taken her on a bit of a different path, but she's okay with that.

Kay is FANgirl's resident geek fashion expert and co-host of the Hyperspace Theories podcast. She reviews books and movies for the site with a heart for storytelling and a mind that likes to analyze. Kay's been a guest on various podcasts sharing her love and knowledge of storytelling, film-making, fashion, and of course, Star Wars.

Most days are filled with her work as a creative services professional - designing websites & branding, photographing, voice acting, editing, and more. Kay spends the little bit of free time she has reading, costuming, and, of course, making pew pew noises. She would pick up more jobs and hobbies if she was a Time Lord.