Reviewing Star Wars Icons: Han Solo
There's a lot of ground to cover when it comes to a character who has been part of the galaxy far, far away since its first movie but Star Wars Icons: Han Solo makes the run. This hefty tome written by veteran entertainment journalist Gina McIntyre provides an in-depth look at the history of the character from his early forms in George Lucas' drafts and the casting of Harrison Ford to the character's dramatic end in The Force Awakens and resurgence in Solo: A Star Wars Story.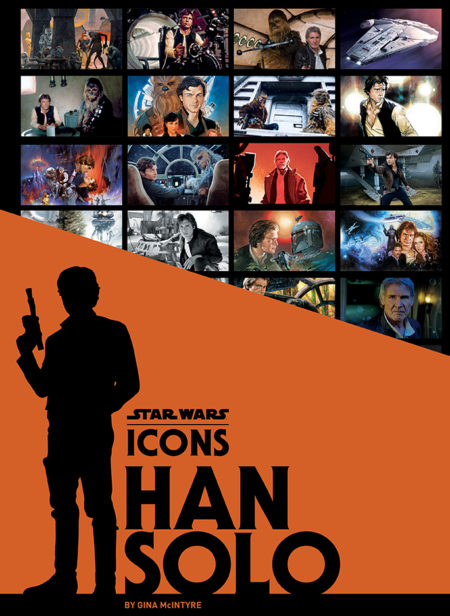 Over the 240 large (9 1/2″ x 12 3/4″) pages the path stays rooted in our universe, mostly hewing to our timeline as an audience rather than a linear following of Han's life. It's packed with tidbits from a mix of new and existing interviews from actors, directors, writers, authors, and more. Mentions of merchandise and the character's influence outside of Star Wars pop up too.
You'll also find a trove of photos and art that include well-known as well as previously unseen depictions of the character or behind-the-scenes. A lot of the images are big too – many times taking up a whole page. I, for one, never expected to see Harrison Ford's face so close-up outside a movie or TV screen, but that's not necessarily a bad thing.
Ford has become synonymous with the golden-hearted rogue and where Star Wars Icons: Han Solo really shines is with its depth on the care Harrison Ford brought to the part. The positioning of the character in the overall story is a close runner-up. It's a fairly interactive book too.
Icons makes clever use of inserts with vellum sketches you can lift to see how the scene turned out in a film. Some pages fold out or have inserts that do. There are also a few pieces you could pull out and use if you'd really like, such as a reproduction of a Han Solo bookmark and another of a sticker. An envelope in the back is ready to hold them. The only drawback to all this great visual content is that the layout often means you have to stop mid-sentence to check out all the imagery and their captions before moving to the next page. When it happens several spreads in a row, it can call for a bunch of re-reading and really disrupts the flow.
I found I really wanted to pace myself to absorb it all; Han Solo has always been one of my favorite characters. This is a book best savored than skimmed. I really don't know how McIntyre and publisher Insight Editions managed to make all the calls on what to include. The movies seem to get the most weight/chapter space while pieces like comics, gaming, and books have to share. There are many areas they could have further dove into but clearly the line had to be drawn somewhere. For the most part the balance struck is pretty good. For instance while Icons doesn't really get too far into Han and Leia's relationship, I really appreciate the great insights on it from Majorie Liu, author of the 2016 Star Wars: Han Solo comic series, and Jen Heddle, Lucasfilm Executive Editor for Fiction.
It clearly took a lot of work to put this hardcover coffee table piece together. If you're also a fan of Ford and Solo, there are large swathes of this book you'll be familiar with, but like the character himself there still seems to be a few surprises up its sleeve. Star Wars Icons: Han Solo can be a fun place to discover them.
Star Wars Icons: Han Solo is out now from Insight Editions exclusively though Sideshow Collectibles. Wider release is expected in April.
The publisher sent a copy of the book to FANgirl for review but as always these opinions remain my own.
Find this review helpful? Say thanks and encourage more like it with a coffee on Ko-Fi.