Magic Words: Reviewing Spinning Silver by Naomi Novik
Naomi Novik's Spinning Silver is a fantastical ride of a modern fairytale. Beginning with Miryem, the daughter of a moneylender who is better at lending than collecting, Novik weaves a tale that gradually expands and encompasses a slew of characters. Miryem's decision to step up to save her family from poverty crosses paths with three siblings working to survive their farm and their father, a duke's daughter right as her life is upended, and an icy creature haunting the woods with a need for gold.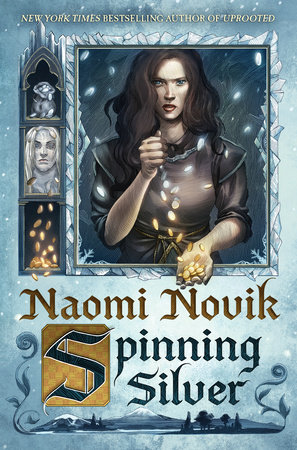 There's enough in the first third of the book to be a story all its own but the pacing clearly gives way that there's much more to learn from and about this kingdom. Lucky for us the story is all the better for keeping going. Narrative threads are soon twisted in by the perspectives of three major female characters. But just when you get used to the rhythm, more p.o.v.s are peppered in as character paths flow in and out of each other's way. And it all serves to further heighten the magical vibrations found within the plot.
At over 400 pages it's no quick read, but as I soaked up each page I found myself content to never be entirely sure of where the story would ultimately go. For a chronic analyzer, that's saying something. Perhaps it was my enjoyment of Novik's previous work, Uprooted, that made it that much easier to trust the process. Maybe I was more familiar with Eastern European-style harsh winters and supernatural acceptance thanks to Katherine Arden's The Bear and The Nightingale. Ultimately though while Spinning Silver takes a little inspiration from Rumpelstiltskin, this new novel is very much a fairytale standing on its own legs.
Themes of responsibility, love, sacrifice, and power resonate as three distinct women come into and possess inner, and sometimes literal, magic. Relationships run deep and respect is earned. Novik keeps it smart. And while her writing remains accessible, she doesn't hold a reader's hand either.
Spinning Silver is a captivating adventure I look forward to going on again. How lucky we are that Naomi Novik writes stories and lets us read them.
The publisher provided FANgirl with a copy of the book for review. As usual opinions are my own. 
Spinning Silver by Naomi Novik is out now in hardcover, ebook, and audiobook from Del Rey. You can start reading it right here: