Po-Zu Star Wars Millennium Falcon Shoe Review
A few years ago on a podcast someone asked me to name one thing that was missing from fandom fashion. My response? Comfortable Star Wars shoes. Then along came Po-Zu with the Star Wars license and my wish was granted.
It got even better than that. Po-Zu not only prioritizes comfort, but they make ethical footwear. That means they use sustainable materials as well as respect and care about the people who make them. Po-Zu's Star Wars designs include both movie replica boots and themed sneakers. Plus they have offerings in women's, men's, and children's sizes.
When I was offered a chance to review a pair of sneakers from a new factory partnership in Sri Lanka, it was a no brainer.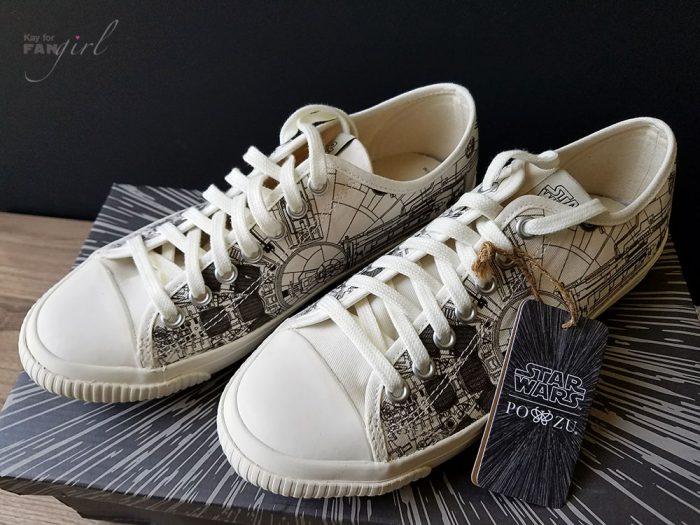 The Star Wars Falcon shoes are a low cut, vegan, lace-up sneaker in organic cotton with fair trade natural rubber soles. The sides are decorated with a technical drawing of my favorite hunk of junk in the galaxy – the Millennium Falcon. And I love how the whole look manages to be bold and subtle at the same time. Fellow fans may recognize the drawing and anyone else can just see it as a cool pattern.  They do have a Star Wars & Po-Zu logo sewn on the tongue and in a rubber patch at the bottom of the heel, which are mostly noticeable from head-on but less apparent from farther away.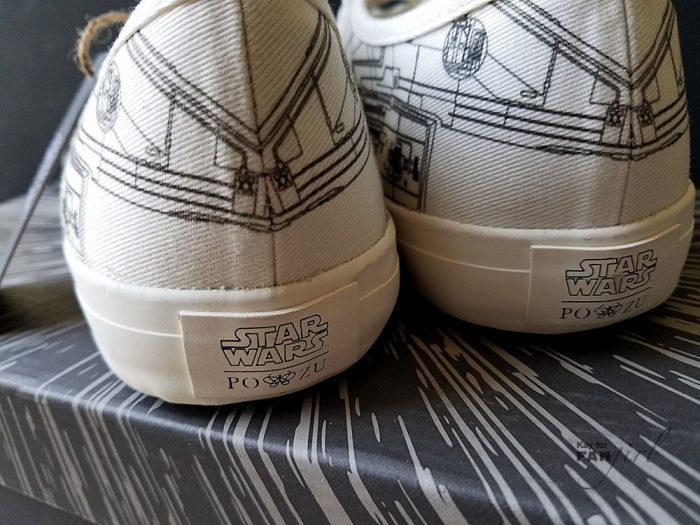 Since the color scheme is black and white, these shoes make for a nice neutral that can be worn with pretty much anything without clashing. Besides with the Millennium Falcon being featured in the original trilogy, the sequel trilogy, and Solo: A Star Wars Story, you can wear this design in tribute to any of them. And did I mention the Falcon sneakers are comfortable? The memory-foam Foot-Mattress™ actually molds to your foot shape in time. (I haven't had my new shoes that long but I know from wearing other Po-Zu shoes.) It's also removable in case you need to have your own orthotics in there.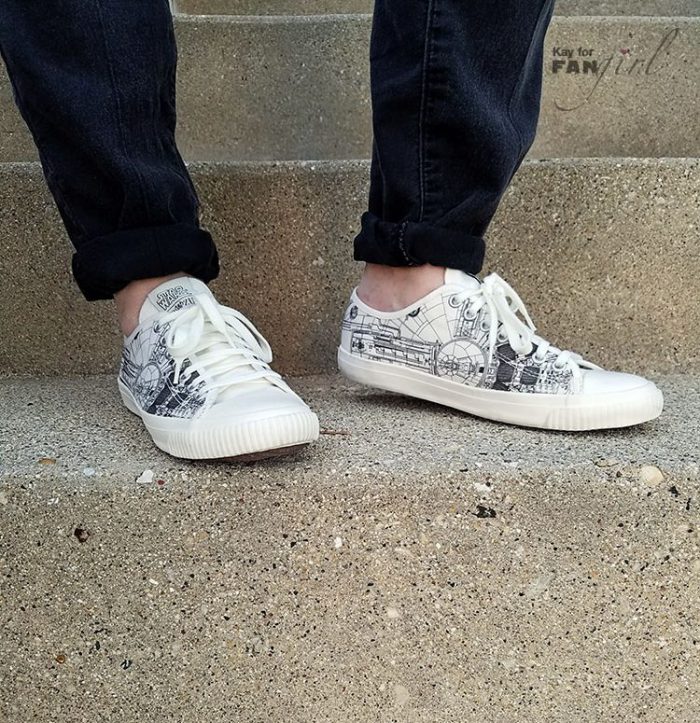 Sizing is unisex and available in EU sizes 36 – 47 (about a US size 5 – 13.5). The Po-Zu website has a nice sizing guide on each product page if you need help determining. They say these sneakers run a bit small and you should order the larger size if you're between sizes. I had no problem getting my regular size. The Falcon shoes are priced at £59.00 (about $79.96 US). That's pretty reasonable for a handmade, sustainable material, licensed shoe.  
If I could change anything about this shoe, it'd be to shorten the laces a bit. I've felt the need to double tie them in order to make sure I don't step on them. Other than that, the Falcon design is really superb, not to mention fun.
You can order Star Wars Falcon sneakers from Po-Zu via their website.
Thank you to Po-Zu for sending these in exchange for a review. No positive review was required and as usual this honest opinion of my experience with this piece of geek fashion is all my own.
All photos in this post by Kay and may not be reposted without permission.