EXCLUSIVE Sneak Peek Image – Star Wars: Essential Guide to Warfare
Sometimes people have this image of fanfiction writers as all dreamy-eyed, with hearts coming out of our eyeballs as we wax overflowery prose into a mush-filled tome. I'm first to admit there's a bit of truth in every caricature; if you want to talk 'shippers, well, we certainly don't shy away from a little warfare either…
[Yoda_Voice]Begun the 'Shipper Wars have.[/voice]

This NJO flashback moment was brought to you by the Empire of the Hand, proudly providing roguish Imperials to the Star Wars Expanded Universe for over a decade.
As a fanfiction writer, the nitty-gritty of fleet facts or overly detailed obscure character bios weren't the thing I cared most about. Still, I purchased almost every Essential Guide and any other nonfiction resource available. When I weaved my little Star Wars tales, I wanted to get it right. That was pretty much the perspective of most fanfiction writers I knew, too, many of whom prized the Best Canon Story and Best Canon Character awards above all others.
Over the past couple of months, the Star Wars Books Facebook page has posted images from the upcoming Essential Guide to Warfare, and they shared a few more at io9 last week. I'll read and keep it as a fan resource, but I have to admit my favorite part of any Essential Guide is the art and images. Sometimes, we're even seeing a visual of an iconic character, starship, or moment in the Expanded Universe for the very first time. For that same reason I'm eagerly looking forward to the upcoming Essential Reader's Companion, as well.
Knowing that my pals in the Cantina and I were captivated by the adventures of the Solo siblings in the New Jedi Order series, Erich Schoeneweiss sent FANgirl this exclusive sneak peek at Anakin, Jaina, and Jacen confronting the Yuuzhan Vong. The fabulous artwork is by Chris Scalf, who's currently doing the art for the Boba Fett is Dead comic arc for Dark Horse. Sometimes a picture really is worth a thousand words. Enjoy!
The Star Wars Essential Guide to Warfare goes on sale April 3rd.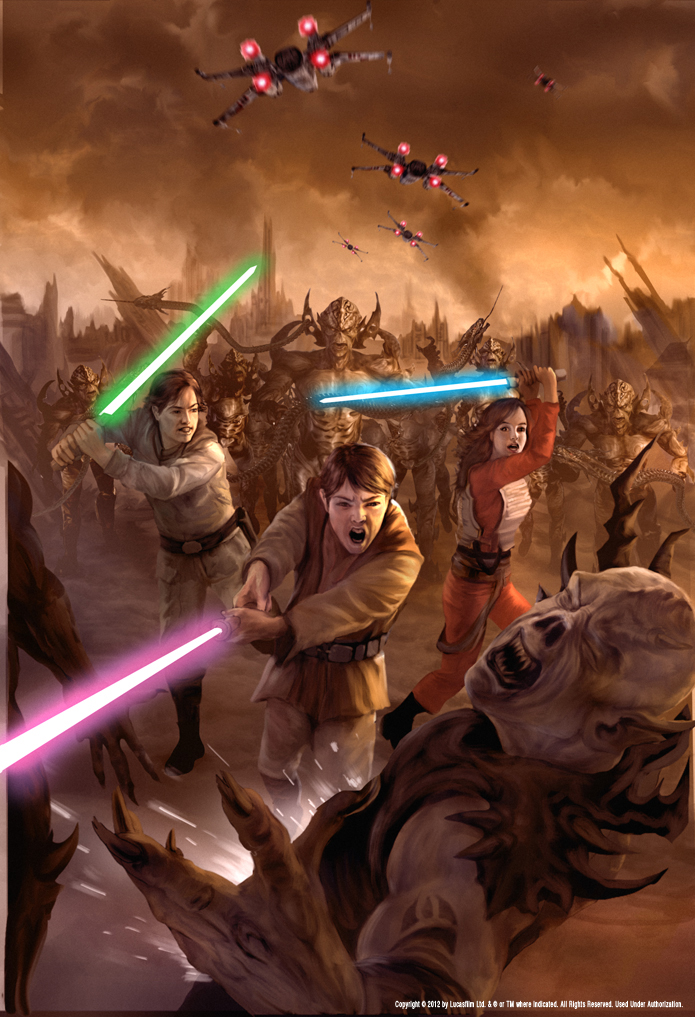 Tricia Barr took her understanding of brand management and marketing, mixed it with a love of genre storytelling, and added a dash of social media flare to create FANgirl Blog, where she discusses Star Wars, fandom, and the intersection of women within Star Wars fandom. She is co-author of Ultimate Star Wars and Star Wars Visual Encyclopedia from DK Publishing, a featured writer for Star Wars Insider magazine with numerous articles on the Hero's Journey. Her FANgirl opinions can be heard on the podcasts Hyperspace Theories and Fangirls Going Rogue.

Tricia Barr's novel, Wynde, won the 2014 Independent Publisher Book Award Gold Medal for Best Science Fiction/Fantasy/Horror Ebook. She was also part of Silence in the Library's successful all-female creator science fiction and fantasy anthology Athena's Daughters, which is available now. For excerpts and tales of her adventures in creating a fictional universe, hop over to TriciaBarr.com.