2017 Her Universe Fashion Show – Highlights and Kay's Picks
San Diego Comic-Con's Thursday night was marked by the 4th Annual Her Universe Fashion Show. And while I couldn't attend in person I did have an entertaining time hopping around Twitter, Periscope, and Instagram in an attempt to catch all the action as it was happening.
A diverse array of models sporting the latest pieces from Her Universe were the first group on the runway.  This apparel included a new Princess Mononoke set, pieces from the batch of Star Wars items launched at SDCC, two shirts from an upcoming Disney Channel original series line, as well as examples of the Wonder Woman collection designed by the winners of last year's Fashion Show.
Her Universe founder Ashley Eckstein wore a blue strapless high-low ballgown designed by 2014 Her Universe Fashion Show winner Andrew MacLaine and inspired by Cinderella featuring 5,000 crystals. The evening's theme was the Walt Disney quote "If you can dream it, you can do it." This was bolstered by Ashley's announcement of the book she's writing for Disney Publishing about following your dreams called It's Your Universe.
Twenty-five designs walked the runway in the main show representing inspirations from video games, books, TV, anime, and movies. Some of the geek couture outfits were modeled by the designers themselves and some by friends of the designer. The judging panel included the 2016 winners Hannah Lees-Kent, Jesse Thaxton, and Camille Falciola as well as Hot Topic Sr. VP of Merchandise and Marketing Cindy Levitt, Disney Style editor Nicole Mynott, cosplayer and costume designer Yaya Han, and actress and animal advocate Harley Quinn Smith.
Here are my top six favorite looks from the 2017 Her Universe Fashion Show: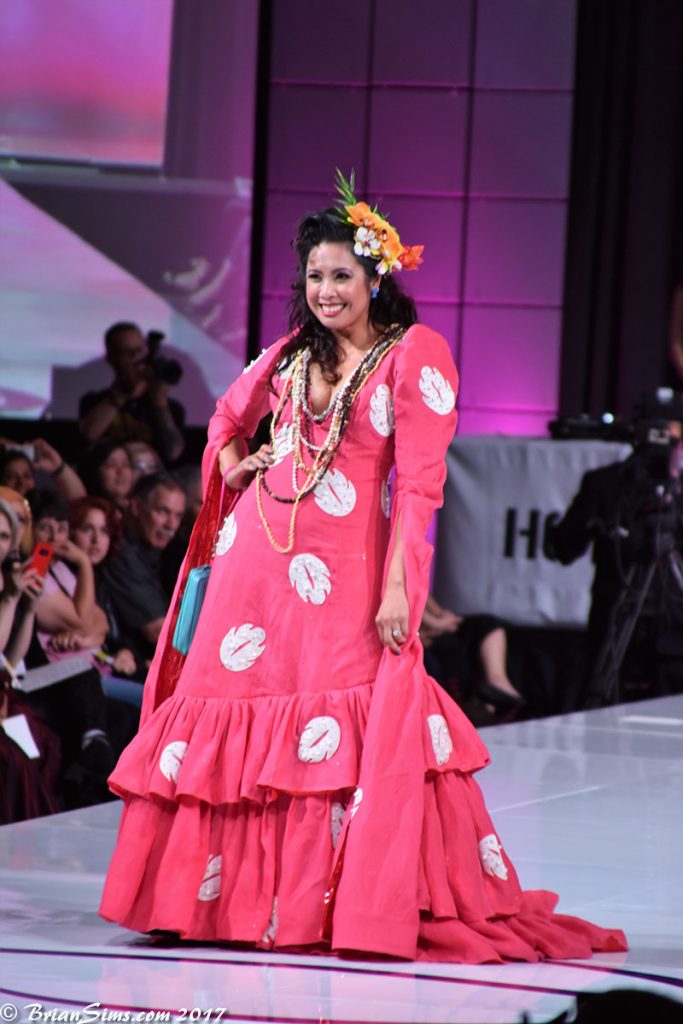 Ohana Means Fashion
by Tanya Apuya
This dress takes the red and white one Lilo wears in the 2002 animated Disney film Lilo and Stitch to a gorgeous new level.
The ruffles remind me of a Hawaiian muumuu plus Tanya has brought in her own family background by integrating Filipiniana fashion into the design such as the heightened sleeves.
Meanwhile the dramatic extended sleeve openings bring to mind pieces of an Elvis cape –  no doubt Lilo would approve.
The styling is beautiful with the multiple shell necklaces and a stunning flower arrangement.
The purse designed to look like the camera the character uses in the film is cute without distracting from the dress itself.
Tanya competed in 2016 with a clever Harry Potter book dress.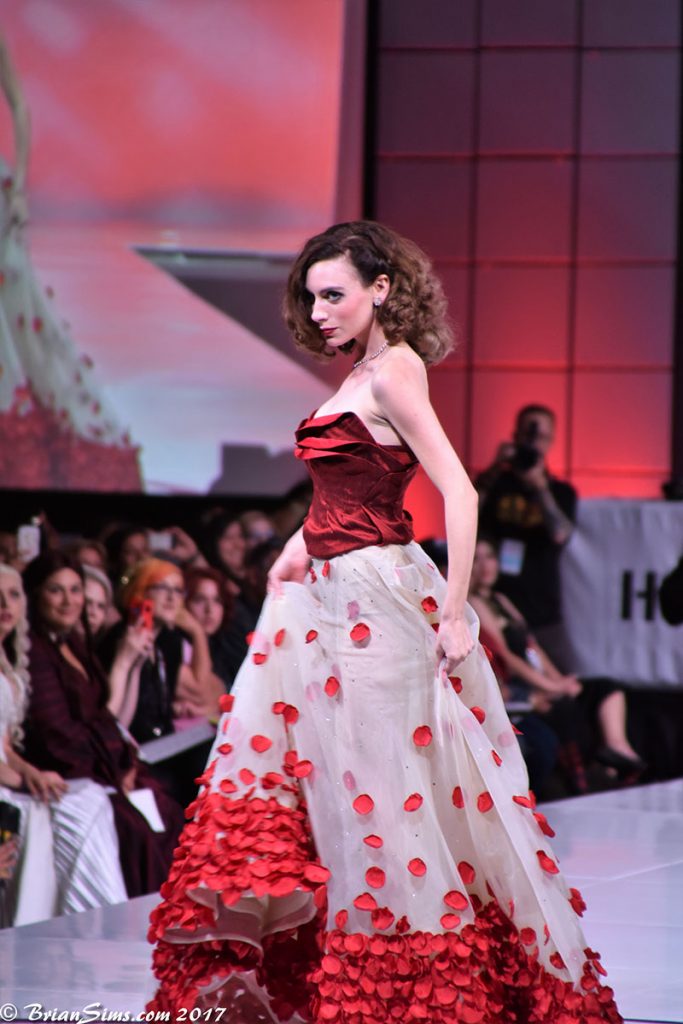 Enchanted Rose
by Lynne Marie Martens
I starting following Lynne Marie on Instagram shortly before the show and through there got a glimpse of all the work that went into cutting out all that red silk in rounded shapes and then using a flame to get each petal to curl just like a real rose.
I was eager to see how they'd incorporate into the whole design and this dress did not disappoint.
She's captured the motion of the petals falling from the the movie's west-wing held rose along with the container that protects it in such a romantic presentation.
The bodice also mimics the petals of the rose – something that could have become unflattering but has been placed just right.
Lynne Marie's 2016 Her Universe Fashion Show design was TARDIS Through the Wormhole.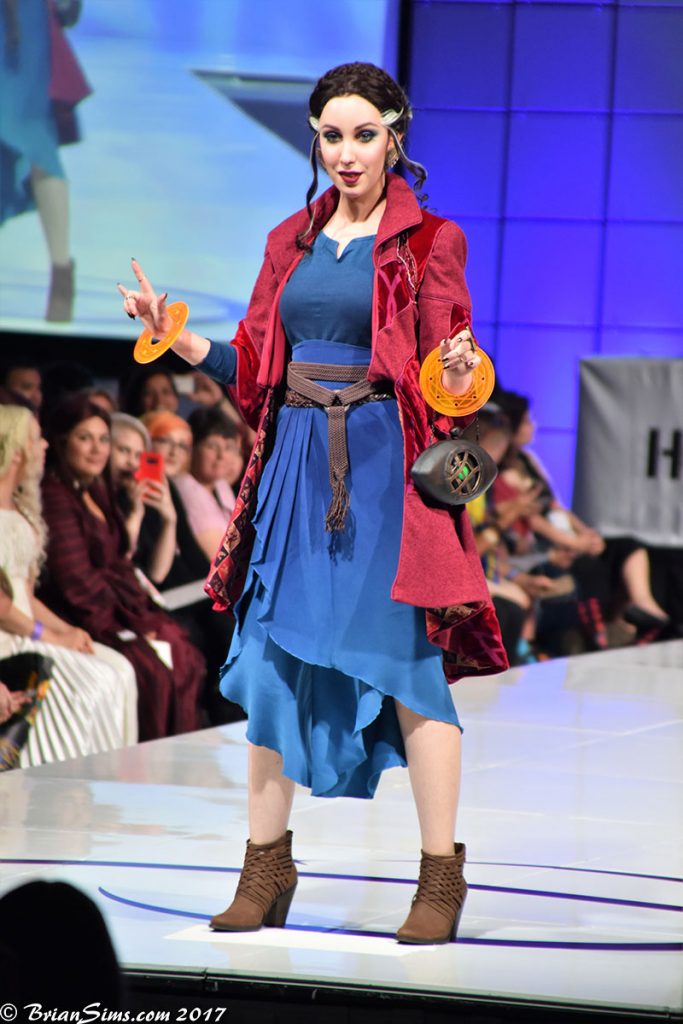 Sorceress Supreme
by Rose Ivy
When Rose Ivy walked down the runway in this outfit inspired by the 2016 Doctor Strange movie costume I actually said out loud, "Yes, that is so wearble!"
Getting to see all the different patterns of a friend's Doctor Strange cape last year gave me a better appreciation for how this designer has taken all those subtle details and adapted it into a lined jacket.
Initially I thought the blue part was a dress but Rose shared on Instagram that it is in fact a shirt and pants that she subtle ombre dyed herself!
My favorite thing about this look though is that it'd be so easy to integrate any of the pieces into your own wardrobe and wear them in different combos with clothes you already own.
Rose Ivy's 2016 Her Universe Fashion Show design paid tribute to fashion of the 1940s and Star Wars' General Hux.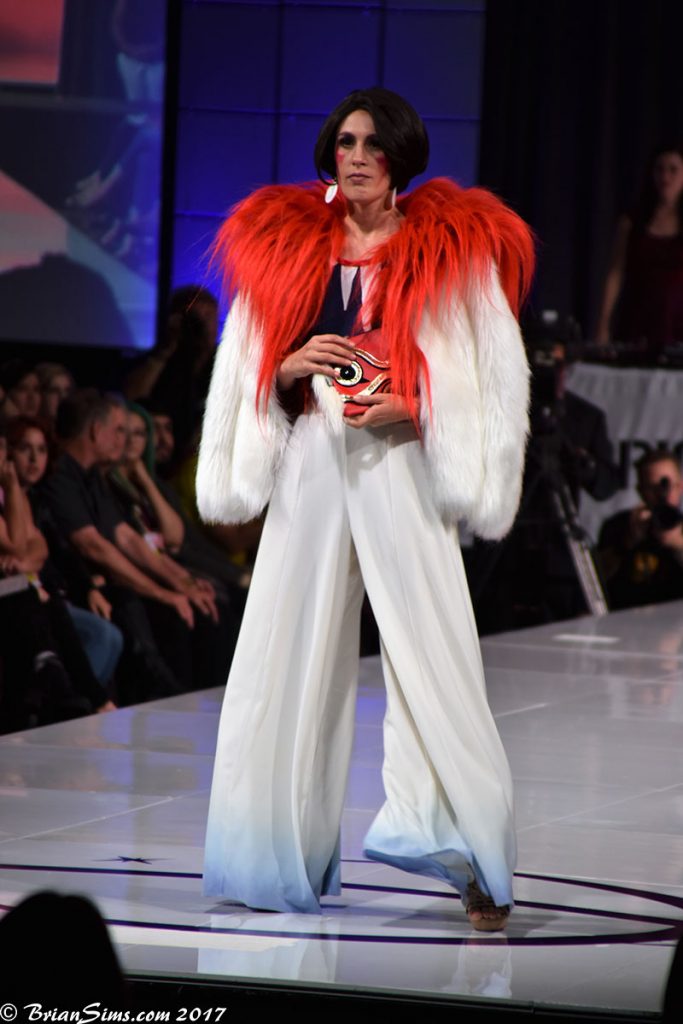 Leader of the Pack
by Lindsay Meesak Orndorff
When this rockstar meets Cruella de Vil piece of sophisticated design appeared on the runway I gasped a little.
It's in-line with current fashion trends while being dramatic, sophisticated, and something entirely of its own.
Lindsay managed to create the look of a gown with separates.
And I don't know about you, but I want to wear that shirt – when the model takes off the jacket the full view of the colorblocking is fabulous.
I could have sworn as she walked away there was a subtle echo of the front design on the back.
You also can't see it in this photo but there's delicate embroidery and beading on the waistband.
Lindsay was a finalist in the first ever Her Universe Fashion Show back in 2014.
The Diva Plavaguna
by Rebecca Jordan
If you've seen The Fifth Element, there's no doubt that this is the Diva in dress form.
I love this pale blue paired with the black all on its own and the details really make this design.
The main fabric looks to be latex and it holds the drape of the dress so well but what I really love about this is the leather belt connecting to the neckpiece.
It's delicate and badass at the same time.
The cutouts also pay tribute to the character's neck piece without being rendered exactly the same way.
I can imagine pairing the belt, the neckpiece, or both with a range of dresses to bring a whole new look to them.
Styling the bracelets and shoes with it add to the powerfulness without overshadowing or competing with the main piece.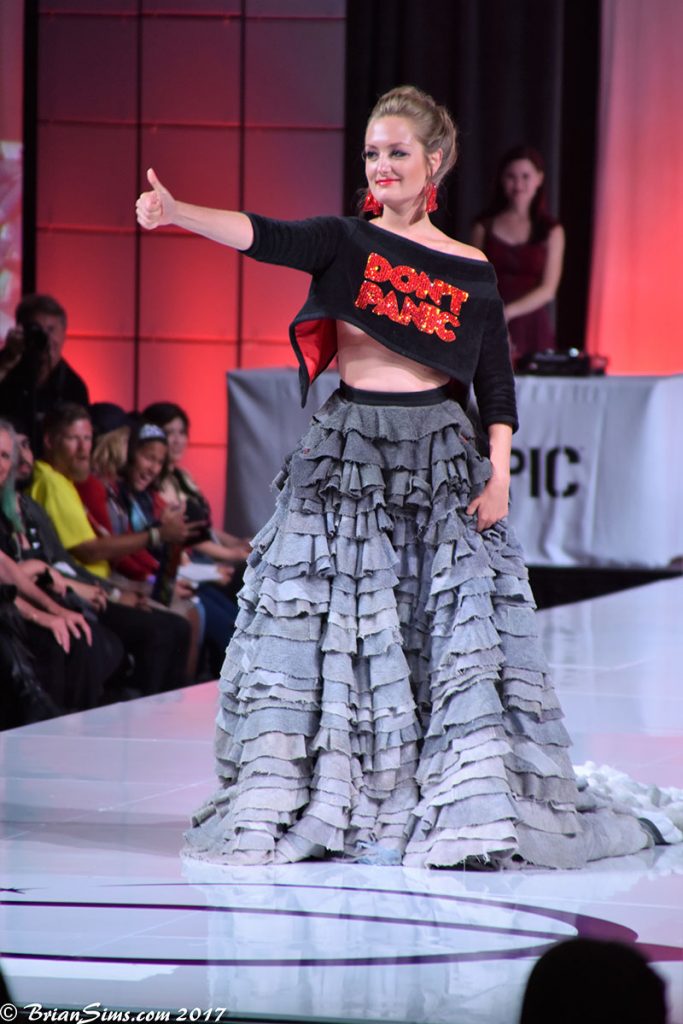 Don't Panic
by Grace Duval
If you're unfamiliar with Hitchhiker's Guide – towels are very important. Travelers should never be without their towels. And Grace's design is made completely out of towels. So she's got the whole earth-friendly re-purposing thing going for her while being very meta in regards to her inspiration.
On top of all that she's used the materials in a way that elevates them.
Cozy and dramatic is an uncommon style combo, but this shirt and skirt nails that aesthetic. The neckline and open back of the top are a little sexy too and in women's fashion the overlap between sexy and comfortable isn't a very populated place. Plus some of us could definitely use a portable reminder not to panic.
On the runway the design was revealed via another nod to the story – The model appeared in a bubble-shaped bathrobe, which when undone flipped inside out to become the skirt.
Grace showed in the 2016 Her Universe Fashion Show with a Game of Thrones transforming outfit that was made in part out of tires.
The Winners
The judges came to an unprecedented tie decision, awarding their Judge's Pick to both Rose Ivy for Sorceress Supreme and Lindsay Meesak Orndorff for Leader of the Pack. The Audience's Choice winner was Grace Johnston for Don't Panic. These three designers will be working on a Disney Princess-themed collection for Her Universe x Hot Topic to be released in 2018.
As you can see, I find all three winners to be great picks. So congrats to them and congrats to everyone who displayed their work in the 2017 Fashion Show. It's really inspiring to see people expressing their passions through this medium and I hope they all keep going.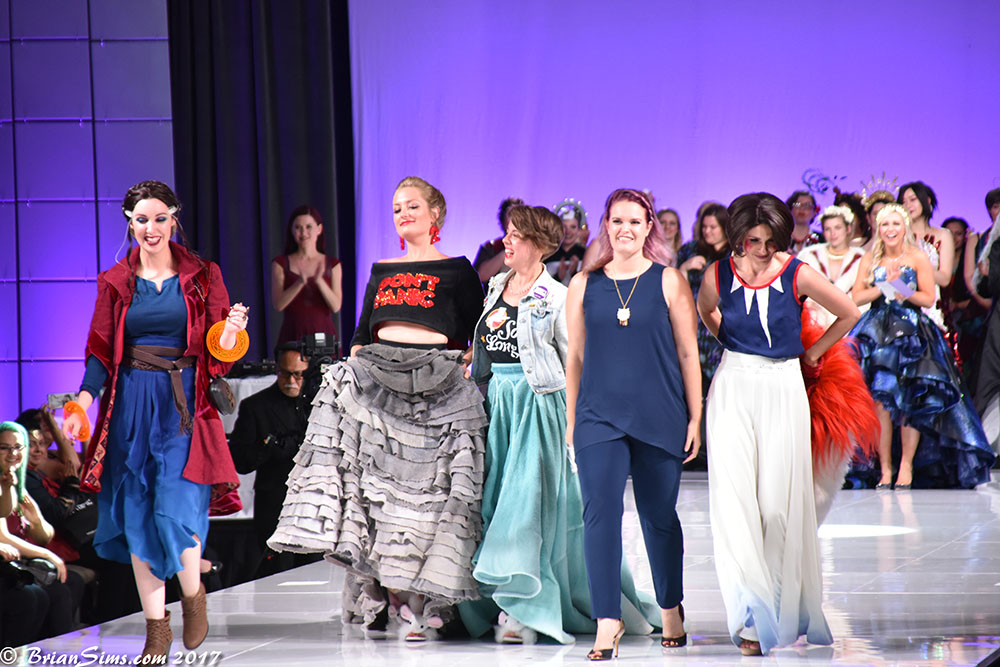 Special thanks to Laura Christina Ortiz (designer of the 2016 show's amazing recycled materials WALL-E outfit) for sharing with me that 10 of this year's designers were returning from previous years and for helping me start pairing designers with their previous work. Also a big thanks to Brian Sims who allowed me to use his photos of the designs on the runway so I didn't have to use the grainy screenshots I'd taken while watching the show.