What Carrie Fisher Meant To Us
Though many of us had feared the worst after hearing of Carrie Fisher's heart attack, it was still a terrible shock to learn that she had died. Now with the death of Debbie Reynolds, the sense of tragedy is compounded. I asked our contributors to share what Carrie Fisher has meant to them. Like the actress' gifts, the emotions are diverse, though Carrie's intelligence, spunk, honesty, and ability to connect unites all of us. Carrie, you are one with the Force and we will miss you.
Linda:
As a child, Princess Leia, like Princess Diana, was a women I envied and longed to be, but knew I never could be, which is why I probably always played Han Solo as a kid. Both women seemed to belong to a different world I would never inhabit, born into privilege, and from my outsider's point of view, leading seemingly perfect lives.
Carrie Fisher was so gifted: intelligent, witty, and humorous. It would have been easy for her to keep that throne of cool perfection, but she didn't, choosing instead to share her whole life, the beautiful and the messy, the painful and the ugly. It was a generous gift to open up and let us all in, so that we could see that no one's life is perfect or without suffering. To see that whatever may show on the outside, that on the inside we are all very much the same. Carrie shared her incredible talents with us, making us laugh and cry in turns. For me, the greatest gift she shared was her honesty and vulnerability. She was a true people's princess.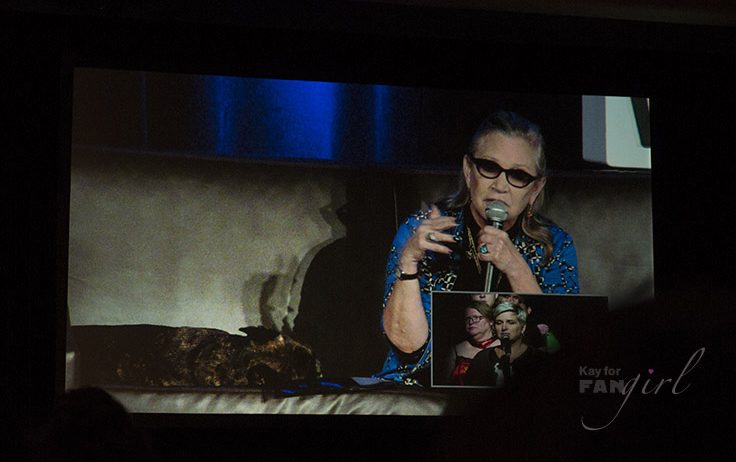 Kay:
Carrie Fisher led a life that was simultaneously extraordinary and relatable. She was bold, uncompromising, and a source of intense wisdom. I found her as a young girl through the determined, inspirational form of Princess Leia, and I learned the deepest lessons from the woman herself as an adult.
A few months ago I found myself in the same room as Carrie and she had me laughing out loud one moment and in heartfelt tears the next. I'm pretty sure there's such a thing as a Carrie Fisher presence contact high, and I was lucky enough to experience it a few times. She could raise the energy in any room to a magical place.
The woman was a brilliant storyteller with an amazing command of words that she also applied to her admirable advocacy on behalf of mental health. And shit, she knew how to get a laugh. As important as Leia Organa remains to me to this day, I will be forever grateful to Carrie Fisher for reminding me when I'd forgotten that not only is it possible to laugh at life, it's necessary.
Tricia:
I have no words. I did the other night when I talked to my friends Sarah and Richard. I cried once during that talk, but kept circling back to all the times she made me laugh.
But the words… When I try to write about what Carrie Fisher meant to me, they keep eluding me. This blog wouldn't exist if I weren't the girl who found a heroine in a campy space opera. That girl grew up loving that space opera and feeling like women like me were adrift in a sea of men. Carrie Fisher told me that was true with her witty, poignant tales, but she also inspired me with her deeds to embrace the fandom family that didn't quite know what do with powerful, opinionated women. It was after watching Carrie Fisher's panel at Celebration Orlando that the fangirl feminist in me was awakened.
Carrie Fisher was everything I hope to be: a truth-speaker and a storyteller. She was vulnerable and fierce. She got up when life knocked her down. She wasn't afraid to look straight at her failings and talking about them candidly. Carrie loved and was beloved.
She will never be forgotten.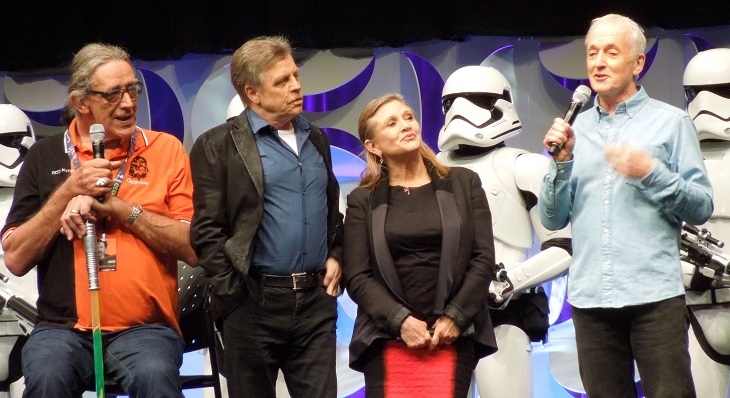 Ross:
Carrie Fisher as Leia always represented part of the heroic trinity of Star Wars, alongside Luke and Han. As someone born a couple years after Star Wars debuted, both women have always been a part of my life, and I stress both women because Leia is a separate creation of Fisher, infused with such qualities like a sardonic quip or a fiery resistance to attempts to quiet her spirit. When you separate an actor from his or her role, looking past the fantasy, one is sometimes left with a real person who seems mundanely disappointing. This was not the case with Fisher, and as I grew up and learned about her personal accomplishments as a writer and outstanding advocate for mental health, my admiration for her went beyond the character she bequeathed us. Her impact on me, though, remains almost entirely through her portrayal of Leia, introducing the concept early in my life that women could be heroes. As a guy, I didn't benefit from this message by suddenly seeing a world of possibilities unfold before me, the entirety of the world already told me as much, but it did teach me that women deserved that opportunity alongside any man. She bequeathed in me, before I even knew the word, the idea of gender equality. That idea is now firmly part of who I am today and shapes how I view the world. I am terribly sorry for her friends and family, I lost a role model and an icon, but they have lost a friend, a mother, a daughter, and confidant, and I thank them for sharing her with us.
Mary:
Carrie Fisher's Princess Leia didn't hesitate to grab a weapon and use it to resist Darth Vader even as he dispatched soldiers with mere waves of his hand. Carrie created her most iconic character as a model of smart-ass defiance who managed to maintain her femininity. This was an instant reversal of the old assumption that girls were damsels in distress not heroes with attitude, a shift that had a monumental impact on me. Still, the character of Princess Leia is not what I will remember most about Carrie Fisher. What I treasure is perhaps her most endearing gift: she was hilariously, cuttingly, relentlessly funny. Her humor was always rooted in truth and Carrie understood that a good joke could soften hard realities. She regularly laughed at herself which I believe may have been the most important legacy of her natural wit: don't take yourself too seriously. For Carrie, as for me, this appeared to be the key to personal survival (prior to the abrupt failure of her heart).
In a variety of ways, Carrie was the Star Wars community's flawed but fearless leader. She was one of us, not setting herself apart from our community but meandering through fandom with us, observing and giving voice to what Star Wars meant to us all. That attitude extended well beyond Star Wars, of course. By all reports she was consistently irreverent, unintimidated, and uncensored throughout all facets of her life. By her example, Carrie gave me so much to aspire to, as a woman and a human being. Whenever I laugh at a witty or acerbic comment, I will remember Carrie, and try to imagine how she would have raised the humor quotient in that statement to another level. She was a master at having the last (funny) word. Today, though, it is on to new adventures for you, Carrie, and in a dramatic and tragic twist, now with your extraordinary mother, Debbie Reynolds, by your side. Some say that she could not live without you. But your friends and fans will carry memories of you forward because neither a mind so brilliant nor a light so bright can ever be fully extinguished.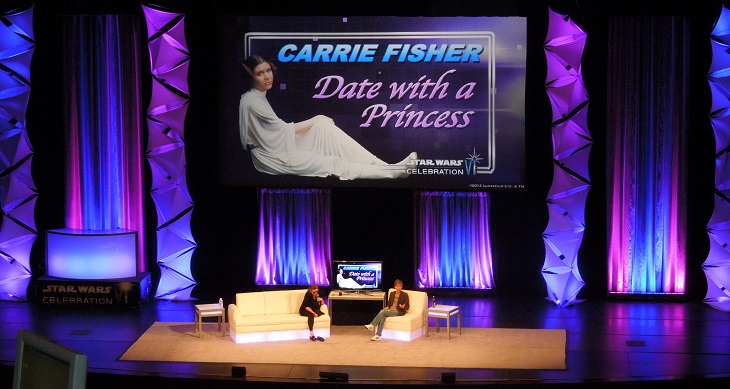 B.J.
Every one of us has our ups and downs, good days and bad days, highs and lows over the years. Always in the spotlight, Carrie Fisher no doubt experienced some of the greatest of heights, and lowest of depths, that anyone ever could – certainly in ways I can't even comprehend. While I can't relate to the joys and agonies that derived from celebrity and its accompanying relentless (often tasteless) media scrutiny, the challenges of loved ones facing mental illness, or addiction, or painful family conflict I have experienced first-hand. In those moments, Carrie Fisher inspired me. She reminded me that the bad in life conquers the good only if you let it, and that humor is often the best weapon in that fight. Most of all, she represented the core truth to be yourself, unapologetically, regardless of what others might think, or say, about you. Her inspiration has helped me through difficult times, as I know it has for many others too, and that legacy of hers matters more to me than anything else.
Priya:
I learned of Carrie Fisher's death as I was going to bed thousands of miles away from home while on vacation in India with limited internet connectivity.
I mention this because connection is what defined Fisher. Not just her very obvious redefinition of the word princess, but her very ability to use humor and honesty to discuss human frailty. Her death feels unreal because she connected so many of us together.
It is hard to imagine Star Wars without her, but yet here we are. Whether she played a best friend, a princess, or a general, Fisher was in the end a survivor and a new hope for us all.