Fighting Demons on the Path to Self-Discovery: Heroine Complex – Reviewed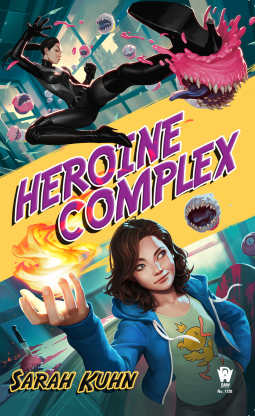 Urban fantasy paranormal fiction is not usually a genre I gravitate towards. When I saw that Sarah Kuhn's Heroine Complex was about the life of someone who works for a superheroine though, I was intrigued. As initially interesting as it is, this story is much more than a glimpse behind the scenes of a superhero's practical yet fraught support team. Heroine Complex is a touching look at female friendship and sisterhood.
The paranormal and fantastical elements and plot lean towards a cartoon or comic sensibility that almost seems at odds with the story's deeper workings and yet it still gels. It's an enjoyable read. There's a lot of wise-cracking and drama.
And yet I was most taken with how Kuhn has developed a layered back-story for the reserved assistant Evie Tanaka and the image-conscious superheroine Aveda Jupiter (Annie Chang) grounded in life experiences that are relatable even if you weren't one of the only Asian kids in your class growing up. It's smart in its take on friendships that are hard to understand from the outside, toxic relationships, self-confidence, self-discovery, and finding the middle ground. Even when a plot point or two flies in a bit too conveniently, the relationship between these two leads takes a journey that ebbs and flows in a way that feels very, very real and natural.
And if that wasn't enough, there's a second female relationship testing Evie – that of her and the younger sister she's been raising for the past several years. What initially seems like a typical sister relationship peppered with the teenage angst of a secondary character starts to become an opportunity to not only let both characters shine, but grow too.   
This is not a book filled with beautiful turns of phrase; its matter-of-fact, sometimes profanity-laden writing suits Evie's point of view and experiences. And the idea that superpowers are fairly common for one city but superheroes are not further makes this story to feel like a fresh take.
Heroine Complex is a book that's intended for more adult audiences, which is almost too bad. It has a lot of wisdom delivered naturally that a younger reader might do well to reflect on if they're mature enough to handle the swearing and human sexuality that's wrapped up in there too.
The publisher provided FANgirl Blog a copy of this book.