Kay Reviews Only Lovers Left Alive
I finally got to see Only Lovers Left Alive and it was sublime. Delightfully unusual and beautifully melancholy, I finally found a movie about vampires I can enjoy. In a way it is about vampires and is not. No one ever says "vampire" in the movie, but they have the fangs, drink blood, and only go out at night. It's just part of who the main characters are though. More so the film is about time passing and choosing what to value.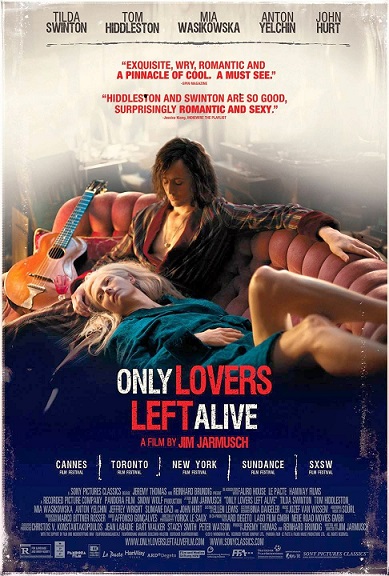 The whole story floats before your eyes with a pacing that's so slow if it were any other movie, I'd probably be bored by it. Instead it was almost relaxing to watch events ploddingly unfold for the first half. At one point I sent Tricia a message that I was watching Graceful Hands: The Tilda and Tom Hang-out Story. Tilda Swinton and Tom Hiddleston star as the titular lovers and they are otherworldly. Swinton's Eve is in love with life. She appreciates experience, love, and literature. She dresses in light colors and her presence is like a beacon. Hiddleston's Adam is brooding and unsure he wants to keep living in a world full of "zombies" – his word for humans. His clothes are dark and as much as he loves Eve, he also loves making music and machinery. He's been hiding out in worn-out Detroit and she's been living in what looks like a magical yogidream room in Tangiers. She reunites with him in Detroit after realizing how depressed he is and as interesting as they are individually, they're even better together.
Thanks to the trailer, the longer Only Lovers Left Alive went without the appearance of Mia Wasikowska's Ava, a sister vampire to Eve, the more unnerved I got. There will be no spoilers here, but she serves as high contrast and catalyst. And when I say I couldn't wait for her to leave, it's a compliment.
You wouldn't think a movie like this would be so funny, but its deadpan sense of humor left me laughing out loud. The music was – and I rarely use this word – groovy. It supports the mood of the whole piece faithfully. My biggest quibble is a vampire-related special effect that seemed unnecessary. And the only thing that just didn't make sense in this movie is a question of appearance. Eve's friend and fellow vampire Christopher Marlowe (yes, that Christopher Marlowe) looks significantly older than Eve and Adam. At one point Eve looks at a photo of her and Adam from their third wedding in 1868. She comments that they look so young, but they look pretty close to how they appear in the present day besides their clothing. Marlowe is from the 1500s, but Adam and Eve are hundreds of years old too. So why is Marlowe so much older looking, other than he's played by John Hurt?
This movie isn't going to be for everyone. Even so Only Lovers Left Alive is a beautiful, fluid, rewatchable piece of cinema. And if you aren't a child, I recommend you give it a go.
Only Lovers Left Alive was part of my Top Ten Movies to See in 2014 aka Only Grand Captain Mockingjays of Future Tomorrow.
---
Kay grew up wanting to be an astronaut. After seeing Star Wars, she wanted to be Princess Leia, Han Solo, and an astronaut. Life's taken her on a bit of a different path for now, but she's still a Star Wars fangirl at heart who enjoys surprising people with how geeky she really is. A voice actor, photographer, and artist who also consults in communications and marketing, Kay spends the little bit of free time she has reading, dancing around, writing, learning and, of course, making pew pew noises. You can follow her on Twitter.