Rey's Story Reviewed: Seeing The Force Awakens Through Rey's Eyes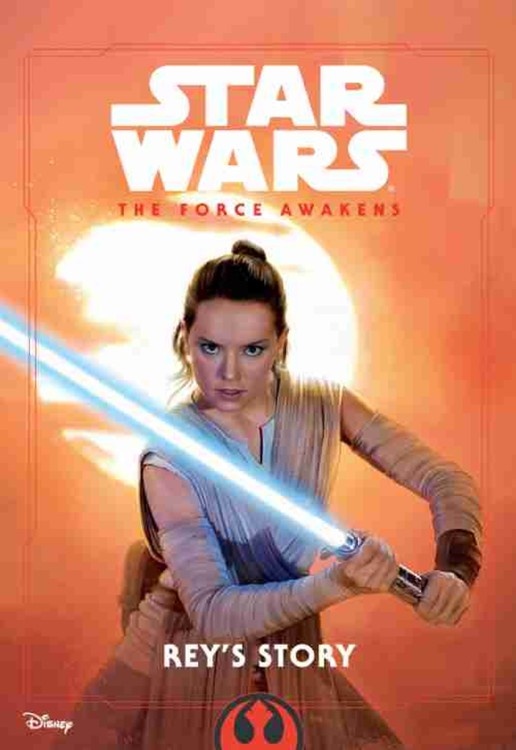 Sometimes a fiction book comes out that's intended for six- to eight-year olds but the moment you start reading it, you know its real audience's age range will be much wider. Out now from author Elizabeth Schaefer and Disney Lucasfilm Press is Star Wars The Force Awakens: Rey's Story. And it is definitely that kind of book.
Rey's Story runs through The Force Awakens completely from lead character Rey's perspective. It's a premise that intrigued me regardless of target market and I'm happy to report I was not disappointed. After being thrown by her portrayal in the adult novelization, it was nice to see that Rey's characterization is very in line here with the young woman we see coming into her own amidst a whirlwind of events in the movie. The illustrations by Brian Rood that start each chapter highlighting well-represented as well as less commonly shown scenes alike are an extra treat.
If you had questions as to why Rey was able to do some of the things she did, some of those questions can be answered within. For one the book starts out with a sequence that gives us more insight into Rey's piloting and quick-thinking skills. Readers also get to take a better look at Rey's scavenging and salvaging experience.
We get several more tidbits along the way, but don't worry, Rey's Story is not going to be the one to complete the puzzle of Rey. It's a neat way to pull back the curtain a little farther, but what I appreciate even more is how well this book is written. Elizabeth Schaefer does not talk down to her readers. Moving at a swift pace her words are intelligent and thoughtful without stringing too many complex sentence structures or ideas together. The result is a story that values loyalty, friendship, empathy, and hope that can be enjoyed by kids of all ages. It shows that it's okay to be sad or disappointed and it's okay to be happy for others too – sometimes even at the same time. It does all this while keeping its female protagonist rather relatable during her journey of gaining self-confidence and proactively embracing her future.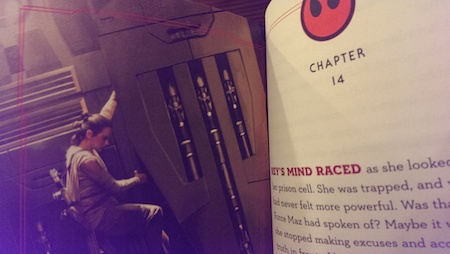 Of course with each retelling of the movie there is sure to be some variations – whether it's based on the information available at the time of writing or an editorial directive or an author's storytelling choice. Here we see several instances of overlap with the The Force Awakens adult novelization even down to some repeated dialogue, but as the narrative moves forward, it keeps more in common with the movie itself while still maintaining its unique perspective.
On the plus side some shifts bring Rey to a more substantial conversation with Leia as well as additional wise words from Maz Kanata.  Readers can even find out what the "Who are you?/I am no one." from the trailers is all about. I was surprised, however, by a few events this book skips right over. The essence of some of them pop up elsewhere but there are a few that result in some "tell" that isn't backed up as well by "show" as they could be. Moreover one change in a scene with Kylo makes a moment less pointed while another shift on Starkiller gives Rey a more active role in another scene while putting her closer to the main action. Luckily the jumps are seamless within the book itself, made noticeable by your own memorization level of the movie. For the most part the trade-offs even out though and I look forward to sharing Rey's Story with kids I know as well as recommending it to my older fellow fans of Rey.
The publisher provided FANgirl Blog a copy of this book.