Interconnectivity, Diversity, and Missed Opportunities: The Identity of Finn's Opponent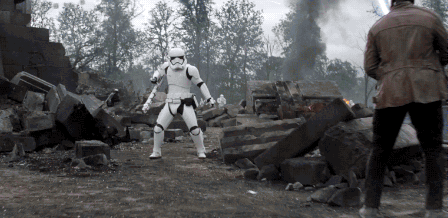 During the First Order's attack on Maz Kanata's castle on Takodana in the second act of The Force Awakens, deserter Finn, formerly stormtrooper FN-2187, encounters a riot-control trooper who shouts "Traitor!" at him before they fight, lightsaber against electro-baton. The scene and unnamed trooper quickly garnered a cult following among Star Wars fans, generating numerous online memes and the nickname TR-8R, a forthcoming sixth-scale figure set from Hot Toys, and other accolades. Much like Boba Fett in the 1980s, another character unseen behind a helmet, fans of all types found someone they could latch onto.
Earlier today, a misguided individual falsely claimed on Twitter to be the trooper's performer. Fans quickly debunked the assertion, remembering previously seen behind-the-scenes footage showing John Boyega rehearsing with a different individual. Within hours, Lucasfilm responded to the incident as well, publishing a post at StarWars.com titled "Meet FN-2199, a.k.a. TR-8R: The Stormtrooper Behind the Meme."
On one hand, the post demonstrates the kind of interconnectivity in Star Wars storytelling that the Story Group aspires to facilitate. The accosting trooper is revealed to be Nines, one of the four members of Finn's fire-team for much of his training by the First Order prior to the fateful deployment on Jakku, as shown in Greg Rucka's excellent book Before the Awakening. In the prose, Nines is described as red-haired and blue-eyed; the post confirms the red-headed trooper in Phil Noto's artwork depicts him.
On the other hand, the post exposes a missed opportunity to showcase diversity in Star Wars. The stunt performer for the riot-control trooper was a person of color, Liang Yang. Onscreen, the character is never shown without the helmet, so including another non-white character in the story should have been a simple matter. Instead, yet another white male soldier was added to the canon. In addition, Maddy Myers at The Mary Sue rightly points out that Liang Yang's contribution is mentioned only parenthetically, minimizing his importance to the memorable scene, while longtime Skywalker Sound employee David Acord, who provided only the single word of dialogue, is given a full biography in the post.
While the desire to make connections between Star Wars stories in various mediums is admirable, the goal of increasing diversity and representation in Star Wars also needs active advocates within Lucasfilm. The enthusiastic fan reaction to characters like Rey, Finn, and X-wing pilot Jess Testor Pava reinforces the value of making a difference in this area. Unfortunately, another opportunity to do so was lost in the case of FN-2199, either by failing to provide Rucka with a chance to recognize Liang Yang in his book, or by prioritizing the act of making a connection to tie-in media over the diversity actually contained within the film's stunt crew.
Except now, in canon, he's not.

B.J. Priester has been a Star Wars fan since he played with the original Kenner action figures as a young boy. His fandom passion returned after watching Attack of the Clones in 2002 and reading the entire New Jedi Order series in 2003. He voraciously caught up on the novels and comics in the Expanded Universe in addition to writing fanfiction, frequently co-authoring with Tricia.

B.J. has served as editor of FANgirl Blog from its inception, as well as contributing reviews and posts on a range of topics. He edited Tricia's novel Wynde, and is collaborating with her on several future projects set in that original universe.

Currently a tenured law professor in Florida, B.J. has been a practicing lawyer in Washington, D.C., a law clerk to a federal appeals court judge, and a law journal editor-in-chief. He is also a proud geek dad whose son who is a big fan of Star Wars and The Clone Wars.