Watching The Force Awakens With Family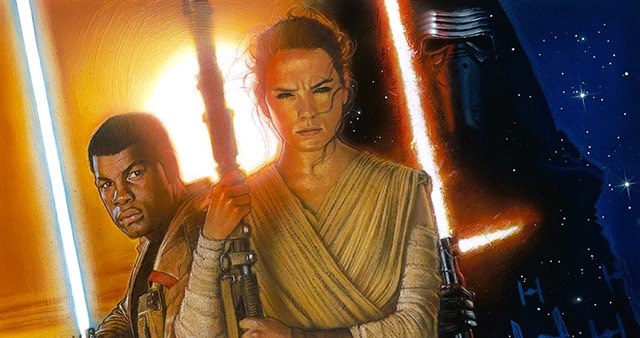 Post by Amy Richau
Warning: There are spoilers to The Force Awakens in this article. Please do not read until after you have seen the movie.
Watching a new Star Wars film is always a special event. Watching a Star Wars film with family, young and old, is even better. In The Force Awaken's first week of release, I saw it three times. Once with my husband, once with my husband and our two kids, and once with my youngest child (his second viewing) along with my sister and mother. All of these experiences were unique and special. The Star Wars saga is, after all, a story about families.
My first screening of The Force Awakens was planned specifically as an adults-only affair. My husband loves Star Wars (almost) as much as I do. We intentionally bought tickets to The Force Awakens while the kids would be in school so we could celebrate our inner kid without having a little one tap us on the shoulder saying they needed to go to the bathroom.
It is, however, a hard task to completely shut off being a mom. During this first The Force Awakens screening I was wracked by panic that my daughter's school was going to call me at any minute and say that she needed to be picked up. My daughter was clearly a bit queasy that morning, but had begged to go to school on her last day before winter break. So while I wanted to turn off my cellphone in the theater to completely escape into the Star Wars universe (don't worry, I had it on vibrate), the reality was that I would have left the screening in a heartbeat if my daughter needed me. My love for Star Wars has nothing on the love for my kids. I was thrilled, though, that I didn't have to leave the screening halfway through – a true test for a Star Wars fan of any age!
My second screening was the very next day with my husband and two kids. Recently I wrote about my daughter's rejection of my favorite movie love, Star Wars. While my five-year-old son has been excited about anything Star Wars I put in front of him, my eight-year-old daughter instead rolls her eyes. She did agree to see The Force Awakens on opening weekend without much complaint, which was a win in itself. The last time a Star Wars film was released in theaters I didn't even have children. So this was an exciting first for everyone, no matter what my kids thought of the film.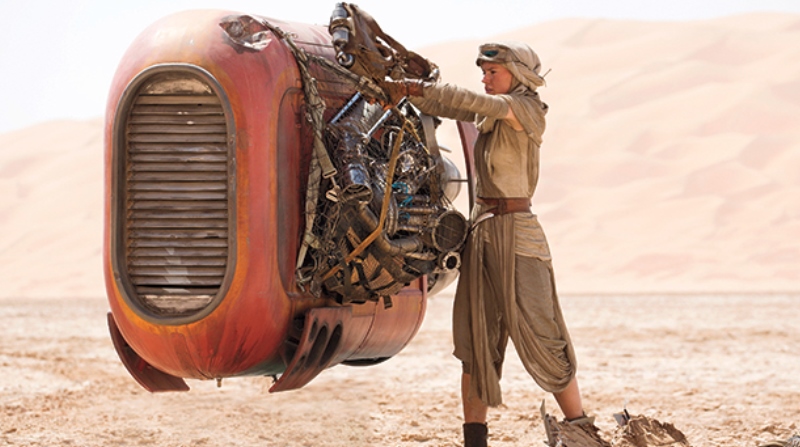 I held out hope that the character of Rey would draw my daughter into the story, and that Kylo Ren wouldn't terrify my son. My son did in fact think Kylo Ren was scary, but in a completely thrilling and fun way. He also quickly answered "Rey" when I asked him a few days later who his favorite character from the movie was – and I would be lying to say I wasn't thrilled to hear that! BB-8 and Chewie were the characters he mentioned right after Rey as his other favorites, but how great is it that a five-year-old boy who loves Star Wars and Marvel mentioned Rey first as his favorite!
My daughter initially gave The Force Awakens a "thumbs sideways" – a favorite response of hers. She did ask me a lot of questions about Leia and Rey, specifically her Force visions. Her immediate muted response was expected, and not really disappointing. Would I have loved to have gone to see the film with my daughter dressed like a little Rey and begging me to buy Star Wars books and comics afterwards? Sure. But I love that she is strong enough to voice her own opinions at her young age, and I'm thrilled she seems interested in finding out what happens to Rey and Finn in the future.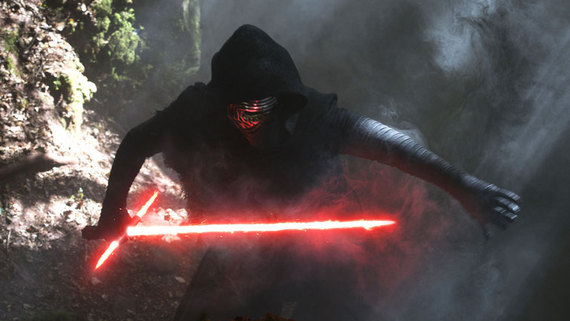 My third screening of The Force Awakens was also my most emotional one. A few days after seeing the film with my husband and kids, I took my son (who was dying to see it again) along with my sister and mom, who had just flown into town for the holidays. I didn't realize until shortly before the screening that I had not seen a Star Wars film in a theater with these two women since 1983 when Return of the Jedi first released. And The Force Awakens would be the first Star Wars film I would see in the theater after my father had passed away several years ago.
The realization about my father and I never getting to see a new Star Wars movie together again made the scenes between Kylo Ren and Han Solo a bit more emotional to watch that time. My son, who had already seen the film, burrowed his head into my arm as soon as Han yelled out to his son Ben. Snuggling him during that moment reminded me of my own Dad repeatedly assuring me during The Empire Strikes Back that Yoda was helping Luke and wasn't going to hurt him. (I was apparently feeling very protective of Luke at seven years old.)
I was also concerned about how my Mom would take Han Solo's death, partly because Harrison Ford was my Mom's film crush as I was growing up. It was somehow nice to be there with her, as she was indeed shocked by the loss of such a beloved character. But perhaps the best part of my third screening of The Force Awakens was the moment Kylo Ren knocked away Finn's lightsaber. My five-year-old moved close to his grandma and whispered to her, "Don't worry." I had warned him several times before the movie to not spoil scenes during it (a classic kid move), but this sweet reassurance that the light would overcome the darkness was just a perfect movie moment.
There is something really special about stories told over decades. Stories you can literally grow up with, and experience countless new relationships throughout. When A New Hope came out in theaters I was four years old. When The Phantom Menace released I was as single as a girl can be. By the time Revenge of the Sith came out I was planning my wedding. And now with The Force Awakens my husband and I have two children. I can only imagine how much fun it might be to see a new Star Wars film with my grandkids.
---
Amy Richau is a Star Wars fangirl, wife and mother of two young kids, freelance writer, and Denver Broncos fan (not necessarily always in that order). Amy grew up with the Star Wars original trilogy and spent more time and money than she would like to admit tracking down Star Wars collectibles. Before motherhood in Colorado, Amy worked in several film archives and labs working as a film archivist/preservationist – including a 'dream come true' stint at Skywalker Ranch at the LucasFilm Archives. She can be reached by email at witcher@gmail.com, or follower her on Twitter @amyrichau.
Latest posts by Amy Richau
(see all)