GeekGirlCon 2015 Star Wars: The Fangirls Awaken Panel Recap

This year's Star Wars panel at GeekGirlCon, "The Fangirls Awaken: The Women of Star Wars," was another great success. The room filled with attendees excited to hear the panelists' discussion on fangirls and the future of Star Wars.
After introducing each of the panelists, I kicked off our conversation by asking about the significance of April's Star Wars Celebration Anaheim convention for female fans. Kay shared her reactions expressed in her post at FANgirl about the sense of community she experienced there. Unlike some situations where female fans are made to feel unwelcome, she only felt challenged on her fandom once. Linda agreed that Celebration was energizing, and Lisa called it amazing, saying she'd never felt anything like it before. Lisa also noted that she saw more women at Celebration than she'd expected. I brought up the large crowd of fans who gathered for the Ahsoka Lives picture, including Dave Filoni and other Lucasfilm VIPs who joined in supporting female fans of the great female character. In addition, I commented that Celebration Anaheim was not just about collectors, as some of the prior Celebrations had focused, but offered strong messages about family, cosplay, fashion, and diversity. In particular Kathleen Kennedy's statement at the opening ceremony and the closing ceremony video both emphasized these themes.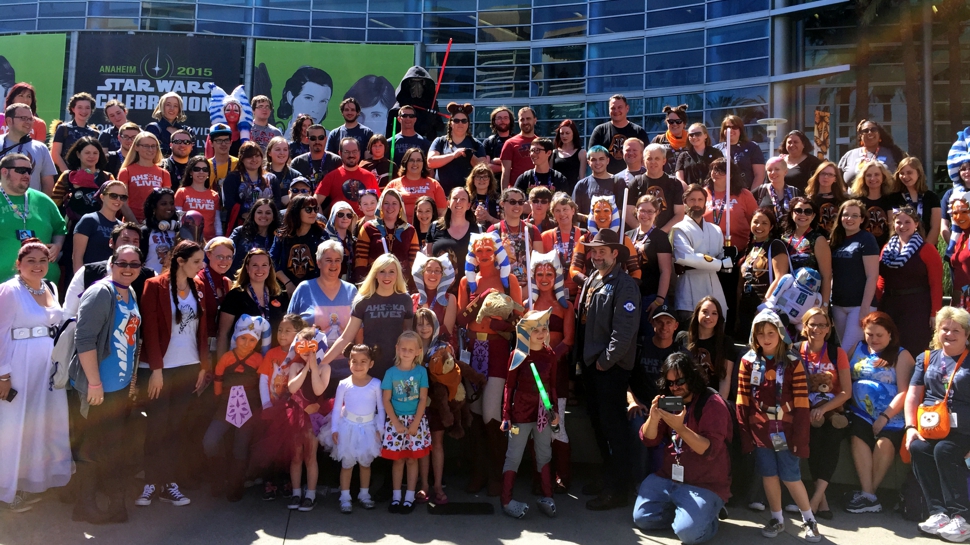 Speaking of Kennedy, the panelists noted that Star Wars storytelling and the creators who are making it both are changing. Kay talked about our praise here at FANgirl for Kathleen Kennedy: she gets stuff done. This includes creating a Story Group with six women and two men to oversee the stories being told in all mediums.
One of those new stories is the animated television series Star Wars Rebels. Asking our audience confirmed that a lot of people haven't watched it yet because of the channel it's on. Kelly praised the connections to the Original Trilogy and Ralph McQuarrie's concept art. I read Dave Filoni's mic drop from the recent Los Angeles press conference. Lisa loved The Clone Wars and has become a fan of the direction of Rebels, as well. Linda commented on the maturity of the female characters, particularly Hera as the mother figure for the Ghost crew.
"I've heard people ask, 'How can you be so excited about The Force Awakens without knowing anything?' And I always say, 'I'm so happy with what they've done with Rebels that they've already restored my faith enough. I love everything they've done with Rebels."

~ Kelly Knox
Cosplayers are excited about the many new costumes from The Force Awakens. I asked Kay and Toby to show off their Rey and Kylo Ren costumes to the audience. Linda revealed she was wearing a Kylo Ren hoodie, complete with a mask that pulls up over your face. We also commented that it was great to see that Lucasfilm has not been sexualizing female characters in the marketing of The Force Awakens, either.
I shared a question from Twitter: What do you hope to see in Daisy Ridley's character Rey?
"I am excited about the potential of her being a lead. Someone we're going to follow, and hopefully someone whose story will not peter out like some of the other female characters' have in trilogies before. I am looking forward to her being decisive and take the lead, and hopefully a couple of fight scenes in there would be awesome."

~ Kay Serna
Kelly was excited by seeing Rey in the Falcon in her daughter's sticker book. Linda hopes Kylo Ren is as badass as he looks, and is interested to see how he uses the broadsaber in fight choreography. Lisa wondered how Kylo Ren fits into the hierarchy of the First Order.
Another topic of interest to many female fans is Star Wars clothing. I began by noting that the Disney Store costumes are now listed as gender-less, with the whole section titled "I Am Awesome." Kay explained that a U.K. girl's complaint letter about a Darth Vader costume being listed "for boys" led to the change listing it as "for kids" instead. Lisa has seen a lot more merchandise for women emerging over the last year. Kelly is excited for the CoverGirl makeup line for The Force Awakens, but unfortunately it has been hard to find in stores so far. I already have five Rey shirts and two Phasma shirts, and it's great that fans can find them in stores at the mall. Linda was amazed to see a huge section of women's flannel pajamas with Star Wars.
September 4th was Force Friday, and our panelists took part in the event. Kelly went to the Disney Store and got some pins, then went on a Captain Phasma hunt to various stores. Lisa was writing about all the merchandise coming out that day, so she didn't have time for shopping until later. Linda took Skylar to the midnight event at the San Francisco Disney Store and waited in line, with some women and families alongside the collectors. The next day they went to Target as soon as it opened, where they saw more guys and not a lot of moms. On the other hand, Linda saw more Star Wars for women than men at Hot Topic.
We then transitioned to answering questions submitted from the audience. The first question asked about seeing mostly Vader and stormtroopers on Star War clothes, and not much with Leia and Padmé, who are too often seen in sexy poses rather than highlighting the strength of the female characters. I brought up my FANgirl post on the Amy Schumer photo shoot and the history of the Slave Leia costume in the movie and Star Wars marketing. I expressed my belief that Lucasfilm is starting to understand now that it hurts their potential with prospective fans by continuing to show sexualized female characters. A week after our panel, the final trailer for The Force Awakens released during Monday Night Football, and it included a shot of Carrie Fisher as Leia which received much comment for portraying her in a manner that does not try to conceal or diminish her age.
The next audience question asked about the merchandising hurdle with female characters, especially the action figures. Kay noted that some of the Rey figures have been hard to find in the initial The Force Awakens releases. Lisa is concerned on action figure side, because it's always the women who have to wait and see. I remarked that it was great to see Rey and Phasma up front in the Disney Store's promotion of their figure set.
The panelists explained that cool female characters can be found in the books and comics, too, even before The Force Awakens comes out. Kay mentioned Rae Sloae in A New Dawn and Aftermath, who is particularly interesting because she is an Imperial and one of the rare female bad guys in Star Wars. Linda really liked Claudia Gray's novel Lost Stars and Ciena Ree, the Imperial co-lead in the story. She also noted she would like to see more diversity in the female characters in Star Wars. Lisa is really enjoying the Shattered Empire comic, while Kelly commented that the book Moving Target is great for younger readers.
Our third audience question expressed concern about Colin Trevorrow being hired as the director for Episode IX, especially his clueless comments about women behind the camera in Hollywood and his problematic treatment of Bryce Dallas Howard's character in Jurassic World. Lisa agreed with these concerns, and she is hoping that Lucasfilm will be able to talk to him to address the problems. In addition, she would like to see more women behind the camera of the Star Wars movies. Kay expressed hoped that the strength of the Story Group will compensate for his weaknesses.
"I did see Jurassic World, and it was a disappointment when he was announced for me. I have severe concerns. The reason I have concerns is that Star Wars has yet to conclude an arc on a female character in a heroic journey. That is their one failing. They can start out with a bang – they did that with Mara, they did that with Jaina, they did that with Leia, they did that with Padmé – and Trevorrow is going to have to finish it. So I'm a little concerned about his comments and how he did portray the female lead."

~ Tricia Barr
Another member of the audience would like to see more Mon Mothma. I explained that she has some great scenes in the "Journey to The Force Awakens" stories including Lost Stars, Moving Target, and Aftermath. I also reminded the audience that it's important to ask for appearances by characters that we want to see.
The next audience question remarked that strong female characters are still often seen being dependent on male characters, and raised this as a concern in Star Wars, as well. Kay agreed this is an issue, although it depends on the medium. In the books, some of the great female characters ended up being guided by what male characters wanted. The dynamic has become better in newer books like Lost Stars, and also with Hera in Rebels.
The following question from the audience said she would like to see a guide to Star Wars women's hairstyles. I explained that I had pitched a costumes book years ago and they turned it down, but recently one was published. It's important for fans to use social media to ask for what they want.
I then noted that Lucasfilm is ramping up the "girl power" phase of the marketing for The Force Awakens. Kelly's daughter was excited to receive her Captain Phasma shirt, while Lisa has seen a lot of Star Wars fashion coming out, including the CoverGirl makeup and Irregular Choice shoes. Lucasfilm is definitely breaking into areas of merchandise that are predominantly female.
Question from the audience: Do you think that there will ever be a female character-centered Star Wars movie?

Tricia Barr: Yes. It's called The Force Awakens.
I also reminded everyone that Felicity Jones is the lead character of Rogue One. Even so, it's important to keep commenting on lack of other female characters in the movies. To date, Jones is the only actress announced.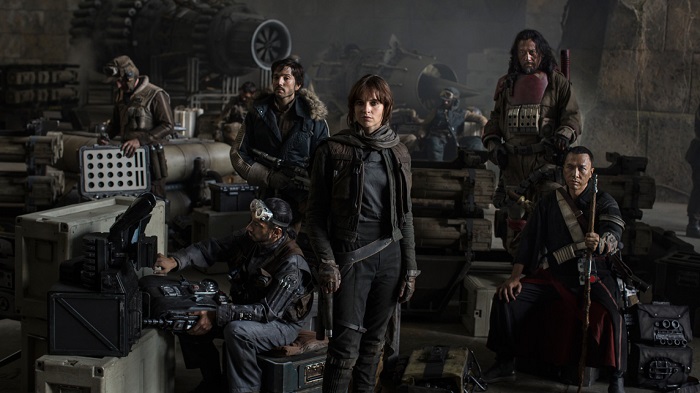 The panel concluded by agreeing that it's an exciting time for women in Star Wars.