The Supergirl Premiere: An Early Look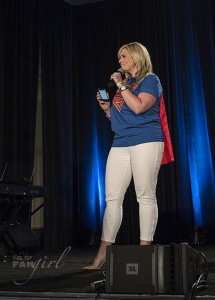 A team of women outfitted in Supergirl shirts walked up and down the aisles of the room, handing out gold Supergirl tattoos to a rather diverse crowd of women and men, young and old(er). On stage local weekend morning anchor Marissa Bailey showed off the red cape attached to her shirt before introducing the new show and sharing that the network wants to know what we all think of what we're about to see. I sat in the front of the room, hoping in an hour I wouldn't feel like I'd wasted my time.  
Three months before when a six-minute trailer for the new Supergirl TV show appeared online, I didn't have much confidence in the program. Beyond not having a real personal history with the character, the preview felt like a hard sell on the idea girls would want to watch this. In some moments it came off like a rom com with a ditzy lead. Now there's definitely a market for that, but it's not what I'm looking for in a TV show right now – even less so for a superhero TV show.
On Assembly of Geeks' Comic Book Passions & TV Show Reactions episode' I mentioned how unfortunate it was that the Black Widow rom-com parody sketch had just appeared on Saturday Night Live and bore a superficial resemblance to the trailer. Host Scott saw similarities to The Devil Wears Prada while his fellow host Amy's initial impression was it was "too pink". Luckily we also had Rebecca of Supergirl Radio with us to point out what was in there that was important to the character of Kara Zor-El/Supergirl. Without her insight, I would have been more inclined to see if the show made it through its first season before taking the time to watch it.
And so I held out hope for the sake of a female-lead superhero show that when the program finally aired, it wouldn't be so easy to write off. Luckily, thanks to CBS 2 Chicago, I didn't have wait until the October 26th premiere date to find out. I got to see the first episode of Supergirl at Wizard World. And what did I think of it?
It's pretty darn good.
I like it much better than the trailer made me think I would and I'm happy to report that while Melissa Benoist's Kara can get thrown for a loop or nervous, she's definitely not a ditz. Benoist does an excellent job of already making Kara feel like a real, complex being. All in one episode we get the main gist of Kara's backstory, setup for her current life situation, and her call to action. It's pretty well paced, it feels like just the right amount of information, and what's more it's interesting to watch. Kara's first outing as a superhero elicited an especially loud round of cheering and applause from the audience.
Happily, Kara isn't the only female character having an effect on the story. I counted five women who all made an impression on the plot. The episode easily passes the Bechdel Test and we get to see mother-daughter, sister, friend, co-worker, and boss-subordinate relationships. Kara's sister, Alex (Chyler Leigh) may have had a few lines of clunky dialogue to work with but painted a picture of an accomplished woman with conflicting concerns and an awareness of insecurities that she's still processing. Kara's boss Cat Grant (Calista Flockhart) treads dangerously close to the whole Devil Wears Prada unfeeling/demanding boss lady trope that seems to appear a lot these days, but hopefully future episodes will allow her to be more dimensional.
Who are the other two ladies? I'll leave that for you to discover when you watch. Because you should. Supergirl is off to an engaging start and from what I've seen it isn't hard to imagine it'll continue providing a smart and enjoyable take on this superhero's journey.  
The first season of Supergirl premieres on CBS on Monday, October 26th.
---
Kay grew up wanting to be an astronaut. After seeing Star Wars, she wanted to be Princess Leia, Han Solo, and an astronaut. A voice actor, photographer, and artist who also consults in communications and marketing, Kay spends the little bit of free time she has reading, reviewing, and, of course, making pew pew noises. She would pick up more jobs, hobbies, and fitness routines if she was a Time Lord. You can follow her on Twitter.