Star Wars Weekends 2015: Weekend Five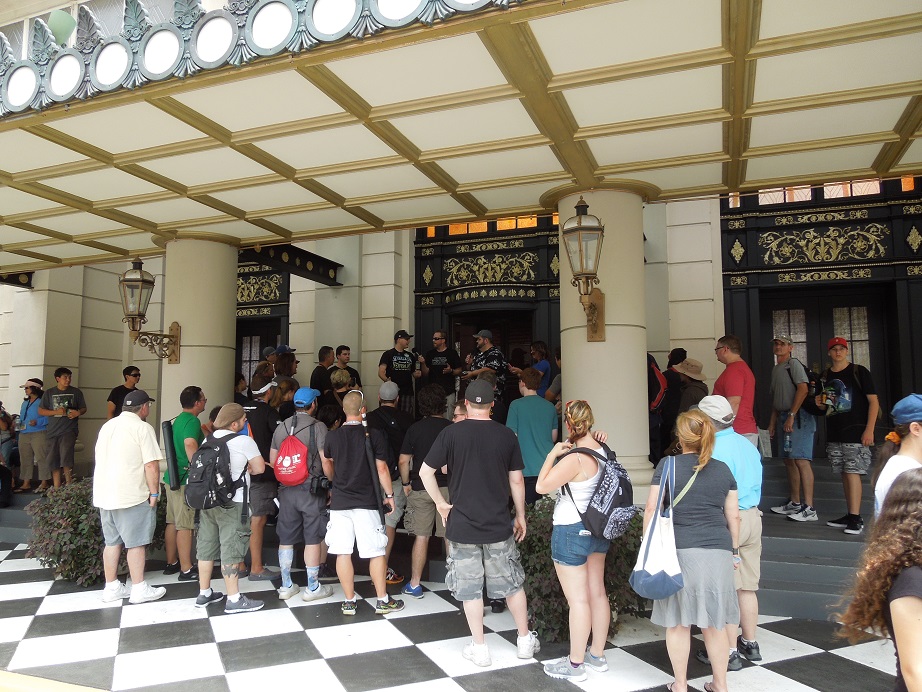 My primary plan in going to Weekend Five of Star Wars Weekends this year was the RebelForce Radio meetup with listeners on Friday afternoon. By the time the three days were over, though, my experience had more highlights than I ever expected. Looking back over the three weekends I attended, this year's Star Wars Weekends will definitely take its place among the most memorable of the many years I've made the event part of my early summer routine.
As it turned out, my weekend got off to a great start even before the RFR meetup with two more interviews for Fangirls Going Rogue with visiting guests Taylor Gray and Ray Park. Luckily the timing worked out perfectly, and my timeslots were scheduled for midday on Friday. I arrived at the interview location to find Jimmy Mac and Steve Glosson getting ready to conduct interviews for RFR and Ryan Hurley, whom I'd met at last year's RFR meetup, preparing on behalf of Sorcerer's Radio. My interviews with Taylor Gray and Ray Park went great – be sure to check out the July episode of Fangirls Going Rogue to hear them.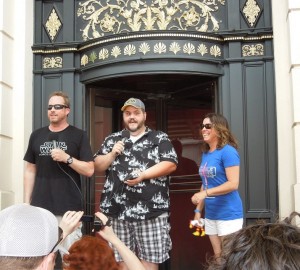 With interviews concluded, the group of us headed over to the Theater of the Stars for the Star Wars Rebels show, where we caught up with Bethany and Riley Blanton from Star Wars Report. After a great show from Taylor Gray and James Arnold Taylor, we hustled across the park to the New York Hotel at the Streets of America for the RFR meetup.
We arrived to find a throng of listeners gathered under the portico. With Jimmy Mac and Steve retrieving the Little Debbie snacks from a locker, I made sure we got in a few fangirl flails to start the meetup. We recorded an impromptu segment for RFR, interviewing some of the people in attendance and celebrating the support from our listeners. After that we mingled with the group, and it was great fun to meet more of our listeners for Fangirls Going Rogue. I also got to sign two copies of Ultimate Star Wars.
When the meetup drew to a close, the show hosts and our remaining group walked the short distance over to Star Tours. The official count was 38 people – enough to fill an entire Starspeeder! Before the ride Jimmy asked for my prediction, and I said I always like to see Hoth. Sure enough my wish was fulfilled; we also got the Millennium Falcon opening and Ackbar message, with the Naboo conclusion. Riding Star Tours with fellow Star Wars fans is always fun, and with good friends it's even better.
Later in the evening, at the request of Jimmy Mac's son, some of us made our way to the Indiana Jones Epic Stunt Spectacular. When the casting director called for extras, Ryan cajoled Steve into gesticulating energetically enough to be picked. Steve's stint as an extra was fantastic – he got picked for the always-entertaining Death Scene skit during the extras' training session. To say Steve accepted the challenge with enthusiasm is an understatement:
On Saturday I took advantage of my FastPasses to see Stars of the Saga. This weekend the guests were Ray Park and Peter Mayhew. I've seen James Arnold Taylor interview Park for the show before, and this time was equally entertaining. It's always fun to watch the Darth Maul actor wield a pair of toilet plungers or featherdusters like vicious martial arts weapons. When Mayhew joined the stage, a celebration of Chewbacca ensued.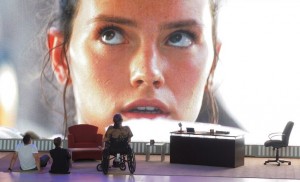 The show concluded with the second teaser trailer for The Force Awakens, and everyone in the theater appreciated the moment of watching the final shot – "Chewie, we're home" – with Mayhew present.
Later that evening I also had a FastPass for the special event A Conversation with Frank Oz. This is the first time the legendary puppeteer and director has participated in Star Wars Weekends, and it was certainly worth the wait. James Arnold Taylor conducted a fantastic interview, from the Muppets and Yoda to three previously submitted questions from fangirls in the audience. What impressed and inspired me the most, though, was Oz's comments about storytelling and characters. Several times he emphasized the importance of collaboration, explaining how his work with Jim Henson and everyone else on the Muppets team contributed to the final product – and how important Mark Hamill's performance was in The Empire Strikes Back to getting the audience to believe in Yoda. When discussing some of the memorable Muppets he has performed – including Animal, Sam Eagle, Fozzy Bear, Grover, and Miss Piggy – he revealed the deep thoughtfulness behind their characterizations.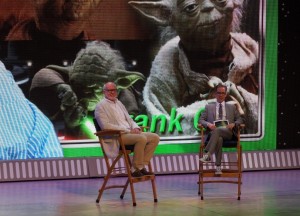 Each one has motivations, goals, and backstory that drive their personality. Hearing Oz speak about these issues, it's easy to understand how the brilliance of the Muppets' creators made them stand out from so many other television shows and movies.
With Weekend Five bringing this year's event to a close, I noticed the merchandise becoming sparser, too. I was excited to see the Her Universe area of Darth's Mall visibly thinned compared to earlier weekends, indicating just how much product sold during the event. The Boba Fett steins were sold out on Saturday afternoon for the first time since the first weekend. In addition, the glow cubes provided with the special Star Wars Weekend drinks had run low in supply by the last few days. The Death Star and Millennium Falcon additions that had been available at the dozen or so drink stands around the park became limited to the Tusken Fridge Raiders venue in Darth's Mall; they were replaced at the other stands by the glowing X-wings previously available only at the Rebel Hangar. If nothing else, Disney will have seen the attraction of glowing trinkets to thousands of Star Wars fans. A little back of the envelope math suggests that, across the five weekends, Hollywood Studios brought in several hundred thousand dollars in sales on the steins and glow cubes alone – so I imagine we'll see more specialty beverages, steins, and glow cubes at future Star Wars Weekends.
For more pictures from Weekend Five, check out the two albums at Fangirl Zone on Facebook, one featuring pictures from the RebelForce Radio meetup and Steve Glosson's Indy stage performance, and the other with many other photos from the weekend. Skywalking Through Neverland hosted audio from the Frank Oz show. Be sure to check it out.
---
Tricia Barr is one of four authors of Ultimate Star Wars from DK Publishing and has written several feature articles for Star Wars Insider magazine. Her FANgirl opinions can be heard on the podcasts Hyperspace Theories and RebelForce Radio Presents Fangirls Going Rogue.
For updates on all things FANgirl follow @FANgirlcantina on Twitter or like FANgirl Zone on Facebook. At times she tries the Tumblr.

Tricia Barr took her understanding of brand management and marketing, mixed it with a love of genre storytelling, and added a dash of social media flare to create FANgirl Blog, where she discusses Star Wars, fandom, and the intersection of women within Star Wars fandom. She is co-author of Ultimate Star Wars and Star Wars Visual Encyclopedia from DK Publishing, a featured writer for Star Wars Insider magazine with numerous articles on the Hero's Journey. Her FANgirl opinions can be heard on the podcasts Hyperspace Theories and Fangirls Going Rogue.

Tricia Barr's novel, Wynde, won the 2014 Independent Publisher Book Award Gold Medal for Best Science Fiction/Fantasy/Horror Ebook. She was also part of Silence in the Library's successful all-female creator science fiction and fantasy anthology Athena's Daughters, which is available now. For excerpts and tales of her adventures in creating a fictional universe, hop over to TriciaBarr.com.