Kay Tries Out Fish Fingers & Custard with Nerd Lunch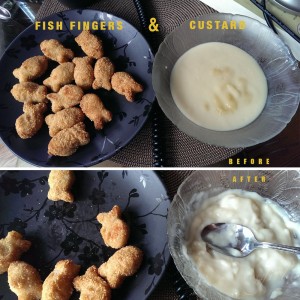 Only my long-lost podcasting brother and my enthusiasm for Doctor Who fandom could combine forces to encourage me to make such questionable food choices.
The latest Nerd Lunch podcast Extra Helping finds my buddy CT and I paying tribute to the 11th Doctor by trying the character's signature food combo – fish fingers and custard.
We talk about the faux holiday associated with it, attempt to be semi-scientific about the process, and yes, that's my Amy Pond impersonation at the very beginning.
Have you ever tried it before? If not, proceed with caution. Much later after the recording my digestive system had a change of hearts.
And to hear more of CT and I talking about Doctor Who, be sure to check out The Nerd Lunch Doctor Who Drilldown.

---
Kay grew up wanting to be an astronaut. After seeing Star Wars, she wanted to be Princess Leia, Han Solo, and an astronaut. A voice actor, photographer, and artist who also consults in communications and marketing, Kay spends the little bit of free time she has reading, reviewing, and, of course, making pew pew noises. She would pick up more jobs, hobbies, and fitness routines if she was a Time Lord. You can follow her on Twitter.