Own Mockingjay Part 1 Today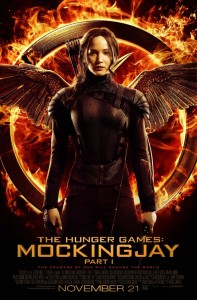 Today is the home-video release of The Hunger Games: Mockingjay Part 1, including Blu-ray, DVD, and online streaming.
In mid-January, Mockingjay Part 1 quietly passed Guardians of the Galaxy to become the highest-grossing 2014 movie at the U.S. domestic box office. Scott Mendelson at Forbes notes that the feat is particularly impressive because Mockingjay Part 1 had neither 3D nor IMAX releases, which increase ticket prices and total gross. It also guaranteed the film will be "the highest-grossing non-3D/non-IMAX release in nearly nine years and the first such $300m+ grosser in 6.5 years." The success of a Hunger Games movie shouldn't come as a surprise, but it's notable that the box office accomplishment hasn't been more wildly reported.
Likely hoping to boost the dollar figure of the final installment, Lionsgate announced in early February that Mockingjay Part 2 will get an IMAX release. Perhaps a similar boost could have enabled Part 1 to hold on ahead of American Sniper, which is poised to squeak past Mockingjay for top 2014 film within the next few days. As Devin Faraci insightfully explained at Badass Digest, though, the long-term trends in the industry, and in the demographics of the ticket-buying audience, favor movies like the Hunger Games series.
---
B.J. Priester is editor of FANgirl Blog and contributes reviews and posts on a range of topics. A longtime Star Wars fandom collaborator with Tricia, he edited her novel Wynde and is collaborating with her on several future projects set in that original universe. He is a law professor in Florida and a proud geek dad.