Star Wars Inaugural Half Marathon: Do or Do Not!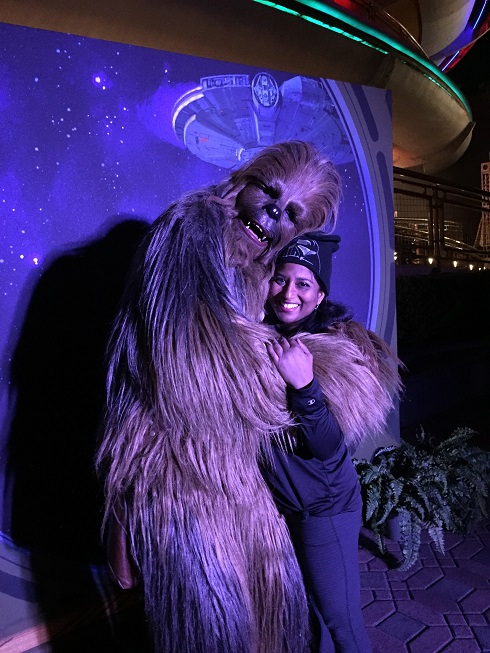 The story of my running the Inaugural Disneyland Half Marathon Weekend on January 17, 2015, is a marathon itself. A journey of setbacks and failures, actually.
Registration opens in June 2014 and sells out in one day. Sells out by noon, in fact, which is when I try to register for the 5K at my lunch break. My first fail. I want to do it, but I need to reassess how to get tickets. I wait a couple of days, brooding about my options. It seems like it's going to be so much fun! There's even a Wookiee Welcome party the Thursday night before the races.
I'm going to miss out on all the fun if I don't go, I tell myself.
Disney's website says that tickets are still available through their travel partners. I call several travel agents and find one who has tickets available, but only for the 10K (6.2 miles), the half marathon (13.1 miles), or the Rebel Challenge – which involves running both the 10K on Saturday and the half marathon on Sunday, plus an extra big, blingy medal. Who can resist Star Wars bling?
If I don't run, I'm going to miss out on all the bling, I tell myself. Conveniently for me, the travel agent is also a running coach. He encourages me to go for the Rebel Challenge and assures me, "You have plenty of time to train."
I purchase the Rebel Challenge package.
"You've never run more than a 5K," Hubs comments when I share my news. In June, January seems far, far away. Much like the distance difference between a 5K (3.1 miles) and half marathon, actually. But I have a plan:
Train like a Sith Lord, party like a Wookiee!
In June, it seems brilliant! Exciting! I'm up for the challenge!
I text my friend, David. "Help me Obi Wan," I type. "You're my only hope."
David texts me back: "I'll be more like Yoda training you," he says, "You'll be more like Luke. Be ready to run tomorrow morning at 5AM."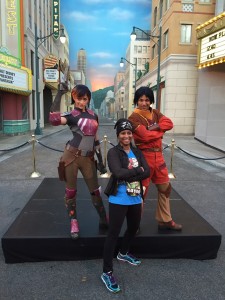 What can I say? I asked for this. Do or do not… I'm up at five. The first morning is probably my best run.
"You always do what you set out to," David says.
I figure he's being nice, using positive coaching techniques, as I've just huffed and puffed three miles around our local high school track. David, meanwhile, has just run six without breaking a sweat.
"Is that true about me?" I ask Hubs when I come home. I'm cold, hungry and grumpy.
"You sure do," Hubs says with a slight shake of his head.
Like Yoda, David is remarkably patient. Meanwhile, I whine like Luke on Dagobah every time we run, grumbling about running in the dark and serial killers who may be lurking in the predawn shadows. Did I mention David is a prosecutor in the District Attorney's office? I run mostly inside, at the gym, on the treadmill. I'm starting to feel fit.
"Sign up for the Giants 10K," David tells me in July. "You're ready."
It's August when I run my first 10K, the San Francisco Giants Race. David runs the half marathon. We finish at the same time. Hubs and the Padawan meet me at the finish line. I feel fine cardiovascularly, but every single muscle feels pulverized by concrete. I want to curl up on the infield and fall asleep with third base as my pillow. I don't even care that I forget pick up the Buster Posey bobblehead prize. I fall asleep in the car and sleep the whole day. Every time I move, I ache. I am sick for over a week, and feel back at ground zero. It was a mistake to train in the gym – my muscles simply couldn't take the physical pounding on the asphalt after I have been on the softer surfaces of the track and treadmill. Fail!
I reexamine my training, trying to figure out how to avoid this next time. I decide I'll concentrate on the road and the treadmill to train. I give myself a break, then slowly start running again.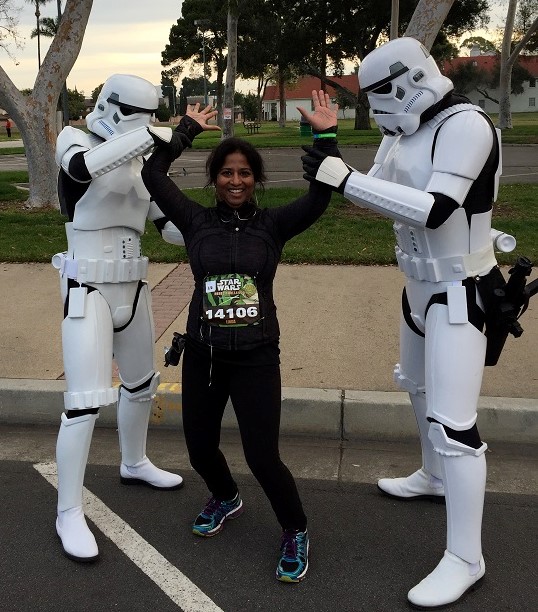 In October I meet up with my FANgirl friends at GeekGirlCon. I tell BJ and Tricia about my training fails. "I feel like Han Solo," I laugh, "'Train like a Sith Lord, Party like a Wookiee' seemed like a good idea at the time." I pause. "And the medals are cool."
"You could just buy the medals on eBay," BJ replies. That is a smarter idea. Why didn't I think of it? No wonder he went to Harvard.
I keep running, slowly building back to three miles. While on vacation in Hawaii, I run hills. I develop hip flexor tendinitis. Now I can't run, and because the hip movement in trotting is a lot of hip flexion, I can't ride, either. I have to take a break for several more weeks. Yet another fail.
In November I run the Mermaid 5K with Padawan and her friends. All the twelve year olds outrun me handily.
I meet up with Tricia over Christmas. I feel grim. The Star Wars race is only a few weeks away and I can't even run two miles. I grasp at straws trying to remain positive. "Maybe I'll dress up for the race," I say to Tricia, "Jedi or Sith?"
Tricia laughs. "I think you may need some Sith energy at this point."
I agree.
As if things couldn't get worse, in January my feet start hurting when I walk. Welcome, plantar fasciitis. Now what am I going to do? I reevaluate.
I start a whole new stretching and bodywork plan. I drop the treadmill altogether and start walk-running around outside of my gym. I walk one way, trying to increase my distance daily. At my turn around point, I run back in. Every day, my path takes me past the EA office building, which houses Lord Malgus from SWTOR in the lobby. I can feel his Sithy presence, glaring at my wimpy self through the lobby's glass doors and across parking lot.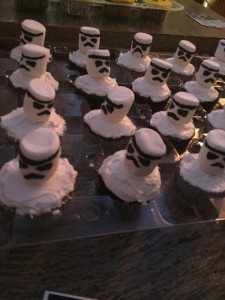 Training like a Sith Lord, I decide, sucks.
A week before the Star Wars race, I run the Hot Chocolate 5K in San Francisco. We end up at the very first A corral because Padawan is meeting her friends there. I do yoga warm ups. Her friends get stuck at the B Corral, so when the starting gun goes off, I sprint after Padawan. My right calf seizes immediately. I keep running but my shoelace comes untied. Seriously? I stop, and Hubs comes up to check on me.
"Keep up with the Padawan," I say, bent over my shoe. He runs by. I limp along the rest of the three miles, being passed by what feels like everyone else in the race. I finally finish, feeling depressed and defeated.
"I don't think I'm going to run the Rebel Challenge," I tell all my friends. I'm a failure, is what I think.
The whole point of this was that I just wanted to have a fun Star Wars weekend at Disneyland with my family and friends, maybe write a blog post. As I make my announcement to my friends, no one thinks it's a big deal if I race or not. Everyone is sympathetic. Despite my failure as a runner, they remain my friends.
Race weekend arrives.
On Thursday we drive down from the Bay Area. It's past four when we get to the Expo at the Disneyland Hotel in Anaheim. Just for registering, I get three long sleeve shirts: a soft blue Stormtrooper 10K shirt, a brown-grey Wookiee half marathon shirt, and a black Yoda-adorned Rebel Challenge shirt. My photo is taken so my identity can be verified for the Rebel Challenge. I also pick up my Dooney and Bourke Star Wars purse. We explore the Expo, buy some Rebel Challenge souvenirs, have dinner, and check into our hotel.
We return to Disneyland at 8:30PM to line up for the Wookiee Party. The whole park is closed except for Tomorrowland. We meet up with some friends from Padawan's school and the kids ride Space Mountain while we wait in line to meet Chewie. Jawas run around and steal my cell phone as I try to take their picture. There aren't as many characters as Star Wars Weekends in Disney World, but there is an endless supply of Wookiee Cookies and dark chocolate Darth Vader cupcakes. I try very hard not to gorge on the cupcakes.
Friday morning our friends run the 5K. They had been up until 1AM for the party, then had to get up at 4AM for the race with three sleepy kids in tow. But they do it and have a blast. They have so much fun I feel inspired.
In the eveni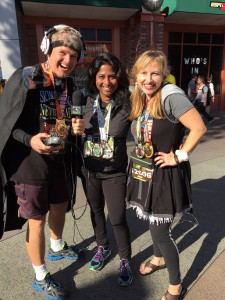 ng, Sarah Woloski of Skywalking Through Neverland is having a meet-up at the Disneyland Hotel to celebrate her husband Richard's birthday. There are even more Star Wars cupcakes! I meet a bunch of new Star Wars friends who are also running the race. Everyone there is so supportive and encouraging about the 10K and half marathon. Just walk it, they tell me. "And stay ahead of the balloon ladies."
The balloon ladies, I learn, are the sixteen-minute-mile pacesetters. Drop behind them and the bus picks you up. I decide I have to at least start the races. As Kanan tells Ezra in one of the Rebels episode, "I may fail, but I am not going to 'try'."
Saturday morning I leave our room in pitch darkness to go to my corral. It's 4:30AM and at least a mile just to get to the starting corral. Many runners are in costumes. There are Jedi, Sith, Lukes, Hans, Leias and a surprising number of Ewoks.
It's cold. I've stuck to my version of Sith armor: On my head is a Vader Mouse ears beanie; the rest is Lululemon, literally. Even my socks.
Rubbing my arms in the C corral, I remind myself I'm just going to start this race. There's no need to rush; I'm going to take it easy. I want to have fun in Disneyland with my family, after all.
The buzz around me is invigorating. The Star Wars music is blasting. My FANgirl friends tweet their support. I run-walk the race, feeling great. The race goes through Disneyland, through an underground tunnel where a heavy breathing Vader exhorts us to join the dark side, into a back parking lot into the Anaheim streets, then through California Adventure. There are several opportunities to stop and take pictures with characters. Early on I avoid these, but in California Adventure I stop to take pictures with characters from Rebels. Sabine doesn't appreciate my Stormtrooper race shirt. Ezra suggests I'm a Rebel Spy. Laughing, I keep running.
Just past mile 3, my right calf spasms. At least it's past the halfway point, I tell myself. I continue to walk briskly. I try visualizing healing blue Reiki energy in my calf. It doesn't work. I think of Tricia's advice and picture my Sith Lord character from SWTOR. He channels hatred with a red ball in his palms. By mile 5 the cramp eases. I finish the race running. I'm somehow still solidly in the middle of all the finishers. Elated, I find Hubs and Padawan by the Jedi DJ who is spinning top ten hits from the 90's.
We have breakfast at Minnie with our friends. Like a little kid, I take pictures with the characters, brandishing my 10K medal.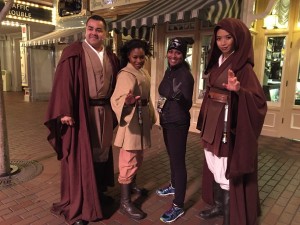 On Sunday I wake up expecting to be sore and tired, but to my surprise I feel good. I'm excited to start the half marathon. I know I'll probably end up getting picked up and remind myself there's no shame getting on the bus. Still, having one medal, now I want the rest.
The crowd is less rambunctious this morning. Even the music seems muted. This race seems smaller and more serious, though there are just as many costumes, including X-wing pilots and a George Lucas. I like the back corral, though. The people around me are supportive. Everyone seems in it just to finish, rather than compete with each other.
About thirty minutes after the official race start, my corral reaches the starting line. Huge neon lights flash slogans like "May the Force be with you!" And then, "RUN!"
I start off the race running slowly. I have four albums of my favorite DJ du jour, Pretty Lights, on shuffle. I remind myself to take it easy. I'm slow, but I'm doing okay. We start off on the streets and wind our way into Disneyland. I run past all the characters, skipping photos again. Run through the Darth Vader tunnel, though this time the heavy breathing may be my own. Hubs and Padawan cheer from the crowd at mile 3. I run through California Adventure and then we are on the streets. There are high school bands and well wishers, and I see Hubs and Padawan at Mile 5.
It goes well until Mile 6, when my right calf cramps as if it's caught in Vader's Force choke. I limp along, passing a Super Target and Costco. The only thing I can think is, all these years visiting Disney and I never knew there was a Costco nearby. Maybe I can steal one of their electric carts?
Then there's a Cliff bar station playing Gangam Style and serving some kind of goo. I take two of them. The cramp starts to feel better.
The race turns along a loop and suddenly there are cosplayers standing on the sidewalks and cheering. All these people have dressed up and come out, and are staying here, cheering all the runners, even the slow ones like me, for this whole time! I'm astounded by the kindness I yet again witness in the Star Wars community.
Though I get a little buzz from the excitement of the cosplayers, I'm really tired. At this point yesterday, I was done. I'm not even quite half way through yet, still somewhere on the streets of Anaheim.
I begin by trying to boost my flagging mood with yoga mantras. Stay in the present moment – thinking about six more miles is far too depressing. I try switching to twelve step phrases – just one step at a time, I keep telling myself.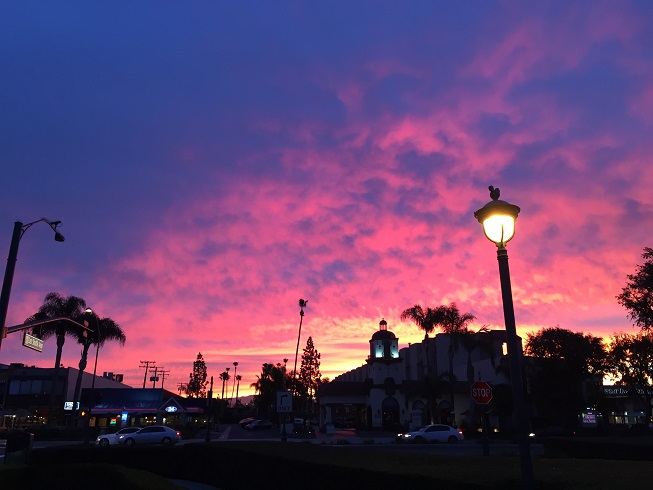 The sun is up. I have given my hat to Hubs and Padawan at Mile 3. I feel hot and sticky. Even all the Pretty Lights songs start to blur. It's like that Clone Wars episode with the droids in the desert. Certainly my mind segues to strange thoughts, wondering things like what it might have been like for pioneers who walked across the country, without roads or Nikes? I tell myself to be grateful I'm not stuck at Donner Pass.
Where's my runner's high?
Maybe I've become dehydrated and delirious.
Maybe I should stop eating cupcakes.
I start thinking about failure. Now might just be a good moment for an epic fail.
Every good story has a strong dose of setbacks, of failure. Luke fails to save his family on Tatooine. The Death Star gets blown up but the Empire isn't destroyed. Darth Vader gets Han Solo… I think about Wynde, Tricia's novel I beta read, then purchased because I love it so much. Her main character, Vespa, spends a good chunk of time coping with failure.
Good storytelling, it seems, needs a good dose of failure for characters to grow. Why is it so important in stories, yet so hard to accept in real life?
In real life, failures are no fun. It stings when you don't pass a test. It's crushing when you don't get that job that seemed like a perfect fit. It cuts when everyone else gets invited to the party except you. It's a deep wound when you like someone who doesn't like you back.
Yet this is the stuff, in retrospect, which defines the turning points in our lives. We are forced to reexamine, reassess, re-evaluate, re-edit, and return with a new plan. It's often this process that leads to eventual success. A Zen Buddhist may even argue that failures and setbacks are integral parts of a grander story, limited by our current perspective.
I'm thinking about this when I spot the dreaded balloon ladies, just past Mile 8. I'm sure in reality they are actually very nice, normal women – but in my mind, they look like Freddy Krueger, power-walking with balloons aloft in one hand, butcher knives in the other.
Time does that weird disconnect. In my mind, I'm frowning because my pace has been consistently between fourteen and fifteen minutes. Even in my philosophical daze, I don't think my feet have slowed that much.
My body, on the other hand, goes into full fight-or-flight mode. I have no weapons to ward off butcher knife balloons.
I run.
I didn't think it was in me, but somewhere, I find some kind of reserve. I run until my right calf screams I can't.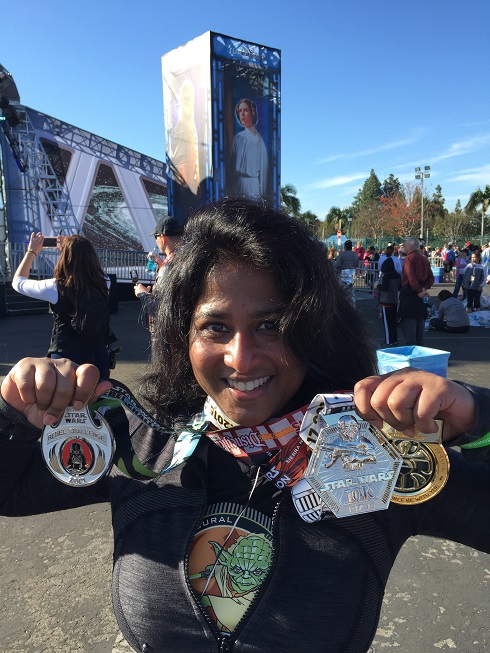 I can still see balloons in the distance so I hustle my beleaguered pace as much as I can, pushing my walk to a run as much as my calf allows.
I text Hubs. "I will be so mad if I get picked up now," I tell him. "I'm almost done." Never mind "almost" means I still have five more miles.
The mood of the crowd around me shifts. Everyone is still encouraging each other, but there is a tense undercurrent, people muttering and looking backwards nervously.
I feel better when I hear that the balloon ladies are held back at mile 10 for walking too fast.
Finally I'm at mile 12. I hear the bus doesn't come past mile 12. There are palm trees on the streets again. The scenery looks familiar.
Rows and rows of local high school bands are lined up in the Disneyland parking lot, playing tunes like "Rocky" and giving high fives. I high five every one of them as I run by, invigorated by their energy.
I run across the finish line. Hubs and Padawan are waiting; I hug them both. I run into Sarah and Richard again. I see more friends. It's hugs all around!
My ID gets checked and I'm handed my two medals. They are shiny and heavy.
This moment is sweet. I've just accomplished something I thought I'd already failed. In my failure I found the freedom – and the support – that allowed me to succeed.
The medals are going for $600 on eBay, which still may have been a wiser, injury-free choice.
I'm still nursing my right calf and I'm already planning to register for the Rebel Challenge next year. This time, before noon.
---
Linda has been a Star Wars fan from the time she saw Episode IV in the theatre with her parents and insisted on being Han Solo while playing with the neighborhood kids. She's now a fangirl who splits her time learning to twirl a bo staff like Ray Park, jumping horses, writing fanfic she dreams up on her commute to work, and spending time with her husband and their own feisty Padawan version of Ahsoka. She can be reached at Linda.HansenRaj@gmail.com and on Twitter.