Daisy Ridley Roundup: June 25 – July 22, 2014
It's that time to do another Ridley Roundup. Let's kick this into high gear, or maybe some cool foot gear Daisy Ridley was sporting.
[tweet_embed id=481875522897842176]
You can find the VANS Star Wars line here.
LEGO gave the cast photo a minifig treatment. Ridley's response: "OH MY GAAAAAD WE'RE LEGO!!!!!!! @JBoyega ahhhhhhhhhhhhh!!!! So exciting!!! #SWVII"
On July 4th, Ridley's co-star John Boyega gave us the lean and mean version of the pair, while she wished Americans a happy holiday.
A few days later Ridley discovered the wonderful thing that happens when cosplay, fanvidding, and pop culture collide. If you haven't seen stormtroopers dancing to Beyonce's "Single Ladies," here is your chance.
After Crystal Clarke and Pip Andersen were added to the Episode VII cast, Ridley took to Twitter.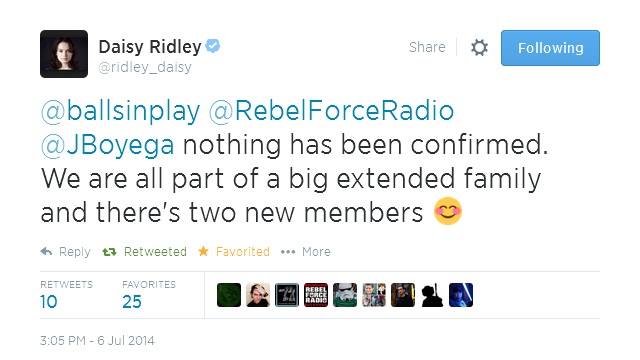 You can see Clarke in this short film, "Champagne." Andersen brings some incredible parkour ability as seen in this Spider-Man ad. A previous Ridley Roundup highlighted stunt actress Chloe Bruce, who might be linked to the film. Speaking of parkour… Latino Review broke the rumor that Christina Chong is in Episode VII. The Wrap says she has already finished shooting, and loses points for not including Daisy Ridley among its list of Episode VII newcomers. Chong has a parkour video. Her acting credits include Doctor Who and 24: Live Another Day.
For the record, Ridley clarified she is not in In Betweeners 2. She appears in Scrawl. FE Week has an article on the film, which provided an opportunity for students to work alongside professionals. Student Ellie Selwood said:
All the professional actors all got on well with the students and gave us some good advice. Daisy told me you have to put yourself about as much as possible if you want to make it as an actor.
In Scrawl, Ridley plays "Hannah — a sinister character who comes to life from the comic book." Perhaps that is why she was excited for San Diego Comic-Con this week.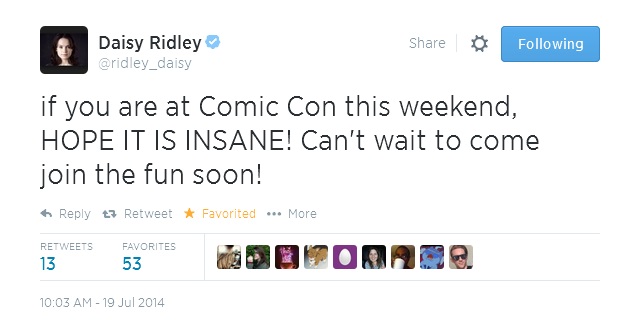 According to a Badass Digest rumor report, Ridley and Boyega are the Episode VII leads. Last month's Ridley Roundup pointed to Ridley's lead role, although the Badass Digest post gives more insight into Boyega's role than Ridley's. There is likely good reason for this… more on that later, because it's time to stop and Vogue. The international magazine recently picked up on the detail that Ridley and Boyega are "the new stars of Star Wars" in the headline of an article that begins this way:
When Vogue invited Daisy Ridley to this year's annual Costume Institute Gala, the ingénue was forced to decline the offer without question. And now we know why she was so busy …
Here's why Vogue's interest is so important: it's a global magazine with a female-centric audience that averages slightly older than 35.
With all the excitement, Ridley and Boyega seem to be taking it all in stride.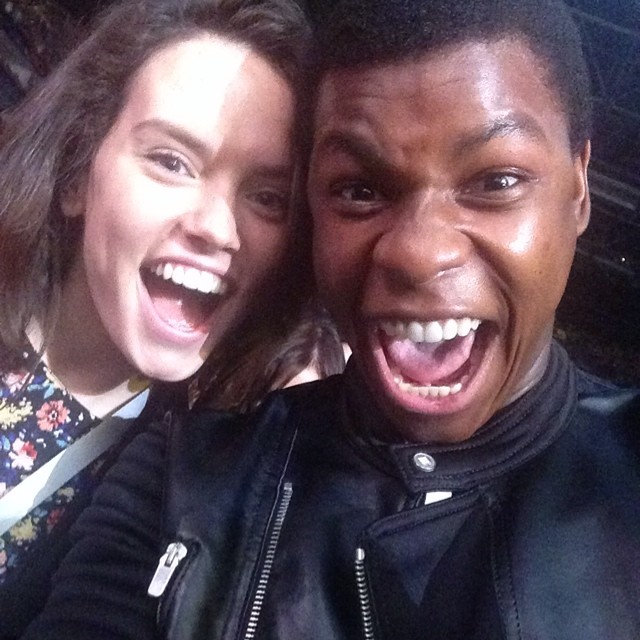 ---
Tricia Barr's novel, Wynde, won the 2014 Independent Publisher Book Award Gold Medal for Best Science Fiction/Fantasy/Horror Ebook. She was also part of Silence in the Library's successful all-female creator science fiction and fantasy anthology Athena's Daughters, which is available now. For excerpts and tales of her adventures in creating a fictional universe, hop over to TriciaBarr.com.
For updates on all things FANgirl follow @FANgirlcantina on Twitter or like FANgirl Zone on Facebook. At times she tries the Tumblr.