Her Universe Offers "Informed and Fashionable" Fandom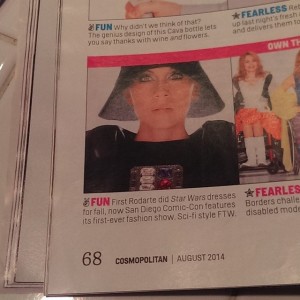 Earlier this month, I noted that women associated with Star Wars keep showing up in mainstream female-oriented magazines. Each time they seem to be giving voice to women expressing themselves in powerful ways. Last time it was Keira Knightley talking about feminism and body image in Glamour. When former Deputy White House Chief of Staff for Operations Alyssa Mastromonaco announced she had taken a position as contributing editor at Marie Claire, she says in a Washington Post piece that she was "startled by some of the critical reactions." Her piece challenges the notion that women can't be "informed and fashionable."
Opening up the August Cosmopolitan magazine, in the Fun Fearless Female section, the Her Universe Fashion Show to be held this week was highlighted under the Fun column. Ashley gave Teresa and I a rundown on the event in this month's Fangirls Going Rogue. An announcement will be made at the event and it looks like some favorite fangirls, like Amanda Jeann and TK-6683, will be modeling new Her Universe fashion.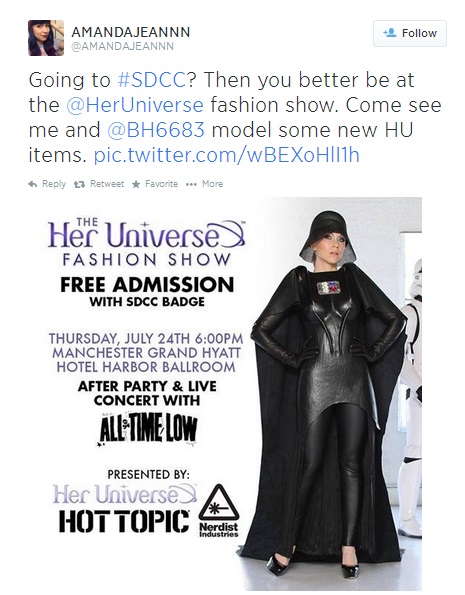 Jonathan Wilkins told Radio 1138 that the goodie bags will contain a copy of Star Wars Insider #151 with the Hera Syndulla cover. That issue also features an article by Lisa Granshaw on the rise of geek couture as well as my feature on Star Wars fangirls. Jeffrey Brown, the creator of Darth Vader & Son, Vader's Little Princess, and Jedi Academy, as well as its forthcoming sequel and Good Night Darth Vader, will be Titan Magazine's featured guest at their San Diego Comic-Con Booth #5537 to sign his collector cover of the same issue on Friday at 3:00 p.m. PDT.
On Monday, Her Universe revealed the merchandise they'll be premiering at San Diego Comic-Con, including the Xaiver's School cardigan, Loki dress, Ms. Marvel tank, and Black Widow hoodie. A great selection of previously released merchandise will also be available at their booth at the convention.
---
For updates on all things FANgirl follow @FANgirlcantina on Twitter or like FANgirl Zone on Facebook. At times she tries the Tumblr.