Sabine: Don't Underestimate the Power of Pink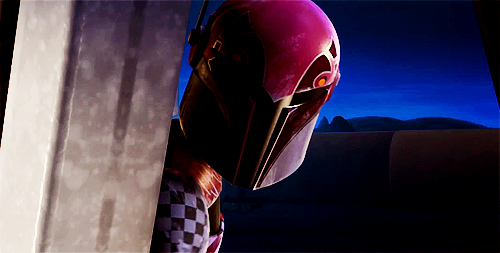 In his recent interview with Nerdist, Dave Filoni mused on the popularity of Sabine, the pink Mando warrior from Star Wars Rebels:
I've been really stunned at the reaction to Sabine, because so many fans have already jumped on that. It was crazy. Another reason why I wanted her to be artistic was I'm aware of things like DeviantArt and the ways kids use social media to express their creativity, and I think she really hits that button somehow.
The artistic character is reminiscent of another popular Disney character, Rapunzel from Tangled, who used her room in the tower as her canvas. For Star Wars Day, Dave Filoni shared his advice on cosplaying Sabine at the official blog. Last week, Sabine voice actress Tiya Sircar's interview with USA Today was overwhelmed by the breaking Episode VII cast news. If you missed it, check out what she has to say:
"I love her. She does everything with flair," Sircar says. "When she's blowing stuff up, she's doing it artfully."

Each of the main characters have a powerful reason to be fighting "The Man," she adds. "Sabine's, I can't wait for people to find out why she's part of this Rebel crew. It's serious stuff."
Read the rest of the interview here. Also out now are two new trailers for Star Wars Rebels. Enjoy!
---
For updates on all things FANgirl follow @FANgirlcantina on Twitter or like FANgirl Zone on Facebook. At times she tries the Tumblr.