Remembering All Who Have Served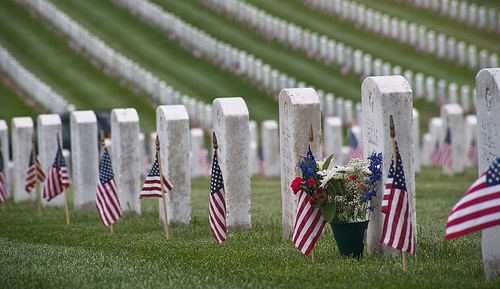 Memorial Day is the holiday to remember those who have died in service of our country as a member of the Armed Forces. The National Women's History Project website includes a feature on Honoring Women on Memorial Day.
Beginning with the American Revolution and continuing to the present, women have always volunteered in defense of our nation.  Many of their contributions have been forgotten and are not recorded in today's history books. The Women's Memorial at Arlington Cemetery is changing this omission through a massive oral history and research project.

…Growing collections include a library of nearly 1,000 books by and about military women, photograph and document archives, personal and military-issue artifacts, memoirs and oral histories.
My grandmother served in World War II in the Women's Auxiliary Air Force, part of the famed Royal Air Force, and I have met many brave female soldiers throughout the years I worked with the Armed Forces. Arizona State history professor Kyle Longley's article "Can Women Be Brave in Combat? You Bet" tells the story of Jennifer Moreno, a U.S. Army soldier on a special operations task force who sacrificed her life trying to save fellow soldiers during a raid. She was posthumously awarded the Bronze Star.
While some people endlessly debate who should serve in combat, Moreno shows gender does not matter when it comes to serving bravely. On this Memorial Day, we need to remember everyone who has made the ultimate sacrifice, including Jennifer Moreno.
In the New York Times, Cara Hoffman discusses the invisibility of women in our narratives about war and military service.
THE injury wasn't new, and neither was the insult. Rebecca, a combat veteran of two tours of duty, had been waiting at the V.A. hospital for close to an hour when the office manager asked if she was there to pick up her husband.

No, she said, fighting back her exasperation. She was there because of a spinal injury she sustained while fighting in Afghanistan. …

But stories about female veterans are nearly absent from our culture. It's not that their stories are poorly told. It's that their stories are simply not told in our literature, film and popular culture. …

They would be made visible if we could read stories that would allow us to understand that women kill in combat and lose friends and long to see their children and partners at home. They would be given appropriate human compassion if we could feel their experiences viscerally as we do when reading novels like "All Quiet on the Western Front," or seeing films like "The Hurt Locker."

Society may come to understand war differently if people could see it through the eyes of women who've experienced both giving birth and taking life. People might learn something new about aggression and violence if we read not just about those fighting the enemy but about those who must also fight off assault from the soldiers they serve beside or report to.

Female veterans' stories clearly have the power to change and enrich our understanding of war. But their unsung epics might also have the power to change our culture, our art, our nation and our lives.
Instead of perpetuating toxic illusions about masculinity and violence, both fictional and real-world tales of military service can no longer deny the necessary role women play – and have always played – in waging war.
Storytelling by women, including Hoffman's novel Be Safe I Love You, is an important part of this change. Janine Spendlove, a pilot in the U.S. Marines, infuses her stories with the perspective of her life as a career soldier.
Memorial Day also inspires support for those who serve. Previously I've recommended actress Cat Taber's project Games for Soldiers. This year I'll add another: newly announced Episode VII cast member Adam Driver, who has served as a U.S. Marine, founded the charity Arts in the Armed Forces:
AITAF bridges the cultural gap between the United States Armed Forces and the performing arts communities by producing theatrical and musical performances for mixed military and civilian audiences. AITAF performances and programming accentuate the shared humanity of all Americans by using live performance to unite artists and service members and encourage dialogue. AITAF creates space for these two communities to enrich and diversify each other via their respective skill sets, life experiences, and demographics. AITAF enlists artists of the highest quality and chooses material with an eye to what might speak to this particular audience without necessarily being war-themed or focused.
You can also follow AITAF on Twitter.
To the men and women who have died in service, may you know peace. You will never be forgotten. To the men and women who still serve, thank you.
---
Tricia Barr is the proud daughter of an Army officer. Her novel Wynde portrays the struggles of two young women who join the military after a violent terrorist attack.