The Clone Wars: The Lost Missions Launch on Netflix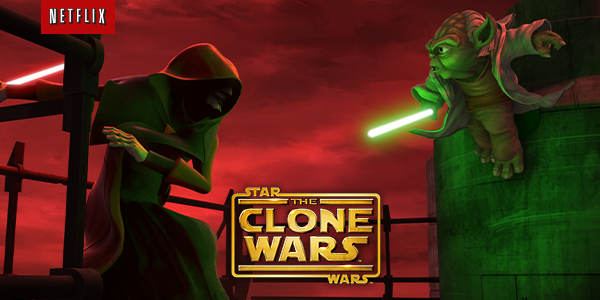 The final 13 episodes of The Clone Wars, collected as The Lost Missions, are now available on Netflix. Along with the prior five seasons, StarWars.com has provided episode guides to the new ones, as well.
The episodes went live at 12:01 a.m. Pacific Time on Friday, and some especially dedicated fans stayed up to watch the entire five hours right away. Tweeting with the hashtag #CloneWarsLive, it became a collective online experience. Lisa Granshaw has a great recap of the highlights at The Daily Dot.
Dave Filoni gave two interviews to mark the occasion. At Entertainment Weekly he discussed the production of the final episodes and the significance to the overall Star Wars saga of the Order 66 and Yoda arcs. He also offered these remarks about the as-yet unresolved fate of Ahsoka:
Obviously there were plans for Ahsoka that haven't happened yet. I love the character. She was one of those things we were proud of. The fans really came to respect her. That story isn't finished yet but I'm still here so you never know. … I've become a protector of those stories. [Lucasfilm president] Kathleen Kennedy understands the value of the stories we were going to tell. I'm sure we'll find a way to find root for them in some manner in the future. I hope to be around for a long time.
Speaking to the L.A. Times' Hero Complex, he shares similar comments about the Yoda arc and Ahsoka, as well as more thoughts on the evolution of The Clone Wars over its run, including its darker tone leading toward Revenge of the Sith. He also noted this about fan engagement:
Now, as the "Star Wars Rebels" publicity campaign rolls into high gear, he said he's ready for the reaction from the heavily invested and re-energized fan community. "I prefer to meet the fans out on the battlefield head-on and discuss things with them," he said. "I love hearing theories … and I love hearing the passion behind it."
Undoubtedly that's a big part of the reason Filoni is a fan favorite on the creative side at Lucasfilm.
Fans are also using the release of The Lost Missions as an opportunity to revisit their favorite aspects of The Clone Wars. At io9, Lauren Davis writes about "Why Ahsoka Tano is the Best Thing to Happen to Star Wars in 20 Years." The entire essay is worth a read, but this is one of the key points about why Ahsoka became such an effective character over the course of the series:
Ahsoka seemed a character doomed for the refrigerator, one who existed to create an emotional attachment and whose death would explain the actions of another, ostensibly more important, character. Ahsoka might very well die before Revenge of the Sith, although her decision to leave the Jedi Order at the end of Season Five might offer her a reprieve. She might survive only to be killed later by Darth Vader. She might live a long life, using her Jedi training to help people outside of the rules and regulations of the Order. But however she dies, she will die not just as a vehicle for Anakin's character development, but as a fully realized character who helped highlight the Jedi's flaws.
Eric Goldman at IGN pointed out "22 Movie Peripheral Characters Who Got the Spotlight" in The Clone Wars, including Aurra Sing, Aayla Secura, Adi Gallia, Shaak Ti, Luminara Unduli, Barriss Offee, and even Sy Snootles. He also highlighted his top ten favorite episodes from the first five seasons.
At Newsarama, Lucas Siegel offers a lengthy Thank You to The Clone Wars. He also made particular note of Ahsoka's importance:
Thank you, Star Wars: The Clone Wars, for Ahsoka Tano. This young female Jedi defied everything we knew about storytelling in American cartoons. Here was a character who many saw as impulsive and, frankly, annoying at her introduction. She became the poster child for growth on the show, in both figurative and literal ways. As Ahsoka became a stronger Jedi, her growth exposed Anakin's regression. Every step forward she took was mirrored by a step – if not back, then down, down into the Dark Side by Anakin. Ultimately, it was the loss of Ahsoka (though not through death), that showed us Anakin's deepest dive into darkness. Moreso than Padme, more than Obi-Wan, Anakin's "little sister" was his connection to hope, to innocence. All the way, Ahsoka represented independence and free thought in a world full of rules and order. She stumbled, but always recovered. She was the voice of reason – and the voice of doubt when others wouldn't dare to speak up. In that way, she was the voice of the fans, of those going on this journey with her, and while Ahsoka is gone, #AhsokaLives, and will live on in the hearts of Star Wars fans everywhere.
Over the course of its run, The Clone Wars featured numerous strong female characters. Ahsoka had center stage, of course, but Asajj Ventress experienced a profound character arc of her own. Recurring characters like Duchess Satine and Barriss Offee served as a lens on the stories of the main characters, and minor characters like Bo-Katan and Steela Guerrera remain memorable even with their brevity. But we couldn't close without mentioning another vivid, memorable character from The Clone Wars: the Nightsister leader Mother Talzin. Just like Ahsoka, we learn from the episode guides to The Lost Missions that, just like Ahsoka, "Her story is not over yet."
Over the past two weeks, Jason Swank and Jimmy McInerney at RebelForce Radio have encouraged fans to record "thank you" messages for Disney|Lucasfilm on their voicemail. FANgirl Blog extends their own big THANK YOU to Disney, Dave Filoni, Ashley Eckstein, and everyone on The Clone Wars team for the awesome ride.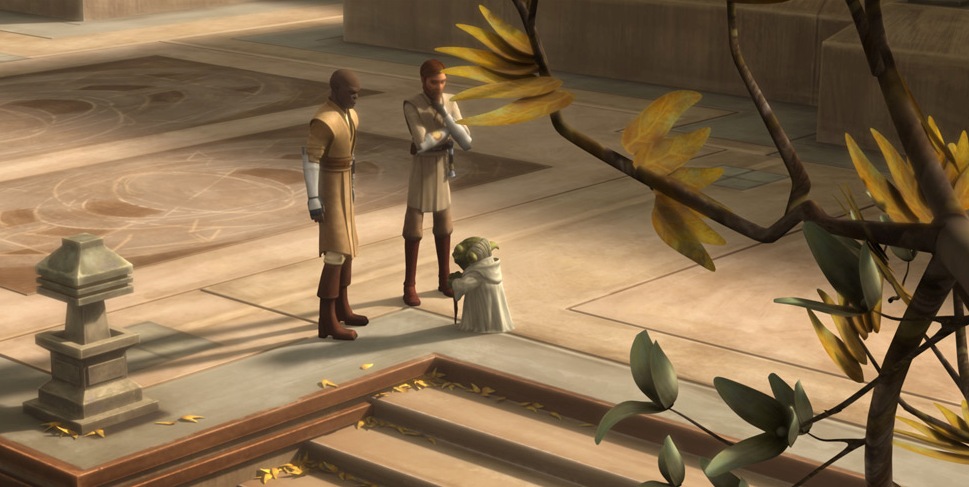 ---
B.J. Priester is editor of FANgirl Blog and contributes reviews and posts on a range of topics. A longtime Star Wars fandom collaborator with Tricia, he edited her novel Wynde and is collaborating with her on several future projects set in that original universe. He is a law professor in Florida and a proud geek dad.