Interview with James S.A. Corey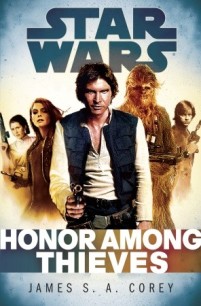 Recently, FANgirl Blog had the chance to interview James S.A. Corey – the pseudonym for the writing duo of Daniel Abraham and Ty Franck – about the writing process behind their newly released Star Wars Expanded Universe novel Honor Among Thieves. Click here to read their insights on POV, Chewbacca and Scarlet Hark, writing space operas, and more.
Speaking of Scarlet Hark, she's the star of the short story "Silver and Scarlet" in the current issue of Star Wars Insider magazine, #148, with accompanying art by Joe Corroney and Brian Miller. Audiobook narrator Ilyana Kadushin recorded the story for inclusion in Honor Among Thieves; you can hear a preview at her website.
Also check out the post from Abraham and Franck at the Star Wars Blog, "The Genesis and Goals of Star Wars: Honor Among Thieves."
Finally, if you missed it, earlier this week we posted Kay's review of Honor Among Thieves. I really enjoyed the characterizations in the novel. Han fits perfectly in the period between A New Hope and The Empire Strikes Back, and it's fun to get to see him interacting with Chewie again. Scarlet is a great foil for him throughout, and when she and Leia combine to take charge, well, Han better watch out. Like Razor's Edge, Honor Among Thieves is a fun read if you're looking for that classic Original Trilogy feel.

B.J. Priester has been a Star Wars fan since he played with the original Kenner action figures as a young boy. His fandom passion returned after watching Attack of the Clones in 2002 and reading the entire New Jedi Order series in 2003. He voraciously caught up on the novels and comics in the Expanded Universe in addition to writing fanfiction, frequently co-authoring with Tricia.

B.J. has served as editor of FANgirl Blog from its inception, as well as contributing reviews and posts on a range of topics. He edited Tricia's novel Wynde, and is collaborating with her on several future projects set in that original universe.

Currently a tenured law professor in Florida, B.J. has been a practicing lawyer in Washington, D.C., a law clerk to a federal appeals court judge, and a law journal editor-in-chief. He is also a proud geek dad whose son who is a big fan of Star Wars and The Clone Wars.