Jeffrey Brown's Jedi Academy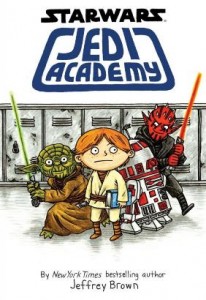 At the end of August, Scholastic released the third Star Wars book from children's illustrator Jeffrey Brown. Unlike Darth Vader and Son and Vader's Little Princess, which were anthologies of humorous single-page cartoons, Jedi Academy tells a single 160-page story. Mixing comics-style panels, illustrations, and mocked-up grade reports, homework assignments, and school newspapers, Jedi Academy weaves the tale of Roan Novachez, a young boy from Tatooine who ends up at a very different middle school than he ever expected.
Brown's story touches on many themes that speak to the school experience and challenges of growing up. Roan wants to be a starpilot like his father and older brother, then isn't sure what it means for his life when he's rejected from the Pilot Academy. He's anxious about his new school where most students already know each other, but quickly makes friends with another young boy, Pasha, who reaches out and makes him feel welcome. Some of the other kids aren't so nice to him, though, and naturally there's a girl he likes (or maybe like-likes), creating all manner of awkwardness. Roan becomes the cartoonist for the school newspaper and competes in the lightsaber competition, where he learns that some things are more important than winning.
For the more grown-up readers, Jedi Academy has lots of great Star Wars humor. Yoda is particularly well written, as are the "Stuff Yoda Said This Week" pages from Roan's journal. Expanded Universe fans will catch a number of winks and nods as well; my particular favorite is the Ewok pilot who's the protagonist of Roan's cartoons.
If you're still looking for a Christmas present for a young Star Wars fan, definitely consider Jedi Academy. But be sure to read it yourself too – you'll be glad you did.
---
B.J. Priester is editor of FANgirl Blog and contributes reviews and posts on a range of topics. A longtime Star Wars fandom collaborator with Tricia, he is editing her upcoming novel Wynde and collaborating with her on several future projects set in that original universe. He is a law professor in Florida and a proud geek dad.

B.J. Priester has been a Star Wars fan since he played with the original Kenner action figures as a young boy. His fandom passion returned after watching Attack of the Clones in 2002 and reading the entire New Jedi Order series in 2003. He voraciously caught up on the novels and comics in the Expanded Universe in addition to writing fanfiction, frequently co-authoring with Tricia.

B.J. has served as editor of FANgirl Blog from its inception, as well as contributing reviews and posts on a range of topics. He edited Tricia's novel Wynde, and is collaborating with her on several future projects set in that original universe.

Currently a tenured law professor in Florida, B.J. has been a practicing lawyer in Washington, D.C., a law clerk to a federal appeals court judge, and a law journal editor-in-chief. He is also a proud geek dad whose son who is a big fan of Star Wars and The Clone Wars.