The Legend of Korra Book Two Finale Tonight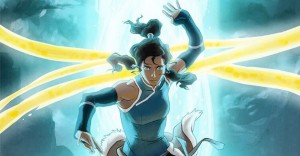 Tonight at 8:00 p.m. EST Nickelodeon airs The Legend of Korra's two-part season finale for Book Two: Spirits. Last week, they gave the show's fans a special treat: putting the episodes online for viewing at Nick.com's video section. If you missed last week's two-parter, you can still catch up online before tonight's television broadcast.
Speaking of last week's episodes, Mordecai Knode at Tor.com has a highly entertaining review. It contains spoilers for those episodes but not the finale, so it's safe to read before tonight.
Lauren Davis at i09 reviewed the finale, including a spoiler section at the end. She highlights some of the parts that were my favorite aspects of the episodes, too.
On Wednesday, The Wall Street Journal reported that the title for Book Three of Korra will be Change.
"The title of Book 3 is going to be called 'Change,'" DiMartino said. "It's all about Korra dealing with the change of the world in this point in time. At the end of Book 2 she says it's a new era. And it really is and we're going to show how Harmonic Convergence and her battle with Unalaq and Vaatu kind of shifted the world a bit."
Yesterday followed with the full interview with the creators of The Legend of Korra, Michael DiMartino and Bryan Konietzko. They discuss the themes and inspirations for the entire Book Two story, including Korra's arc and the Wan backstory, and look ahead to Book Three.
Book One developed a excellent Heroine's Journey progression for Korra as she finally mastered airbending and attained the Avatar state. Now that Book Two has concluded, we'll analyze how Spirits advances Korra's arc in the next stages of her journey.
---
B.J. Priester is editor of FANgirl Blog and contributes reviews and posts on a range of topics. A longtime Star Wars fandom collaborator with Tricia, he is also editing her upcoming novel Wynde. He is a law professor in Florida and a proud geek dad.