Linda Reviews Children of Fire by Drew Karpyshyn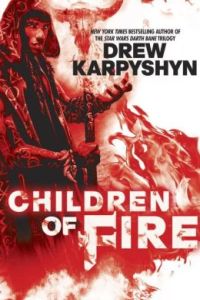 Earlier this week, Del Rey released Children of Fire, the first book in Drew Karpyshyn's new fantasy trilogy. I'd previously reviewed two of his Star Wars novels from The Old Republic series, Revan and Annihilation, so I was intrigued to see how Children of Fire compared.
The plot moves along well, in a new universe with enough details to be original and enough standard epic fantasy elements to make it easy to follow. I found myself reading the story quickly, immersed. By the time I got to the epic battle at the end, I was rapidly flicking pages on my phone's e-reader.
Read my full review and find out if Children of Fire is a read for you.
---
Linda has been a Star Wars fan from the time she saw Episode IV in the theatre with her parents and insisted on being Han Solo while playing with the neighborhood kids. She's now a fangirl who splits her time learning to twirl a bo staff like Ray Park, jumping horses, writing fanfic she dreams up on her commute to work, and spending time with her husband and their own feisty Padawan version of Ahsoka. She can be reached at theadornedunicorn@gmail.com.