Star Wars Weekends 2013 – Week 3
I always like to attend Star Wars Weekends more than once each summer if I can. This year I didn't really have a choice: FANgirl contributor Linda was flying to Orlando for week 3 as the cornerstone of a weeklong family vacation to Disney World. No way would I miss that!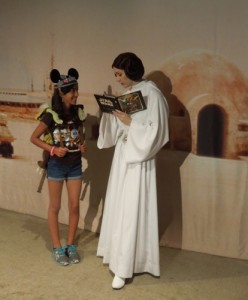 I had to work Friday morning, but that didn't stop the Star Wars fun. By the time I arrived at Hollywood Studios in mid-afternoon, Linda's crew already had signed up Skylar for the Jedi Training Academy, ridden Star Tours, taken pictures with Princess Leia and Roxy the Rancor, undertaken their first-ever rides on Rockin' Roller Coaster and Tower of Terror, and shopped at Darth's Mall for limited-edition Disney pins and the exclusive-edition autograph book. I was especially delighted to hear that Her Universe's Rogue Squadron tank had already sold out by Friday morning; I hope the Powers That Be are paying attention to the demand for this very popular part of the franchise.
Once I joined the gang, first up was Skylar's round of Jedi Training Academy. While the Jedi Master trained some of the younglings on the raised stage, Skylar lucked into the second group on the lower terrace that got their training from Ahsoka Tano – a great warrior formerly of the Jedi Order, explained the Jedi Master in a timely update to the training script to account for The Clone Wars' series finale. When the villains emerged, Darth Vader took the stage and Sith apprentice Asajj Ventress challenged the terrace. Skylar fought Ventress first, and she did great. Watching the younglings stand firm in the light side is always a treat.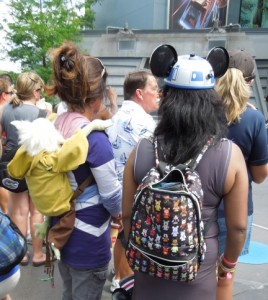 I happened to be wearing my Her Universe Ventress hoodie that afternoon, and had put on Skylar's Yoda backpack to hold it for her while she participated. We were standing in the front row of the gallery to watch. Between duels with the Jedi-in-training, Asajj strode over to me and growled, "Nice look. Lose the Yoda." Shortly thereafter a flirtatious gentlemen garnered an "I expected more of a challenge" for his efforts, and another gentleman hunched down snapping photos was told "You'll be on your knees." Disney's Asajj cast member sure does have the pose, stride, and personality down pat, and she really kept the audience entertained.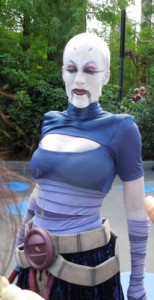 After Jedi Training, we went next door for Star Tours. I gave a little hoot to see Hoth and Princess Leia during our trip, two of my favorite segments in the ride. We then took a spin on the Great Movie Ride, one of the others at Hollywood Studios that doesn't have a counterpart in Disneyland in California. To pass some time, we snacked on churros from an R2-D2 bucket – how could we pass that up? – and Skylar got a couple more characters autographs. During this break, Linda popped a surprise gift: Zoya Pixiedust nail polish with the color name Vespa! It's pretty darn cool to see the name of Wynde's heroine like that.
Before dinner we made sure to catch Obi-Wan & Beyond with James Arnold Taylor. His message of perseverance is as inspiring as always. I also noticed a few tweaks from the Week 1 version of the show; for instance, Gandalf reading a stereo installation instructions manual was back. I guess James is a tinkerer in the vein of George Lucas.
Saturday morning the California crew was still adjusting to Eastern Time, but I hustled to the park for the opening ceremony with the stormtrooper duo. The hapless Imperials were hilarious as usual. Then it was off to the mad dash for Toy Story FastPasses and several rounds on my favorite rides. I ran into Jesse and Kat from the Lady Rogues at breakfast, and learned they'd arrived at the Studios in the wee hours of the morning to get their FastPasses for the Warwick Davis autographs. Waiting in line for Tower of Terror I sketched out some more notes for the next teaser trailer for Wynde, and made sure to use the Rockin' Roller Coaster for research on takeoff and in-flight g-forces.
After lunch at the 50s Prime Time Café, we returned to the Premiere Theater for two more stage shows. This week's guest for Behind the Force was Sam Witwer. Having listened to his appearances on RebelForce Radio and Full of Sith, I knew we were in for a treat – and Sam didn't disappoint.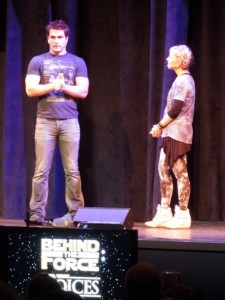 His enthusiasm for Star Wars beamed from the stage. He told a great story about lucking into an audition for the The Mist by helping a stranger who'd dropped her bags in the street. (How's that for karma?) The highlight, though, was Ashley prodding him to tell the story of when he "out-geeked" Dave Filoni during the recording sessions for the Mortis trilogy, Sam's first work on The Clone Wars. In one scene, Anakin tells an apparition of his late mother Shmi how much he misses her, and that he's married now and wishes she could meet his wife – which Sam promptly questioned by pointing out that Anakin had married Padmé, whom Shmi had met on Tatooine in The Phantom Menace. Doh!
We got back in line for the Stars of the Saga show, this week featuring Tim Rose and Warwick Davis. Tim was a puppeteer on Return of the Jedi, including Salacious Crumb and Admiral Ackbar. It was particularly entertaining to hear Tim's story of how the grating laugh of Salacious was so obnoxious that it even ticked off Harrison Ford. I also found it really insightful to hear Tim's explanation of his thought process for why Ackbar slumped in his command chair when everyone else was celebrating the Rebel's victory – because the admiral was feeling the weight of the lives lost to win the day. It was an improvised moment that turned out to be spot on for the movie. Warwick's turn on stage was equally fun. He told stories from the Return of the Jedi set and shared an exclusive clip with Val Kilmer from an upcoming episode of his sitcom Life's Too Short. But I have to say I'm tempted to download his free Pocket Warwick smartphone app. He's got to be the only Star Wars star who has one, right?
Hanging out at Disney with friends is never dull, and the rest of our weekend was great fun, too. I helped Skylar learn the basics of Disney pin-trading, and we picked out a starter set and got her going on trades with some cast members. The boat ride over to Epcot makes a nice break from walking, and Figment's antics in Journey Into Imagination never fail to make me smile.
With all the great fun this year, I can't wait for next year's Star Wars Weekends. In the meantime, don't miss the albums from week 1 and week 3 over at FANgirl Zone on Facebook.