Fangirls Around the Web: April 21, 2013
Her Universe's Year of the Fangirl is going strong. The other contributors shared great content recently. Lillian blogged her fantastic open letter to Dave Filoni, thanking him for The Clone Wars and its impact on Lillian and so many other fans. Erin tweeted a picture of the Star Wars Easter Eggs she and her brother decorated. Victoria featured a great geek chic outfit: pairing a Black Milk Star Wars dress with the Her Universe Manga hoodie designed by Bonnie Burton. Amy discussed "Ten Notable Quotes from Angel" at Nerd Approved, and shared the link to these amazing Disney Princess-inspired rings. (And congratulations to Amy on her engagement!)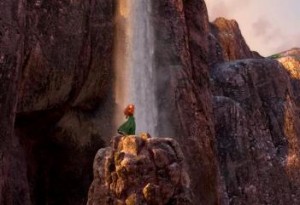 Recently highlighted fangirls of the day are: Rylie, Lady S, Stephanie, Lindsey, Olivia, Faith, Anna, Leia, Laura, Stella, Jessica, Vicky, Christina, Addy, and Amaranthine.
The Costume =/= Consent movement is gaining more attention every week. Aja Romano at Daily Dot discusses the inspiring idea of Elizabeth Schweizer at WonderCon to help cosplayers share their stories. Shea Standefer appeared on the the Rebel Legion's All Wings Report In podcast to discuss the topic and her personal experiences as a cosplayer.
On the superhero front, Jill Pantozzi at TheMarySue highlighted this cool art of Wonder Woman posing for a Metropolis magazine cover. Collider reports that Black Widow has been given a major role in the sequel Captain America: Winter Soldier.
Next, two special shout-outs to daughters who inspire their dads! Colin Stokes has praise for the messages for children and parents in the recent Disney Princess movies. And the Huffington Post's article title says it all: "Dads Reveal How Having Daughters Has Changed Their View Of Women."
Stories about female characters written by women are ruling the ebook bestseller lists lately, including the Fifty Shades and Hunger Games trilogies, as noted by Cinema Blend and USA Today. The power of women as entertainment consumers is increasingly being noticed in other mediums, too. The Hollywood Reporter's editorial director hosted a panel at CinemaCon titled "Women + Film = Bigger Box Office," and one observer raved that the discussion "provided some of the most incisive and perceptive analysis of our business that I have ever heard." Unfortunately, their article on the panel was headlined "CinemaCon: 'Fifty Shades of Grey' Question Results in Awkward Silence," so there's still room for progress.
When it comes to The Hunger Games, fans recently unlocked sneak-peek images from this fall's Catching Fire at The Hunger Games Explorer website; they're collected at TheHob.org on their fantastic page compiling all of the officially released images and videos. Along similar lines, Hollywood.com speculates on the design of Katniss' wedding dress. And of course, be sure not to miss the first teaser trailer for Catching Fire, which first premiered on the MTV Movie Awards. Most impressive of all, Jennifer Lawrence made the cover of TIME magazine's list of the 100 most influential people in the world, and the article about her was written by Hollywood icon Jodie Foster.


Tricia Barr took her understanding of brand management and marketing, mixed it with a love of genre storytelling, and added a dash of social media flare to create FANgirl Blog, where she discusses Star Wars, fandom, and the intersection of women within Star Wars fandom. She is co-author of Ultimate Star Wars and Star Wars Visual Encyclopedia from DK Publishing, a featured writer for Star Wars Insider magazine with numerous articles on the Hero's Journey. Her FANgirl opinions can be heard on the podcasts Hyperspace Theories and Fangirls Going Rogue.

Tricia Barr's novel, Wynde, won the 2014 Independent Publisher Book Award Gold Medal for Best Science Fiction/Fantasy/Horror Ebook. She was also part of Silence in the Library's successful all-female creator science fiction and fantasy anthology Athena's Daughters, which is available now. For excerpts and tales of her adventures in creating a fictional universe, hop over to TriciaBarr.com.