Meet Fangirls Going Rogue at Walt Disney World This Weekend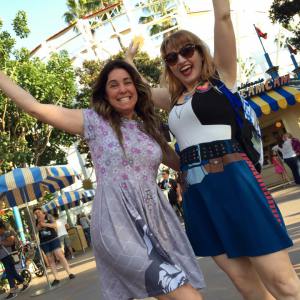 This weekend at the Star Wars runDisney Event at Walt Disney World Tricia Barr is skipping… er, running the 5K while her Fangirls Going Rogue co-host Sarah Woloski runs all three races on Friday, Saturday, and Sunday. Following the Dark Side Half Marathon, Skywalking Through Neverland and Fangirls Going Rogue will host at meet-up at Jock Lindsey's Hangar Bar in Disney Springs from 2:00-3:00 p.m.
For more information, check out the meet-up Facebook page. In addition, Star Wars friends will be enjoying the food at the Disney Flower & Garden Festival at Epcot on Friday afternoon.
For updates on Tricia Barr's runDisney experience follow her on Twitter and Instagram.
For all updates on Sarah Woloski's Dark Side Challenge experience follow her on Twitter and Instagram.
While you're waiting be sure to catch the exciting new episode of Fangirls Going Rogue where we discuss the end of Star Wars Rebels season 2 and The Force Awakens Blu-ray.