Ashley Eckstein Around the Web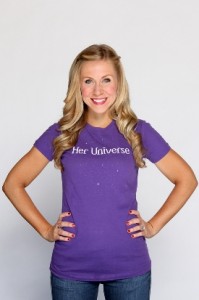 Ashley Eckstein, the voice of Ahsoka Tano, has been making the rounds following the stunning conclusion of Season Five of The Clone Wars this past weekend. Here are a few more places you can catch her:
At Hollywood.com, Ashley discusses Ahsoka's future and why it "seems a lot brighter." Another interesting tidbit from the interview:
Though Eckstein recorded Ahsoka's departure from the Order some time ago, George Lucas himself stepped in to make crucial rewrites to the script. These were changes that tightened the focus on Ahsoka's decision to leave and made it clear that her choice came from a place of strength, not fear.
Ashley will join RebelForce Radio live tonight at 10:30 p.m. Eastern. You can post questions for the hosts to ask her over at their Facebook page.
Her Universe's Year of the Fangirl received mentions at Forbes' website, StarPulse, and Entertainment Weekly Online.
All five Year of the Fangirl contributors have been introduced at Her Universe's blog. Find out why each contributor is a fan and why we think it's important to build a community.
Coming soon, a new fangirl nominated by the contributors will be featured daily.