Catching Up on Hunger Games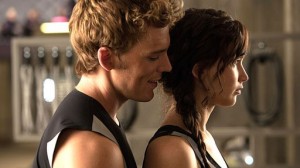 The Hollywood Reporter reveals that screenwriter Danny Strong has been given the go-ahead to start work on the script for Part Two of Mockingjay, the third book in the Hunger Games trilogy. In the book, the rebellion against the Capital is chronicled only from Katniss' perspective, leaving plenty of room to expand the story for two movies.
Last March, Danny Strong shared his thoughts in The Hollywood Reporter about writing his Golden Globe-winning script for Game Change. For insights into writing a complicated character and his approach at adapting an existing book, it's worth the read.
Contrary to recent attacks by Palin's current aides, who have yet to see the movie, this isn't a partisan film, and it does not have a political agenda. It's a story of extraordinary people living through the aforementioned high-stakes anxiety dream of a presidential campaign. For some, it was a nightmare that they struggled to wake up from. Others simply shrugged and moved on. But the star of this dream would rise from her slumber to become one of the most powerful figures in the Republican Party.

Proof positive that sometimes dreams really do come true.
For those interested in the fashion of the Capital, Lady Gaga's favorite designer, Iris van Herpen, has been tapped to create the fiery dress in Catching Fire.
Finally, Sam Claflin talks to Teen Vogue about playing Finnick Odair. (via Yahoo)
All I can say is I try very hard and hopefully I won't disappoint people. He's a very charming physical being, and hopefully he will be exactly what people read in the book and I won't be doing an injustice. I hope people enjoy my interpretation. Hopefully we'll make a bigger and better one this time around.
---
Tricia Barr took her understanding of brand management and marketing, mixed it with a love of genre storytelling, and added a dash of social media flare to create FANgirl Blog, where she discusses Star Wars, fandom, and strong female characters. She also writes about Star Wars for Random House's science fiction and fantasy blog Suvudu.com and for Star Wars Insider magazine.
In her spare time, Tricia puts the finishing touches on her first novel, Wynde. For excerpts and tales of her adventures in creating a fictional universe, hop over to TriciaBarr.com.
For updates on all things FANgirl follow @FANgirlcantina on Twitter or like FANgirl Zone on Facebook.