Linda Interviews Drew Karpyshyn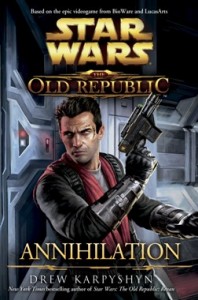 When I waited to interview Drew Karpyshyn, I was nervous. I mean, he's created some of the meanest characters in the EU. Ones that inspire debates like: who is stronger, Darth Bane or Darth Vader? All that Sithiness must come from somewhere, right? It may not bode well for a fangirl who compared his last book, Revan, to low-fat frozen yogurt in a past review. When I met up with Drew at the Peabody Hotel lobby across the street from Celebration VI in Orlando, Florida, I was charmed. I discovered Drew Karpyshyn is a genuinely nice guy. He let me fangirl over Lord Scourge with a wry smile. We discovered we have Rush in common. Over lunch, we chatted about the gaming industry, his old job at Bioware, and writing in general. We talked about Sith Lords and Las Vegas.  Drew talked about golf and the charities he supports. Who knew the creator of the fearsome Revan sponsors orphans and even fosters homeless kittens?
Read the interview to see what he had to say in response to my questions.
In related news, yesterday Del Rey released a new ebook bundle of Drew's Darth Bane trilogy: Path of Destruction, Rule of Two, and Dynasty of Evil.