The Clone Wars Roundup: October 28, 2012

As The Clone Wars dives into the heart of Season Five, some interesting insight has popped up around the internet.  Here's what I spotted the past few days.
Over at IGN, Matt Lanter and Ashley Eckstein share their thoughts about their characters, Anakin Skywalker and Ahsoka Tano, as the show moves closer to Revenge of the Sith. I thought Lanter's comments on Ahsoka were particularly noteworthy:
Lanter: It feels like Ahsoka's shaping up to be the anti-Vader, you know what I mean? Ahsoka feels like all that is good in Anakin, in a way. She's taking all of his good qualities and soaking those up. Because I even think some of the brashness and things like that are good qualities in a Jedi. It just makes things fun, and Anakin gets things done. I feel like Ahsoka's taking that and leaving his bad qualities, leaving behind some of his mistakes. It's kind of cool to see her develop and where she's going to go if she's around when he's Darth Vader… or whatever happens.
Dave Filoni spoke to SciFiNow (via Jedi News) about a wide range of topics. This answer to a question about the Nightsisters particularly caught my eye:
Yeah, again another fantastic idea brought to us by George Lucas. I gotta say, he came into to the writers' room and said, "I want to do these witches." That was something new because it really fits with those mythological ideas of the witch and the earth mother kinda character. Are they evil? What is their ultimate purpose? Again, anything that makes us question that in such a well defined universe like Star Wars is a really good creative area to be in.

It's kinda interesting looking back. We have created the Cad Bane and Savage Opress characters, but for the most part I would say the strongest and arguably the most interesting characters we've created within Star Wars are more your Mother Talzins, your Ahsokas, fleshing out Ventress's character, even the Mandalorians Bo-Katan and Satine. I just seems like even with Princess Leia and Padme, there was room for strong female characters in Star Wars and we're at a time in fandom when female fans have a much stronger voice than they used to.

People are ready to recognise that girls are just as much into Star Wars, Lord Of The Rings and Avengers as boys are, so that's our changing world.
Considering where the fandom discussion was on May the Fourth, I think the recent efforts of creative parties to show and tell the female fans that they have a voice means maybe it's time to "move along" from the notion that Star Wars is for boys.
Finally, if you're wondering about the tone of the rest of the season, the Keeper of the Holocron shared his thoughts on Twitter: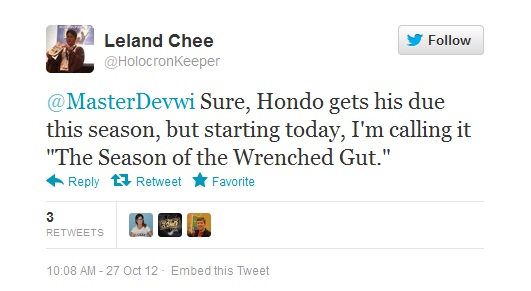 Tricia Barr took her understanding of brand management and marketing, mixed it with a love of genre storytelling, and added a dash of social media flare to create FANgirl Blog, where she discusses Star Wars, fandom, and the intersection of women within Star Wars fandom. She is co-author of Ultimate Star Wars and Star Wars Visual Encyclopedia from DK Publishing, a featured writer for Star Wars Insider magazine with numerous articles on the Hero's Journey. Her FANgirl opinions can be heard on the podcasts Hyperspace Theories and Fangirls Going Rogue.

Tricia Barr's novel, Wynde, won the 2014 Independent Publisher Book Award Gold Medal for Best Science Fiction/Fantasy/Horror Ebook. She was also part of Silence in the Library's successful all-female creator science fiction and fantasy anthology Athena's Daughters, which is available now. For excerpts and tales of her adventures in creating a fictional universe, hop over to TriciaBarr.com.