Inter-Galaxy Portal Interviews Babylon 5's Claudia Christian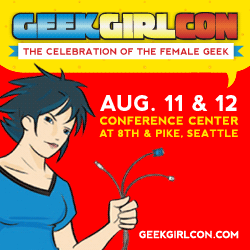 One of the neatest parts of GeekGirlCon was the Connections room. With opportunities to network with NASA or pose a question to Gail Simone, it was a great tool for those who aspired to gain valuable insight into their geeky undertakings. I popped into the room on Sunday to see what convention-goers were asking Ashley Eckstein. That's where I met Shiromi Arserio, who was seeking advice from the Her Universe founder. Shiromi runs Inter-Galaxy Portal, an online scifi magazine. The three of us chatted about social media and making opportunities. I shared with Shiromi an observation I had made early on as a blogger: Don't underestimate the power of guest blogging.
Over the past two years I've sought out various opportunities to write for different blogs as a means to gain a wider exposure. These guest blogs have always proven a positive in gains on FANgirl's audience and social media following. Often fellow bloggers are appreciative of the new exposure, or the fact that the guest blog helps fill in the gaps when real life demands get in the way of keeping up on the posts. Last week, Shiromi emailed, offering to share her interview with Babylon 5 actress and author Claudia Christian. As I am focusing on my fiction writing going into November, the shared interview couldn't have come at a better time!
It's a fantastic discussion with a woman who has had a hand in creating strong female characters in science fiction. Check out the interview here.
---
Tricia Barr took her understanding of brand management and marketing, mixed it with a love of genre storytelling, and added a dash of social media flare to create FANgirl Blog, where she discusses Star Wars, fandom, and strong female characters. She also writes about Star Wars for Random House's science fiction and fantasy blog Suvudu.com and for Star Wars Insider magazine.
In her spare time, Tricia puts the finishing touches on her first novel, Wynde. For excerpts and tales of her adventures in creating a fictional universe, hop over to TriciaBarr.com.
For updates on all things FANgirl follow @FANgirlcantina on Twitter or like FANgirl Zone on Facebook.