Glittering Images by Camille Paglia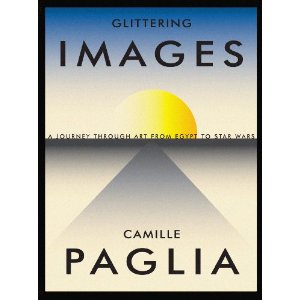 Out today from Pantheon Books is Glittering Images: A Journey Through Art from Egypt to Star Wars by Camille Paglia, University Professor of Humanities and Media Studies at the University of the Arts in Philadelphia.
The book is described as "an enthralling journey through Western art's defining moments, from the ancient Egyptian tomb of Queen Nefertari to George Lucas's volcano planet duel in Revenge of the Sith."
Yesterday the author shared her insight on George Lucas with The Chronicle of Higher Education. From the article:
The Mustafar duel, which took months of rehearsal, with fencing and saber drills conducted by the sword master Nick Gillard, was executed by Hayden Christensen and Ewan McGregor at lightning speed. It is virtuosic dance theater, a taut pas de deux between battling brothers, convulsed by attraction and repulsion. Their thrusts, parries, and slashes are like passages of aggressive speech. It is one of the most passionate scenes ever filmed between two men, with McGregor close to weeping. The personal drama is staged against a physical one: Wrangling and wrestling, Anakin and Obi-Wan fall against the control panels of a vast mineral-collection plant, which now starts to malfunction and fall to pieces. As the two men run and leap for their lives, girders, catwalks, and towers melt and collapse into the lava, demonstrating the fragility of civilization confronted with nature's brute primal power.
---
Tricia Barr took her understanding of brand management and marketing, mixed it with a love of genre storytelling, and added a dash of social media flare to create FANgirl Blog, where she discusses Star Wars, fandom, and strong female characters. She also writes about Star Wars for Random House's science fiction and fantasy blog Suvudu.com. Her interview with X-Wing: Mercy Kill author Aaron Allston can be found in this month's Star Wars Insider Issue 135.
In her spare time, Tricia puts the finishing touches on her first novel, Wynde. For excerpts and tales of her adventures in creating a fictional universe, hop over to TriciaBarr.com.
For updates on all things FANgirl follow @FANgirlcantina on Twitter or like FANgirl Zone on Facebook.