Star Wars Weekends 2012: Even More Merchandise Shopping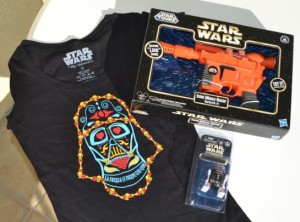 When I returned to Star Wars Weekends for the third and fourth weekends, more merchandise was bound to be purchased. There are so many enticing options, and some of them I just couldn't pass up. On his Disney excursion Lex joined the mayhem, adding a few things to his own personal collection. Then there were the kids to think of; between Lex's son and my niece and nephews, we had a lot of young fans to find Star Wars goodies for.
Return to the Droid Factory
Both weekends, I made sure to take return trips to the Droid Factory.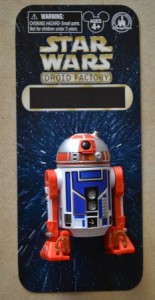 In emails prior to our trip, my mom didn't seem to get the draw. So we got her in line with my dad and her friend Lisa, and they ended up making one droid for each grandkid. For myself, I built a pair of droids – one black and red, the other purple and white – as symbolic wedding gifts for my favorite EU couple, Jagged Fel and Jaina Solo. Lex went the symbolic route, too, building droids in the school colors of his college and law school alma maters, as well as a single droid with a black body and purple legs to mark the Fel-Solo union.
It turns out the Droid Factory was even more popular than Disney expected. The first weekend, I built R2-TKL, an Artoo-Detoo model with a Mickey hat. By the third weekend, all of those parts were completely gone. Plenty of other styles and colors remained, but the hats had been a big draw for a lot of fans, so their extinction was disappointing. By the fourth weekend, all of the center legs in all colors were gone, too. Apparently Disney plans to restock parts and release new ones as the summer progresses, but the speed at which the parts vanished is pretty amazing.
The Carbon Freeze Me Experience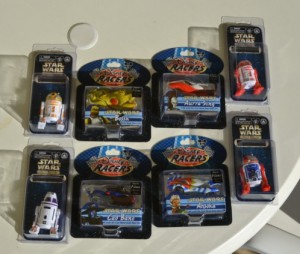 Lex went all out and got himself frozen in carbonite. When you enter the Carbon Freeze Me Experience from D-Tech 3D, you're treated as an Imperial prisoner throughout the process. Once you're seated in the chair, an array of cameras is used to take a three-dimensional image of your face, which is then shaped onto the iconic carbonite slab in eight-inch action figure style form. (Check out this video from the Disney Parks Blog with Ashley Eckstein giving a sneak peek at the technology.) Lex insists the process caused no permanent damage, but I'm not so sure. Either way, I may just have to mind-trick him into posting a picture of his frozen self when it's delivered to him in a few more weeks.
Darth's Mall Redux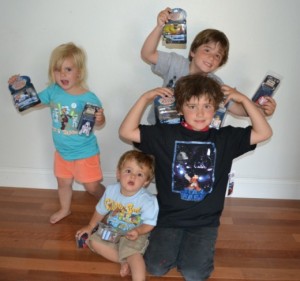 And of course the multitude of goodies on sale in the big tent kept drawing me back. I picked up two more items from Her Universe: the Princess Leia hoodie and the Calavera Vader shirt. My friend Lisa snagged the Disney Vacation Club exclusive pin, and I helped my parents pick out The Clone Wars Disney racers and shirts for my nephews and niece. I even grabbed a stress-reliever koosh ball shaped like a stormtrooper helmet, and I plan to squeeze the Sith out of my stress with it. Lex's hopeless fanboy side peeked out, too – his eyes kept getting drawn back to the limited edition Joshua Budich print of three Princess Leia images from Episodes IV, V, and VI, and he broke down and bought it. I made sure most of my visiting gang got their personalized Star Tours nametags, complete with your name spelled in Aurebesh and your home planet. I picked Naboo and Lex, the Minnesota native, had to go with Hoth.
Luckily there is just enough time to recover before Celebration hits in just over nine weeks!