Between continuing my push on Wynde and starting to prepare for convention season, June is looking to be another busy month. But first, more Star Wars Weekends and a chance to say hello in person to some Star Wars VIPs. I'll be sure to file another report.
---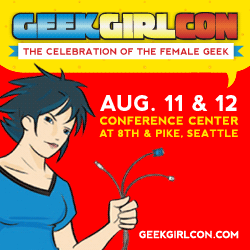 GeekGirlCon – I'll be talking a bit more about my panel at GeekGirlCon, including an announcement of the panelists. I'm getting really excited about talking Strong Female Characters with these wonderful Star Wars fans.
---
Star Wars Discussions – My discussion of the Hapans with Racheal and Kay continues this month. Following my Suvudu article on Tyria Sarkin Tainer, look for more excitement building toward August's X-Wing: Mercy Kill, too.
---
Contributor Posts – Next up from FANgirl Blog contributors is a post from Kay about Katniss Everdeen, and why her relatable qualities make her such an effective heroine in The Hunger Games.
---
Here are a few of the other things we're looking forward to this month:
New Comics
Buffy the Vampire Slayer: Season Nine #10 – June 13th
Star Wars: Dawn of the Jedi: Force Storm #5 – June 20th
Star Wars: Darth Vader and the Ghost Prison #2 – June 20th
New and Returning Television Series
Rizzoli & Isles – Tuesday, June 5th at 9:00 p.m. (TNT)
Saving Hope – Thursday, June 7th at 9:00 p.m. (NBC)
Dallas – Wednesday, June 13th at 9:00 p.m. (TNT)
Suits – Thursday, June 14th at 10:00 p.m. (USA)
Falling Skies – Sunday, June 17th at 9:00 p.m. (TNT)
New Movies
Snow White & the Huntsman – June 1st
Prometheus – Junes 8th
Madagascar 3: Europe's Most Wanted –  June 8th
Rock of Ages – June 15th
Brave – June 22nd
New Releases on DVD
Act of Valor – June 5th
John Carter – June 5th
White Collar: Season Three – June 5th
Wrath of the Titans – June 26th
Mirror Mirror – June 26th