Wow, what an exciting January! It's hard to imagine February could outdo it, but at this point I know better than to try to predict what's ahead. What I do know is that February is one of my favorite months of the year.
---
Heroine's Journey Series – We have several posts in the works as the Heroine's Journey series expands. After some of the great discussion triggered by the first two posts about Padmé Amidala, we have one more follow-up to specifically take a look at the circumstances surrounding her death and its implications for her characterization and the story. Also keep an eye out for a post discussing more about Red Tails and women who served in World War II, and how they illustrate the possibilities for the great breadth of heroes in the real world and in fiction.
---
Valentine's Day – I have a fun, light-hearted – no pun intended on the holiday theme – post in the works for Suvudu. In keeping with the spirit of the holiday of love, I thought it would be fun to talk about some of the more uplifting moments in Star Wars
---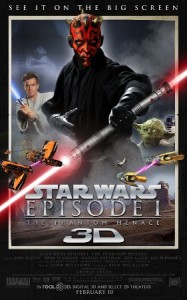 Star Wars in 3D – The Phantom Menace returns to the big screen in a brand-new 3D conversion. Having seen the great way the 3D experience enhances the new Star Tours ride at Disney World, I can't wait to see a whole Star Wars movie with the added depth. Definitely planning some tie-in blogs to the big event.
---
Wynde – I'm still writing away on my first novel. I've just passed through the section I'd call the middle climax, and now all the characters are rushing toward the big epic battle for the Kavil moon. Last month I discussed Vespa's father, Daemyn Wynde, and I want to give her mother, Utara Fireheart, equal treatment.  Check back for more excerpts and discussion throughout February.
---
Here are a few of the other things we're looking forward to this month:
New Star Wars Books
Star Wars: Book of Sith: Secrets from the Dark Side – February 10th
New Comics
Star Wars: Dawn of the Jedi #0 – February 1st
Star Wars: Agent of the Empire: Iron Eclipse #3 – January 8th
Star Wars: Dawn of the Jedi #1 – February 15th
New Television Series and Series Returns
The Voice – Sunday, February 5th after the Super Bowl (NBC) (regularly Mondays, 8:00 p.m.)
Smash – Monday, February 6th at 10:00 p.m. (NBC)
The River – Tuesday, February 7th at 9:00 p.m. (ABC)
The Walking Dead – Sunday, February 12th at 9:00 p.m. (AMC)
Comic Book Men – Sunday, February 12th at 10:00 p.m. (AMC)
New Movies
Chronicle – February 3rd
Star Wars: Episode I: The Phantom Menace 3D – February 10th
Ghost Rider: Spirit of Vengeance – February 17th
Act of Valor – February 24th
New Releases on DVD
The Twilight Saga: Breaking Dawn: Part I – February 11th
Dragon Age: Redemption – February 14th
J. Edgar – February 21st
Puss in Boots – February 24th