REVIEW: Star Wars: The Blueprints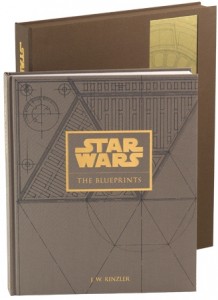 Weighing over twenty-five pounds, Star Wars: The Blueprints is literally a hefty new addition to the line of nonfiction coffee-table books that give fans behind-the-scenes glimpses at the creative process of the Star Wars films, providing an in-depth look at a stage of the creative process rarely seen previously by the public: the technical drawings from the production design department. After having a chance to preview it at San Diego Comic-Con this summer, Tricia was really impressed with how cool the book is. With her expertise as an engineer, that was recommendation enough for me to buy it and review it for the blog. To quote Vader, it's most impressive.  

B.J. Priester has been a Star Wars fan since he played with the original Kenner action figures as a young boy. His fandom passion returned after watching Attack of the Clones in 2002 and reading the entire New Jedi Order series in 2003. He voraciously caught up on the novels and comics in the Expanded Universe in addition to writing fanfiction, frequently co-authoring with Tricia.

B.J. has served as editor of FANgirl Blog from its inception, as well as contributing reviews and posts on a range of topics. He edited Tricia's novel Wynde, and is collaborating with her on several future projects set in that original universe.

Currently a tenured law professor in Florida, B.J. has been a practicing lawyer in Washington, D.C., a law clerk to a federal appeals court judge, and a law journal editor-in-chief. He is also a proud geek dad whose son who is a big fan of Star Wars and The Clone Wars.