Star Tours – Disney's attraction, which takes guests on a vacation shuttle ride right into the middle of a Star Wars adventure – opened today with a bang! George Lucas attended the opening ceremonies, lightsaber in hand. Starwars.com offered fans a live look at the show without having to suffer long lines and Florida heat. If you haven't had a chance to see the festivities, here's what you missed.
I'll be taking my Disney pass and heading up to experience the ride for myself in the next couple of weeks.  I'll be sure to take lots of pictures.
---
Michael Stackpole
, Star Wars
X-wing
series author, has agreed to let me interview him about his novels and writing.  If it were just up to my inner fangirl I might have only asked him about the Fels, but as I move toward gearing up to put out my first novel I know Mike has a wealth of knowledge to share about writing hero's journeys, the publishing industry, and most importantly the blossoming world of e-books. So I'm hoping to tap into that expertise a bit.
If you have any specific questions you'd like me to consider asking, let me know in the Cantina or by email at administrator(at)fangirlblog(dot)com. I can't promise I'll fit them all in, but I want to make sure as many people as possible get to take advantage of this wonderful opportunity presented to his fans.
---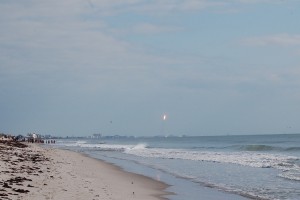 When it comes to real world spaceships, I had the privilege of being at Cape Canaveral for the launch on Monday of the Space Shuttle Endeavor. The end of the shuttle era has stirred many thoughts and concerns about the future of America and even mankind in space.  We've had a lot going on in the blog, on the novel and in the Cantina this week so I'm saving my more in-depth discussion about the Space Shuttle program to coincide with the final launch of Atlantis, currently targeted for July 8.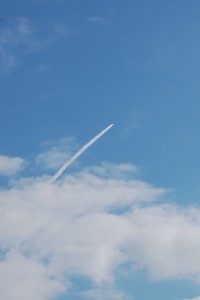 In the meantime I thought I'd share a few shots that I took from the beach as Endeavor blasted into space.
---
Two other news items to share:
1) The first excerpt from my upcoming space opera novel will be posted on the blog Monday. A character study – a scene from two years before the novel's opening chapter – was posted last week and revealed the heroine's name. I hope you stop by to check the first book excerpt out.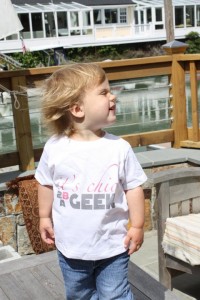 2) Some of my friends in the Cantina really liked my slogan for the FANgirl Boutique, where I sell FANgirl t-shirts to support the cost of maintaining this website and the fan forums.  That inspired me to design the "it's chic 2BA geek" t-shirt, which will go on sale this weekend.  I had a lot of fun during the design process.  The t-shirt production specialist thought it was a great design so she spent some extra time helping me polish it up. The ladies version will be an in-stock item, with the logo featured on a fitted white v-neck tee. For the little fangirls in our lives, the boutique will provide a print on demand version for kids. 
Here's my niece modeling the toddler version.