Interview by Mary Sheridan
MS: Welcome to FANgirl Blog, Amanda.
Hello there FANgirl Blog!
MS: Were you a crayon, marker, pencil, or paint type of child?
I was fine with whatever was at hand. I went through a phase of avoiding paper as a little one. I drew on my walls, clothes, myself…my room was covered in characters and bizarre fanart. I'm still surprised my parents didn't take issue with it.
MS: How did you become a comic artist and illustrator?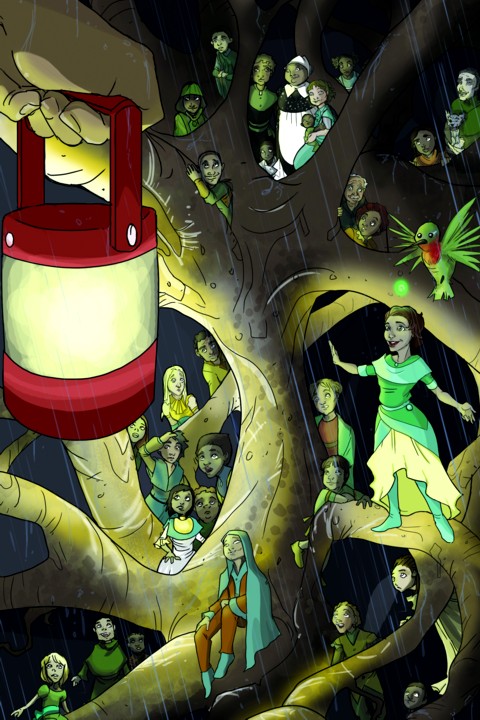 It's something I wanted to do from a young age and had experimented with on an extremely small scale.When my partner Kevin LaPorte offered to write a script for me to practice on we found that we enjoyed working together so much that we just haven't stopped.
MS: What project or comics creator provided your first professional opportunity?
After that practice script, Kevin and I got more serious about our plan and produced a series called Clown Town. That series has really been a catalyst for each subsequent project I've done like The Book and Flesh of White. I owe it all to killer clowns…beep beep, baby!
MS: Do you have a particular favorite among the genres you illustrate (e.g., horror, fantasy, scifi)?
With one exception – Eyes of the Hurricane – every project I've done has had a horror element either subtle or straight up monsters in your face. I do love my monsters but I have an intense fascination with elegant horror. I'm getting the opportunity to do something to that effect in the upcoming Inverse Press adaptation of Shakespeare's Titus Andronicus.It's rather stylized and covers every example in your question. THAT is my favorite a happy balance of sci-fi, horror, and fantasy.
MS: Do you prefer working with old-fashioned tools (like graphite and paper), computer software, or some combination of everything at hand?
I love my cintiq and don't know what I would do without it. I take a break here and there for pen and paper. I just realized I've been using the same mechanical pencil for half my life. Wow…sorry, that's pretty random but I guess you really get attached to your tools of the trade without realizing it sometimes.
MS: I see a lovely simplicity in your line drawings as well as finely-crafted coloring. How would you describe your artistic style?
Thank you! I've had it described to me as realistic cartoons and I think that's pretty close to it.
MS: What is your process in working with a written script and its author(s) so that you understand their intent and can then translate their words into accurate visual images?
I've been really fortunate to work with writers like Kevin LaPorte and Erica Heflin who give me scripts that are so visually exciting for me that I can't wait to put them on paper even as I read the script. We chat and brainstorm a bit but they both have given me a lot of freedom with their visions so translating them at this point has become second nature.
MS: Most artists that I know tend to be fairly critical of their own work. Do you agree that artwork is "never finished – only abandoned?"
I used to be critical to the point it caused me a lot of stress about my own work but now I'm just more realistic. I try to see what I can improve or to see what actually has improved and expand upon it. I disagree on finished art – I think some pieces are definitely finished and to add is to take away. A truly finished piece might be one in a hundred but they are there for sure.
MS: Have you ever – or would you like to – write as well as illustrate your own comic?
Hahaha! In that last answer I mentioned being too critical of my art but getting past it. Not so with my writing. There's a reason I just scribble. I did write and illustrate one story myself for Grayhaven Comics Gathering: All Woman Vol. 1. It was about one bad mother and I had some editorial input from my good mother. It was a delight but I'll leave the writing to the professionals.
MS: Is there anyone in the comics industry that you would like to work with but have not (yet) had the opportunity?
Oh I have a hero-worshipping fantasy about my favorite writer but if I tell you I don't think will come true.
MS: There were many trail-blazing female artists throughout the history of comics. Did any of them influence your work or your desire to become an illustrator?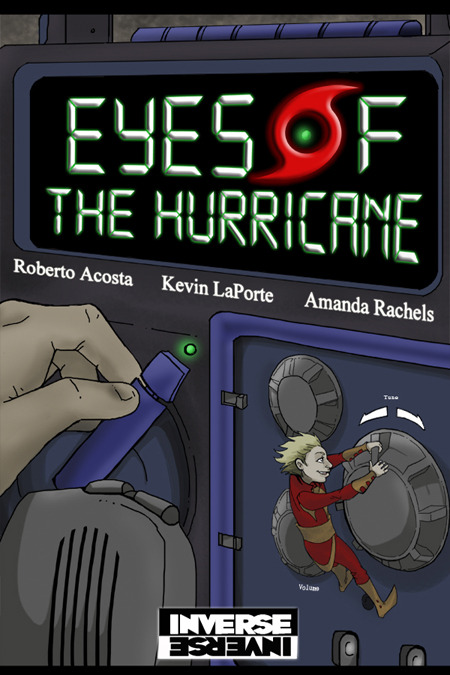 The desire for me was always there for me but I remember being very inspired by Rumiko Takahashi and her Mermaid Saga series. She stood out for me as it was all her, writing and art. She was so well known for her light and humorous work and then Mermaid Saga was a complete 180. It was pretty eye-opening. Read it. Read it now.
MS: Do you have any words of wisdom for amateur illustrators, particularly fangirls, who aren't sure how to grow their work or get involved in the comics industry?
Be confident in yourself and your work. Try to draw every single day. If you want to do it, do it. Commit.
MS: What projects are you working on (so that we can look forward to seeing more of your art)?
I have a one-shot story called Eyes of the Hurricane that is currently funding on Kickstarter. It's an all-ages southern fairy tale based on the experiences of a friend and neighbor of mine during hurricane Ivan. We're a few days into the campaign and already almost at our goal so if you want to get your hands on the issue and some other rewards check it out here: Eyes of the Hurricane Kickstarter.
I'm also working on Issue 3 of Flesh of White, a story about a mother's struggle to protect her baby born with albinism from a witch doctor in Tanzania. Issues and updates for Flesh of White can be found at inversepress.com
MS: Are you scheduling appearances at any 2014 Cons yet?
So far Megacon in Orlando March 21-23 is the first major one for next year. We will be adding a few more for sure!
MS: Thank you so much, Amanda. It has been a pleasure getting to know you, and the world of comics illustration, a little better. We wish you continued success!
Thanks for the thoughtful questions! It's an absolute pleasure and thank you much!
Follow Amanda on Twitter @amandarachels, Facebook, and at Inversepress.com.