Words of Wisdom From The Mandalorian Directors
On May 4th, also known as Star Wars Day, Disney+ premiered the first episode of an eight-part behind-the-scenes look at the making of its hit show The Mandalorian. Disney Gallery: The Mandalorian appears to be the first of these types of behind-the-scenes shows for the network. Showrunner and writer Jon Favreau (Iron Man, The Lion King) serves as host. The first episode, "The Directors," features a roundtable and individual interviews with the directors. The entire episode is filled with amazing insight into each individual's storytelling process. Here are some of the best quotes: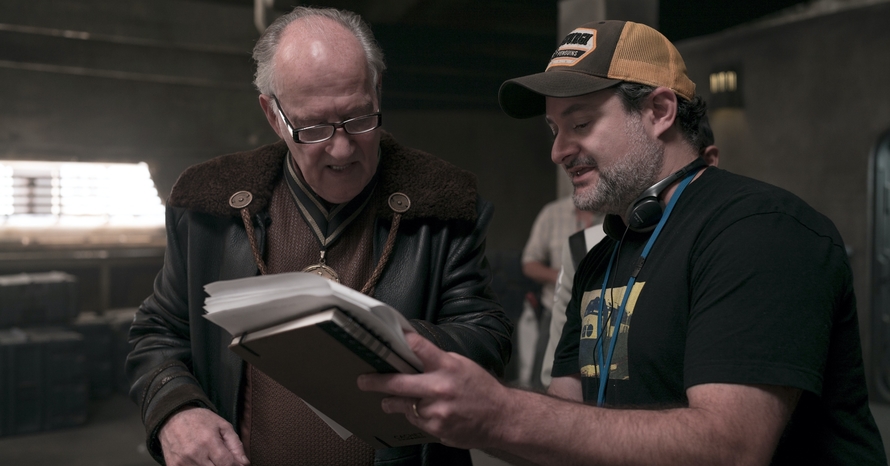 Among the five directors, the bulk of the time is given to George Lucas' hand-picked padawan and fan-favorite Dave Filoni. While his background is well known in Star Wars fandom circles, the episode takes an opportunity to introduce Filoni's talents to a broader audience. Self-avowed fanboy Pedro Pascal (The Mandalorian) offers the highest of praise: "He is the truest lover of the material." Filoni shares the funny story of his introduction to Lucas. He also reiterates the basic tenets of his mentor in summing up Star Wars as "that pull between greed and being selfless, which is fundamental to the human experience." The series finale of The Clone Wars reflects these simple values, comparing the selfless acts of Anakin Skywalker's former padawan Tano during the events of Revenge of the Sith, where the Jedi's greed, a need to keep his wife alive, results in him falling to the dark side.
Director of Photography Baz Idoine notes, "They all had different perspectives on the same vision." While Filoni came from animation, Deborah Chow (director of the untitled Kenobi series) cut her teeth in television, with an extensive resume that includes genre and action stories such as The Vampire Diaries, Mr. Robot, Iron Fist, Jessica Jones, Fear the Walking Dead, Lost in Space, and American Gods. She quips, "I really liked killing stormtroopers" before getting to the heart of her philosophy on the job of the director: "You're coming into television to do something really ambitious, really quickly. The only way to do that is to prep it." Chow's experience reflects what many women in the business talk about, having to be prepared to do it better and more efficiently than their male counterparts to build a reputation. Women directors don't get the opportunity to fail or go back for massive reshoots.
Nigerian-American director Rick Famuyiwa double-majored in Television studies at University of Southern California and eventually ended up at the Sundance Director's Lab. His films explore themes of racial diversity and self-acceptance. He wrote as well as directed the sixth episode of The Mandalorian "The Prisoner," but found that the jawa-centric episode "The Child" fit with his sensibilities. "I love making these stories about misfits that never get the camera pointed at them," he says.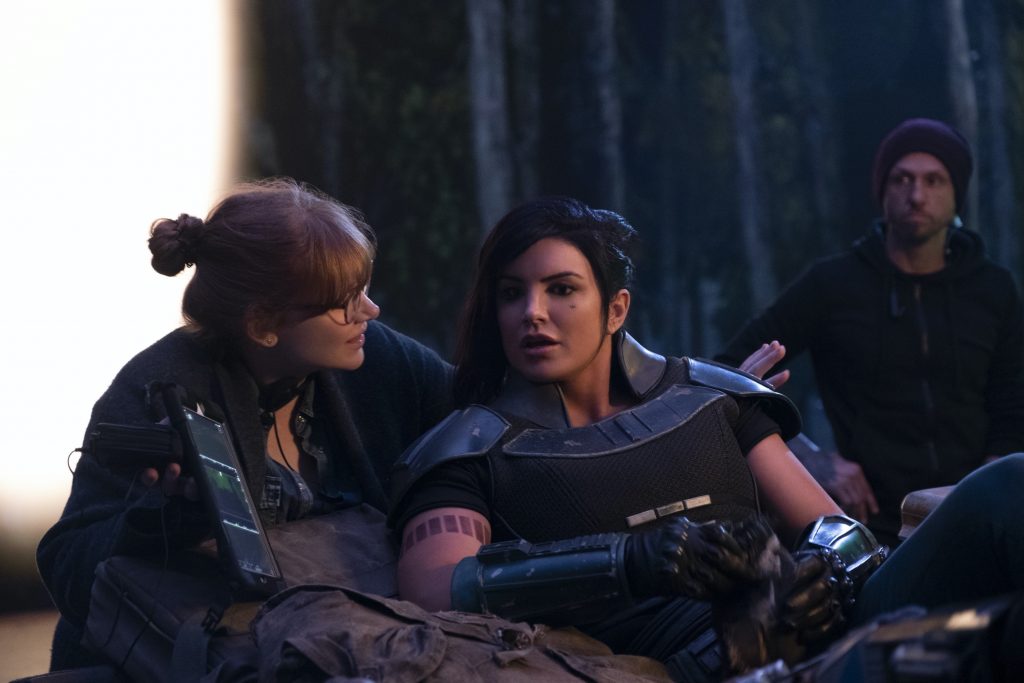 Daughter of Hollywood icon Ron Howard, Bryce Dallas Howard started as an actress, headlining Jurassic World and Pete's Dragon, but had considerably less directing credentials on her resume when she was brought into The Mandalorian fold. Favreau admits that they threw her into the deep end with a difficult shoot. Her episode "The Sanctuary" is a fan-favorite, infused with heart and nods to classic Star Wars motifs. She clearly understands the challenges of directing, stating, "So much of the process is about problem solving." Howard also grips a key element that is critical to genre storytelling. She says, "If the magic doesn't work, then everything fails."
Howard shared the spotlight with Filoni in really underscoring what's important to making Star Wars work: "There is a real responsibility working with these type of characters, these kinds of stories, with these type of circumstances. It is meaningful to so many people. This is not about my relationship with Star Wars; it's about all our relationship with Star Wars." In this moment, Howard understands the selflessness of her role, a contrast to other Star Wars creatives who pursued a more self-centered or self-indulgent perspective in crafting their stories.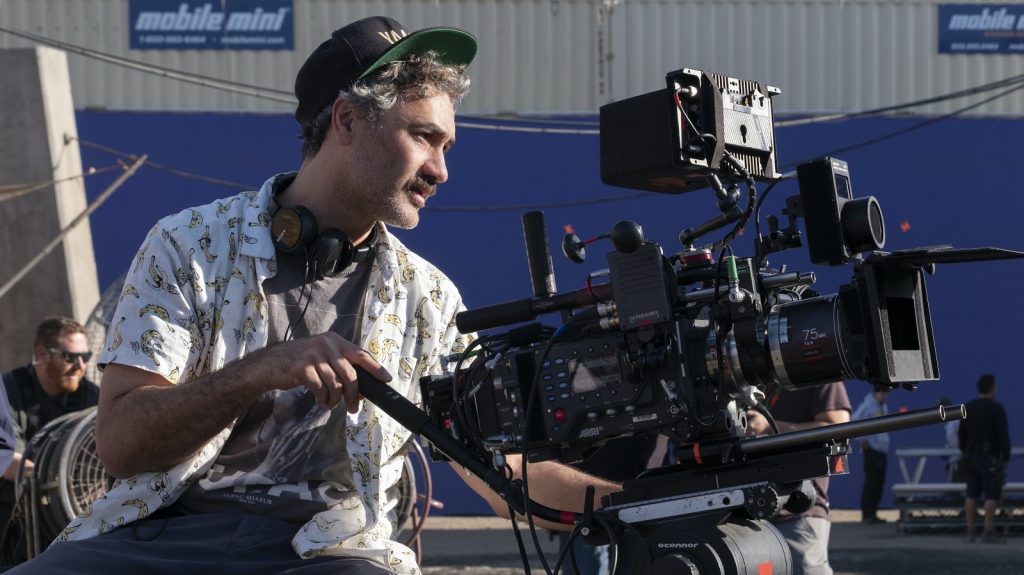 Although he drifted from art to stand-up and finally to independent film, Waititi had experience working in major IP having directed Marvel's hit Thor: Ragnarok and is slated to return with Thor: Love and Thunder, starring Star Wars veteran Natalie Portman. He also won the Oscar for Best Adapted Screenplay for JoJo Rabbit, (which we highlight recommend!) Shortly after this episode, StarWars.com announced Waititi will direct and co-write a future Star Wars movie. Favreau comments that Waititi "knows how to find the humor in the action but that's a lot different than making fun of the action." During Favreau's comments, the shot cuts to Waititi's character IG-88 zooming into the town with The Child in tow, wildly firing rounds at stormtroopers on his way to rescue the Mandalorian, Cara Dune, and Greef Karga. Waititi tells the camera, "Star Wars doesn't take itself 100% seriously, but it does believe in itself." Wherever Waititi takes us on a Star Wars adventure, we're in good hands.
Disney Gallery: The Mandalorian continues each Friday on Disney+.
Photos courtesy of Disney+

Tricia Barr took her understanding of brand management and marketing, mixed it with a love of genre storytelling, and added a dash of social media flare to create FANgirl Blog, where she discusses Star Wars, fandom, and the intersection of women within Star Wars fandom. She is co-author of Ultimate Star Wars and Star Wars Visual Encyclopedia from DK Publishing, a featured writer for Star Wars Insider magazine with numerous articles on the Hero's Journey. Her FANgirl opinions can be heard on the podcasts Hyperspace Theories and Fangirls Going Rogue.

Tricia Barr's novel, Wynde, won the 2014 Independent Publisher Book Award Gold Medal for Best Science Fiction/Fantasy/Horror Ebook. She was also part of Silence in the Library's successful all-female creator science fiction and fantasy anthology Athena's Daughters, which is available now. For excerpts and tales of her adventures in creating a fictional universe, hop over to TriciaBarr.com.