First Look at Disney's Star Wars Resistance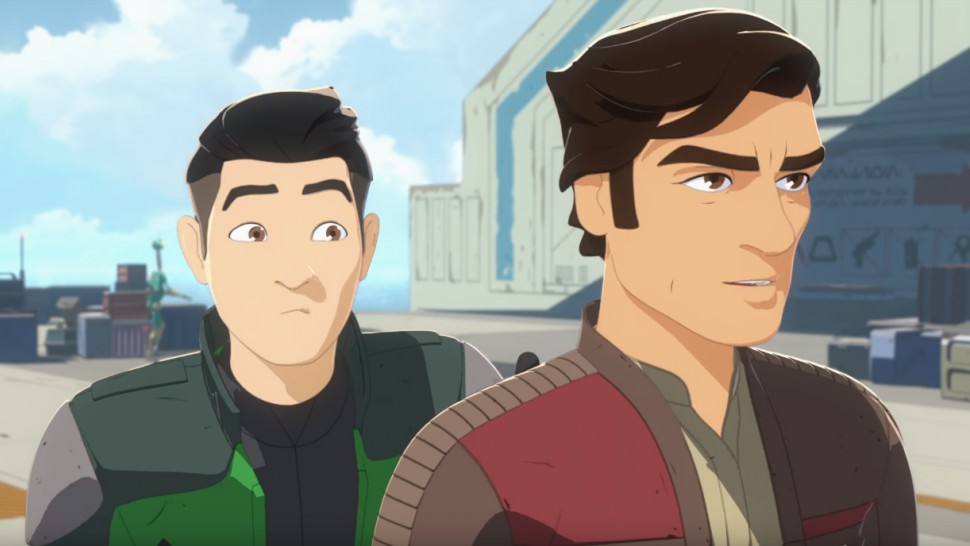 Courtesy of StarWars.com we have our first look at the new anime-inspired animated television series Star Wars Resistance. The show includes stars Oscar Isaac and Gwendoline Christie reprising their film roles, Poe Dameron and Captain Phasma. BB-8 says, "Beep beep ba-boop" – translated, "Don't forget about me!" Star Wars Resistance introduces a new cast of characters and new locales to the galaxy far far away, including young pilot Kazuda Xiono, who is sent to "Colossus, a massive refueling platform on an outer rim ocean planet."
On Twitter, The Clone Wars and Star Wars Rebels writer Henry Gilroy congratulated Brandon Auman (Teenage Mutant Ninja Turtles 2012) and Justin Ridge (Supervising Director, Star Wars Rebels). Lucasfilm publicist Tracy Cannobbio credited art direction to Amy Beth Christenson (The Clone Wars, Star Wars Rebels). Dave Filoni helped create the new show, but told IGN recently that he won't be overseeing it day-to-day, which makes sense as The Clone Wars are in preparation for twelve new episodes, which will be released on Disney's new streaming platform. StarWars.com shares insight on the debut episode:
In the one-hour premiere "The Recruit," Poe and BB-8 assign Kaz to the Colossus, where he meets a cast of colorful new aliens, droids and creatures. While undercover to spy on the growing threat of the First Order, Kaz works as a mechanic and lives with Poe's old friend Yeager — a veteran pilot who operates a starship repair shop run by his crew: Tam, Neeku and a battered old astromech called Bucket.
Over at Entertainment Weekly, General Leia Organa's presence in the series was revealed, with actress Rachel Butera (Family Guy) taking on the iconic role. Per EW, "Kaz (voiced by Days of Our Lives' Christopher Sean) is a young pilot enlisted by General Leia Organa, X-Wing ace Poe Dameron, and sweet-but-resilient droid BB-8 to help assess the rising danger of the First Order."
Legion's Scott Lawrence plays Yarek Yeager, Poe's longtime friend, who works with Tam Ryvora (East Enders), Neeku (Silcon Valley), and astromech Bucket. Series regulars include Myrna Velasco (Elena of Avalor) as Torra Doza, Donald Faison (Scrubs) as Hype Fazon, Jim Rash (Community) as Flix, and Bobby Moynihan (Saturday Night Live) as Orka.
Check out the trailer below:
The show will premiere on Sunday, October 7, at 10:00 p.m. EDT/PDT on Disney Channel, DisneyNOW, and Disney Channel VOD.